Tuesday, February 19, 2019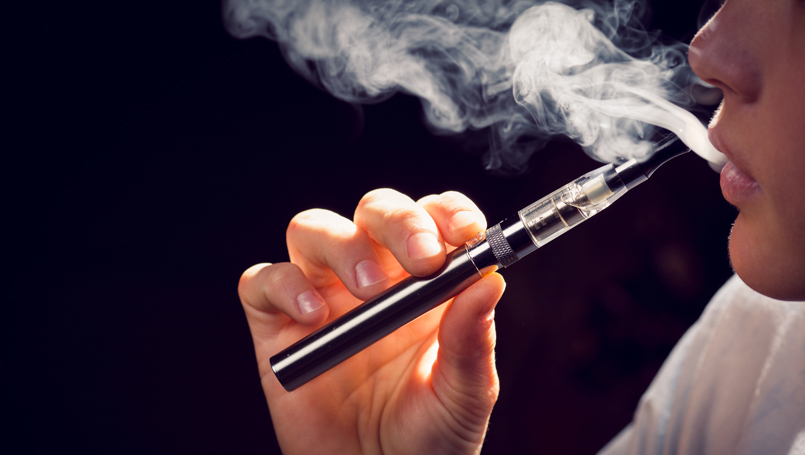 Lots of kids think it's new and cool and different, but that doesn't mean it's safe.
Use of e-cigarettes, also known as vaping, jumped 78 percent among high school students, and 48 percent among middle schoolers between 2017 and 2018, according to the Centers for Disease Control. Beaumont Health experts warn adolescents with Attention Deficit Disorder/Attention Deficit Hyperactivity Disorder are at even higher risk of engaging in this potentially dangerous behavior.
Reduced impulse control and the need to self-medicate are driving factors that can push adolescents with ADD/ADHD to vape, said Beaumont Children's pediatrician Rita Patel, M.D., and child psychologist Stephanie Wright.
Initially marketed as a "healthy" alternative to tobacco, e-cigarettes are battery powered devices that deliver nicotine through a vaporized liquid that comes in flavors appealing to youth such as "Gummy Bear," "Bubble Gum" and "Cotton Candy."
According to Dr. Patel, "Adolescents with ADD/ADHD might not feel quite right. They might try to address this feeling by self-medicating. Our message to parents is: make sure your child is receiving appropriate treatment for their ADD/ADHD. It's the most effective way to prevent kids from seeking options and opportunities elsewhere."
According to the Truth Initiative, the amount of nicotine in a single vape cartridge, contains the same amount of nicotine as an entire pack of cigarettes.
Research shows nicotine is more addictive than heroin or cocaine, Dr. Patel said, and "has an extremely adverse effect on the adolescent brain. It can impair cognition, damage short and long-term memory, trigger mood and attention disorders and disrupt impulse control."
Early education, in 4th and 5th grades, Patel and Wright stress, is key to preventing adolescents from engaging in risky behavior, particularly given easy access to vaping paraphernalia and the ease with which vaping can be concealed.
"We must be clear with our children," said Dr. Patel, who recommends her fellow pediatricians screen for vaping. "This is not a gray issue: 'Vaping is not OK in our family. It is not a safe alternative to smoking. Research shows teens are not aware vaping is unsafe and teens who vape are much more likely to start smoking."
Parents must be diligent in seeking ways to weave the topic into conversation.
If parents talk about vaping, it makes it OK for teens to talk about it, too, Wright explained.
"It's natural for kids to have questions," Wright said. "But keep tone of voice in mind before starting any conversation. We don't want to shame them. One sharp or harsh response could shut down communication. But, it won't shut down behavior."
For children with ADD/ADHD, Dr. Patel recommends medication and therapy.
"Lots of families just want to put their kids on medications. I get it. But meds are only a small part of the equation. Therapy helps kids learn to cope with related behavioral and self-esteem issues. It teaches them how to resist potentially harmful coping mechanisms, such as vaping, alcohol and other drugs."
Reducing frustration in kids with ADD/ADHD is also beneficial to impulse control, Wright said.
"We need to teach kids with ADD/ADHD how to plan, how to organize and how to think about time and space," Wright stressed. "We assume they can see the end result, but kids with ADD/ADHD can't see that far ahead. They get distracted. We need to teach them to break down these skills to be successful."
Due to skyrocketing incidence of vaping, Dr. Patel is concerned significant gains at reducing smoking rates in adolescents during the past 20 years will be lost.
"It would be an enormous setback in our nation's overall health," Dr. Patel said. "The long-term effects of e-cigarettes are still unknown."
Clues your child may be vaping
Increased secrecy. Unwilling to discuss or answer questions.
Increased irritability and mood changes due to nicotine addiction.
Disappearing money.
Increased unwillingness to stay home.
Increased thirst. Vaping causes dehydration of the skin of the mouth and throat. This leaves users with a dry, flat palate. If your child is increasing their liquid consumption, and also peeing more, they may be vaping.
Desire for flavor. When the mouth is dried out, flavor perception is lost. Notice if your teen is using more salt or requesting spicy foods.
Nosebleeds. In addition to dry mouth, vaping also dries the skin of the nose. When the nose gets dry, it can bleed.
Finding paraphernalia around the house.