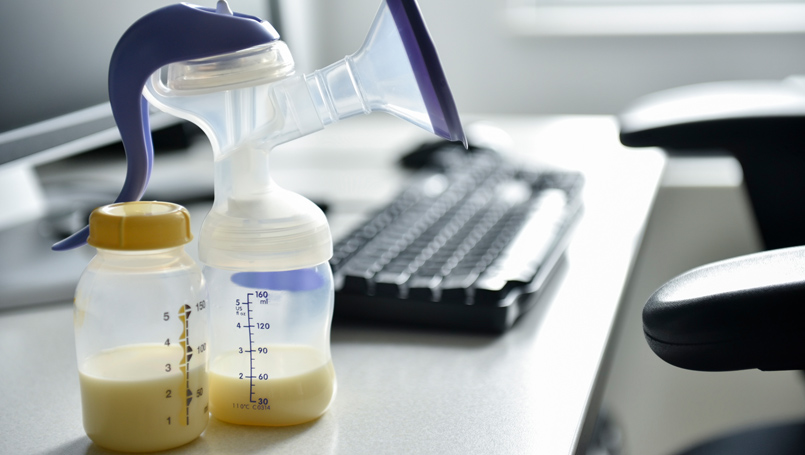 Becoming a new mother is a thrilling - but exhausting - experience. And it can be doubly tough for breastfeeding women when they head back to work.
We spoke with Beth Meeker, a lactation consultant at Beaumont, for some tips on breastfeeding after returning to the workplace.
Getting a breast pump
Many insurance companies will cover the cost of a breast pump for pregnant women. Be sure to reach out to your insurance company prior to delivery to see if you're covered.
Your employer's obligation
Fortunately, federal law provides some protections for women who need to pump breast milk while at work.
As part of the Affordable Care Act of 2010, employers are required to provide a reasonable break time for an employee to express breast milk for her nursing child for one year after the child's birth each time the employee needs to pump. The law specifies a "place, other than a bathroom, that is shielded from view and free from intrusion from coworkers and the public" for pumping. Individual state laws may also confer more protections to breastfeeding mothers, and the requirements do not apply to employers with fewer than 50 employees if they would impose a hardship.
"It's best to talk to your employer about your needs before returning to work to make sure you have a plan in place," Meeker said.
Frequency
"I typically say at least four to six weeks prior to starting back to work, women should consider pumping four times a day for storage, just to back things up," Meeker says.
Using the pumped milk also helps get your baby used to feeding from a bottle and from people other than the mother. Aim for bottle feeding two to three times per week during this period, Meeker says.
Also, women have their biggest supply of milk during the day between 6 and 10 a.m., so aim to pump during that time. Typically, you'll be pumping once every three to four hours while at work, and you should plan on taking 20 to 30 minutes each time to pump, store milk and then clean the parts of the pump.
Storage
Freshly expressed breast milk is stable for up to four hours unrefrigerated, in a cooler for 24 hours with ice packs and in a fridge for five to seven days. In a self-contained refrigerator-freezer unit, it'll keep for three to six months, while a standalone deep freezer can keep it usable for six to 12 months.
Once breast milk starts to thaw, it's good for only 24 hours.
Meeker recommends storing breast milk in only 4-ounce quantities, since it's quicker to thaw than 8-ounce containers, and putting it in the back of the fridge or freezer, where it's coldest.
Preparing to pump
Babies are important hormone stimulators. So when you're at home, try to breastfeed directly with your baby as much as possible. The same goes for skin-to-skin time and even napping together. That'll ensure a good supply of milk during the week, when you're not home.
Also, try to relax while pumping, with no interruptions. Leave work at your desk. Keeping a photo of your baby handy, watching a video of your little one, or even keeping something that smells like your baby can be effective in helping you to relax. "The more you can kind of separate from work and devote 20 to 30 minutes for the baby can help with milk collection," Meeker says.
Don't forget to keep hydrated while you're at work. "Moms get busy at work and they don't drink enough and that affects milk supply," Meeker says.