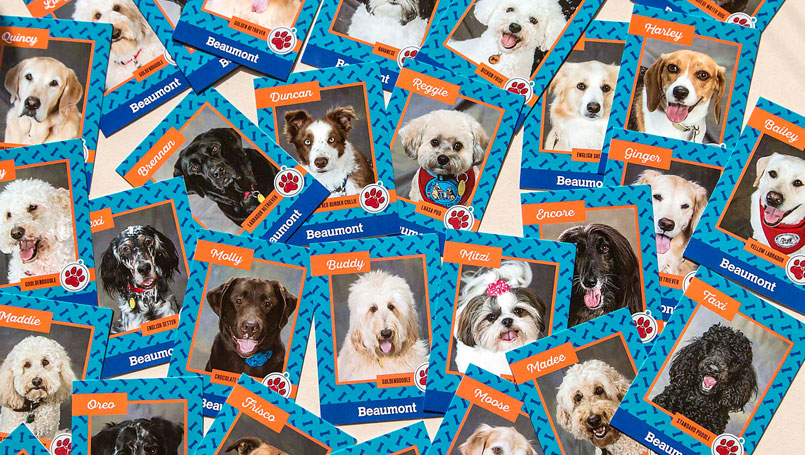 When a patient or guest at Beaumont is visited by one of our therapy dogs, they'll now have a memento to remember their encounter – a trading card!
Pet therapy cards were first developed for a handful of dogs who worked exclusively with Beaumont Children's patients.
Kathleen Grobbel, supervisor of Child Life Services at Beaumont Children's, oversaw the initial run of cards. She said, "The kids love the trading cards! It's a nice way for the children to bring home a positive memory from their hospital stay. Their visit with one of our therapy dogs can be a fun and healing experience for the whole family."
After seeing the success of the cards, the decision was made to move forward with creating cards for all of our pups at Beaumont hospitals in Royal Oak and Troy. That's more than 100 dogs of all shapes, sizes and breeds lining up to be photographed for their cards!
Beaumont photographer, Elizabeth Debeliso, admitted, "Every dog had its own reaction to being in the studio. For some it was show time and others not so much. Trying to capture the classic alert expression involved a variety of encouraging antics by the owners."



The pet therapy program has been in place at Beaumont, Royal Oak for more than 20 years and each dog is certified by a recognized therapy dog organization. A dog is on campus most days of the week, with scheduled visits on Tuesdays, Thursdays and Saturdays.
Each dog owner will carry around their pooch's cards and distribute them as they make their rounds throughout the hospital.
Carla Grava, who brings her Bichon Poodle mix, Maddie to Beaumont Children's each week for visits, got a kick out of seeing Maddie's trading cards on beds or bulletin boards in the patient rooms. She, along with Dr. Brian Berman, pediatrician-in-chief, Beaumont Children's, helped spearhead the pet therapy trading card program through fundraising efforts.
"The cards were initially printed when I got involved with pet therapy at Beaumont Children's," explained Grava. "We thought that the baseball-style cards would be fun for the children and, needless to say, they're a big hit with the children, siblings and other visitors to the hospital."