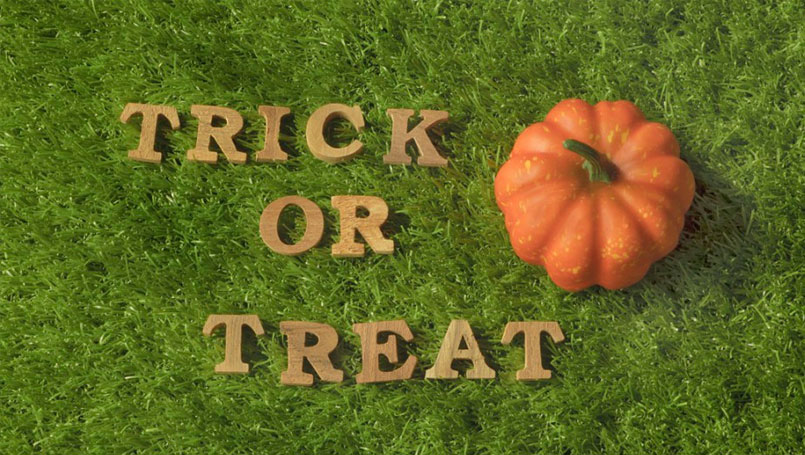 Everyone's heard horror stories of children biting into booby-trapped candy or poisoned apples on Halloween, but the causes of most emergency room visits on Oct. 31 are much more mundane.
"The most common reasons are tripping over their costume or burning their fingers on candles when they're putting them into their pumpkins," says Heather Payton, Trauma Prevention Coordinator, Beaumont Hospital, Trenton.
With a little common sense and a few sensible precautions, you can avoid hazards large and small when you celebrate one of America's more popular holidays.
Costumes
When possible, use face paint instead of a mask for your child's costume. Masks can limit visibility.
Make sure your child's costume is the right length for his or her height, so it does not pose a tripping hazard.
Never walk near lit candles and be sure to wear flame-resistant costumes.
Have your children wear bright colors, reflectors or glow-stick necklaces for additional visibility. ("Reflective tape can be added to any costume and will make it more visible to drivers," explains Scott Stockinger, Trauma Prevention Coordinator, Beaumont Hospital, Dearborn)
Wear flame-resistant costumes that fit properly.
Decorations
If you are decorating for Halloween, be careful using a ladder for hanging lights or any other Halloween decorations.
Watch for cords and other trip hazards on sidewalks and, if your decorations require electricity, to tape the cords down so that trick-or-treaters won't become trip-or-treaters.
Pumpkin carving, another traditional Halloween festivity, is best left to adults and older children, according to Payton. Younger children will get just as much enjoyment out of helping to design the face and scooping out the pumpkin guts after it has been carved – and it'll be a lot safer for them.
Trick-or-Treating
Stick to well-lit areas.
Walk in groups.
Younger children should carry a cell phone and go house-to-house under the watchful eye of a parent or guardian.
Make sure swords, knives, and other costume accessories are short, soft and flexible.
Be mindful of allergies. ("If you know your child has an allergy to certain foods, make sure you check all treats to see if that specific food might be in that item," says Stockinger.)
Remind everyone to look both ways before they cross the street.
Inspect your candy. ("Just look it over and make sure there's nothing open. If it is, go ahead and throw it out. You want to look for sharp objects and be leery of homemade treats, too," says Payton.)
While the kids may be moving at lightning speed running from house to house, if you're driving on Halloween, please also remember to take it slow.
Stockinger adds, "Explain to your children what you expect out of them. Don't run, say thank you when you receive a treat and be nice to the other children out trick-or-treating."
Most importantly, have fun and happy trick-or-treating!