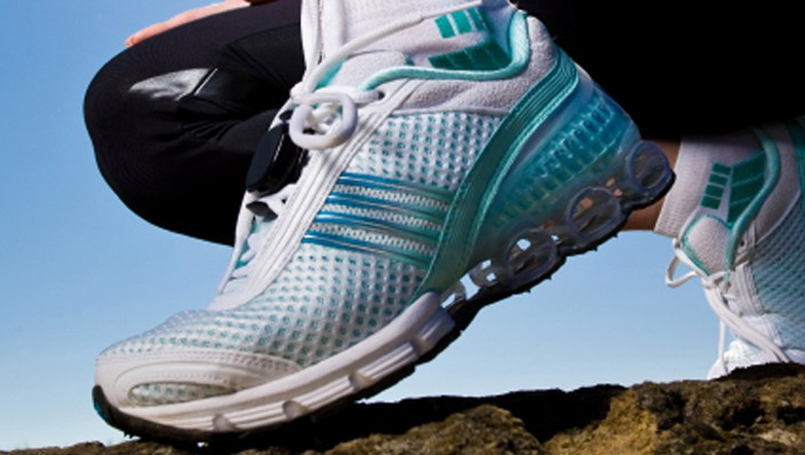 Before hitting the track, trail or treadmill, it's important to get the right gear to make your runs as safe and comfortable as possible. It starts with how to choose a running shoe, but includes everything from wearing the right clothes to checking out the latest running apps.

How to Choose a Running Shoe
The best running shoes are tailored to your feet as much as possible, preventing blisters and injuries to your feet, ankles and legs. Running shoes should feel good right out of the box and need minimal breaking-in. Visit a reputable running shoe store that has staff on hand to help you select the right shoe based on your feet and the way you run, not the hottest trends. Your foot arch and the mechanics of how you run are both important factors in determining the best shoe for you.
Try the Runner's World shoe advisor quiz to see what type of shoe might be right for you and check out Beaumont's own guide to buying shoes.
Don't Forget the Socks
Ditch the cotton socks and go with breathable synthetic fibers that prevent moisture build-up and protect against blisters. Some running socks also offer extra padding at the heel and ball of the foot to create softer landings and better comfort.
Running Tops and Shorts
It's all about breathable material that's lightweight and comfortable. Dri-Fit technology is great for wicking sweat away from your body, keeping you cool. Too much sweat can lead to chafing and if your body can't cool down, even more sweat. That can lead to dehydration. Avoid polyesters and uncomfortable clothing just because it looks good.
Outerwear
Even in the summer, it's a good idea to be prepared for cool mornings or unexpected weather changes. A lightweight jacket you can stuff into your pocket or a waist pack will come in handy if wind or rain interrupt your run. You can also throw one on at the gym if the air conditioning is a little too intense.
Sports Bras
A properly-fitted sports bra will make your runs a lot more comfortable and prevent pain and nagging back injuries. Look for full support, wider straps (possibly adjustable) and breathable material to keep you cool.
Waist Packs
For those who like to go on long runs, a sturdy waist pack can be your best friend. A good one can hold water, a lightweight jacket, an energy bar, your phone and your ID, while not slowing you down or making you look like a tourist at Disney World.
Running Apps and Technology
There are tons of free apps and new running technologies available for runners of all experience levels. Some track your progress, like the free Nike+ Running App, which charts your distance, time and actually maps your route. More high-tech options include the Garmin Connect, which does all of the above, plus tracks your heart rate, plans your workout schedule and picks up your dry cleaning. There are also apps that can help motivate you to reach a specific goal, whether that's a 5K or 10K. The free C25K app (Couch to 5K) helps set mini workout programs that alternate walking and running to help you build stamina and strength for the big finish.