Friday, September 22, 2017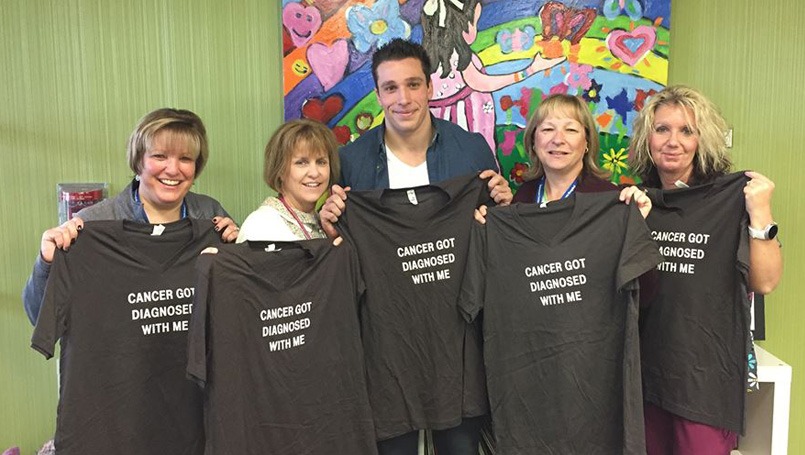 When Clarkston resident, Anthony Karagosian, started feeling sick in the fall of 2004, no one thought it was anything serious. After all, Anthony was an outgoing, boisterous 15 year old. Tests revealed Karagosian had a disorder known as Burkitt lymphoma, which is a rare but highly aggressive B-cell non-Hodgkin lymphoma.
Life as Karagosian knew it changed, as he was now a young man battling cancer. During his treatment, Karagosian found comfort with the staff at Beaumont Children's.
"The doctors, nurses on the floor, and above all the nurses in the pediatric oncology clinic are the heartbeat of that place, and are what make it so special," said Karagosian. "They assured me that they were going to do everything they could for me. They replaced depression with hope, and tears with smiles."
Karagosian said his treatment involved laughter and playing practical jokes with staff, which made him realize his strength to live and that he wasn't alone.
Karen MacDonald, RN, nurse practitioner for Pediatric Hematology and Oncology for Beaumont Children's, worked closely with Anthony during his chemotherapy treatment.
"During treatment, Anthony showed his strength by trying to continue his life despite treatment," said MacDonald. "He attended school functions, maintained good grades and continued to be a kid. All of this can be very challenging during treatment and Anthony was able to accomplish it all."
Now, a copywriter at Campbell Ewald, Karagosian credits his good health and an active personal life to the staff at Beaumont. "Today, I am the same person, and a lot has to do with my overall experience at Beaumont."
Karagosian says jokingly, "I take every opportunity I can, some more risky than others, and my mother doesn't like those too much."
Karagosian journey and desire to give back, inspired him to produce four different videos that champion not only the fight against cancer, but other issues Beaumont pediatric patients face – as they also star in the video.
"Kids don't have a say if they have health issues, but they do have something to say about it," said Karagosian. That something in my case was that 'cancer got diagnosed with me.' I wasn't going to let something that I didn't choose get the better of me. That's what inspired all of the videos."
"As a person who had childhood cancer, I thought to myself 'what have these kids done to deserve or get cancer,"' Karagosian said. "They don't smoke, or do harmful things to their bodies, they're just kids."
The video series highlights kids who choose to fight and live with cancer every day.
MacDonald said, "Through Anthony's work with the video and shirts he made for our young patients, he is showing that they have resilience and strength and they should never let their diagnosis of cancer define who they are or crush their spirit."
"Whether it's cancer, diabetes or autism, kids didn't get to choose it, but they have an opinion on the matter, and aren't going to let their diagnosis take control," Karagosian said.