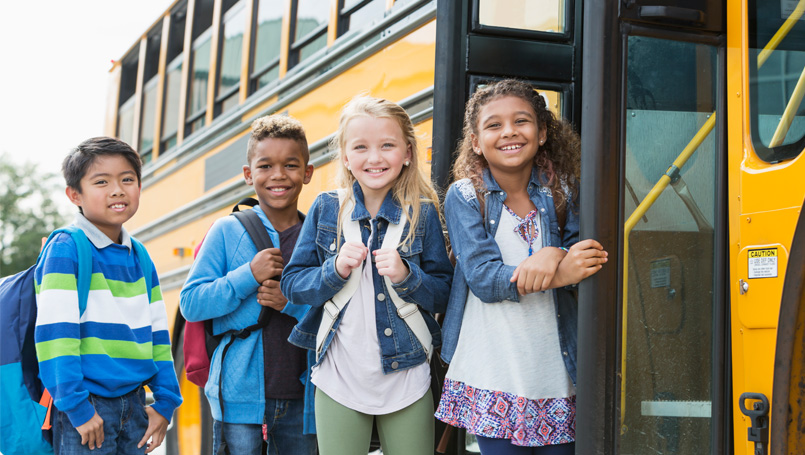 Getting your kids back-to-school ready involves more than shopping for school supplies and new clothes. Caring for their health will ensure they are physically prepared to go back to school. To kick-start the new school year, consider these healthy tips.
TEACH GOOD HYGIENE HABITS
The most effective way to avoid spreading germs is proper hand washing. Encouraging your kids to sing the alphabet or the Happy Birthday song from beginning to end will teach them how much time should be spent on this task. Everyone should wash the fronts and backs of their hands and in-between fingers. Hand sanitizer is a good alternative when soap and water aren't available.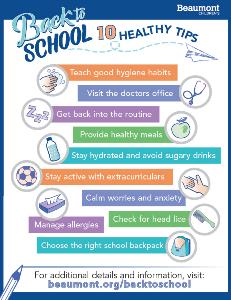 Don't have a tissue? Teach your kids to cough or sneeze into the crook of the elbow or sleeve, to prevent spreading germs.
VISIT THE DOCTORS OFFICE
An annual check-up will ensure your kids are healthy and virus-free before heading back to school. Make sure their immunizations are up-to-date, too. Every state requires certain vaccinations at different grade levels for children attending both public and private schools. Flu vaccines are also recommended for all school-age children.
GET BACK INTO THE ROUTINE
Shift your kids back to a school-year bedtime routine at least a week before school starts. This is also a good time to cut back on playing electronic games and watching TV. Reading or playing quiet games an hour before bedtime will help with the transition.
---
---
PROVIDE HEALTHY MEALS
Provide healthy meal options for your kids, including breakfast. Students who eat breakfast are more alert during class than those who don't. Plus, the right foods combined with adequate rest will help fight off infections.
STAY HYDRATED
Keeping your kids hydrated with healthy drink choices like water and milk has many benefits. It will help prevent fatigue, improve mood, aid digestion and maintenance, and enhance brain function.
Try to eliminate sugary drinks such as soda, sports drinks and energy drinks, as they are often packed with sugar, caffeine and other unwanted ingredients. Too much caffeine can increase heart rates, blood pressure, interrupt sleep and cause nervousness and irritability.
MANAGE ALLERGIES
Managing your kid's allergies at school is an important part of caring for their health. Seasonal allergies are believed to affect as many as 40% of U.S. children, causing many to miss school. Even if they don't miss school, allergies can get in the way of a productive school day.
Symptoms like fatigue, headache, sneezing, runny nose, watery eyes and itchiness can get in the way of attention and concentration. Food allergies are very common, too.
If your child has allergies, talk with your child's teacher and principal about how to manage them during school.
STAY ACTIVE
Your kids have probably been active all summer, and it's important to keep moving. Kids typically sit most of their school day, so incorporating sports and exercise into their daily routine will keep them focused, improve behavior and boost positive attitude.
If possible, enroll your kids in after-school activities. Enjoy a family walk or bike right and encourage them to keep moving. If you engage in physical activity, they will follow along.
CALM WORRIES AND ANXIETY
Separation anxiety, social anxiety, fear of not fitting in or feeling the pressure to stay on top of grades and activities is a growing concern for children. Make sure your kids are aware of who their teacher is, their class schedule and any other changes they might encounter. Planning a tour of the school and classroom or a meet-and-greet with the teacher is a good way to help your kids acclimate before the first day.
CHECK FOR HEAD LICE
More than 12 million Americans get lice every year, and most are between ages 3 and 11. School-age kids are in close contact during the day and are more likely to share combs, brushes and hats. Check your kids for head lice once a week if possible. They are most often found behind the ears and at the back of the neck, near the neckline.
CHOOSE THE RIGHT SCHOOL BACKPACK
These days, backpacks are heavier than ever. The wrong type of backpack and wearing it incorrectly can lead to back pain. Along with cool colors and designs, choose a backpack for your kids that will be comfortable and won't cause pain. Also, show them how to wear their backpacks correctly to prevent back problems.