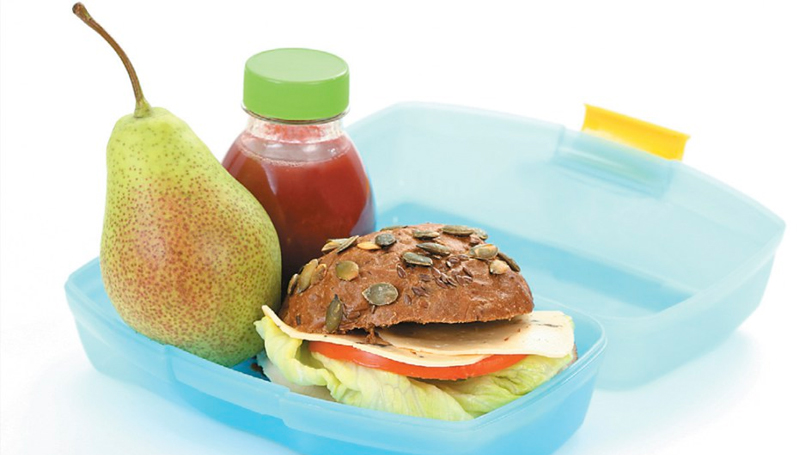 Does that five-mornings-a-week hurdle send you flying through your cupboards and fridge looking for something nutritious that your kids will eat?
Use this handy checklist to ensure your children are getting a healthy lunch, and one they'll actually eat. Try to choose foods from each of the five food groups, including protein, fruits, vegetables, grains and dairy:
Proteins (1 – 2 oz.)
turkey or chicken
tuna (packed in water) or salmon
ham or roast beef
cottage cheese or low-fat cheese (string cheese is a good choice)
hard-cooked eggs
cooked beans (hot or cold, such as hummus)
Watch out for bologna and salami - they're high in fat, so try lower-fat or turkey varieties.
Beverages (8 oz.)
low-fat milk
100% fruit juice
water
Grains
Dark, crusty, whole-grain bread is best, but if your child won't touch it, compromise by using half a slice of white and half a slice of whole wheat. Other whole grains to consider:
crackers
rolls
pita pockets
raisin bread
small bagels or English muffins
dry cereal (add to yogurt)
popcorn
Fruits and veggies
If they'll eat it, pack it! If you have a hard time getting your child to eat any fruits or vegetables, give him a choice of which fruit and vegetable he would like to pack. "Whether a child likes or dislikes fruits and vegetables, it's still important to pack in her lunch," says Silvia Veri, a registered dietitian at the Beaumont Weight Control Center. She suggests:
cut-up veggies (pepper strips, baby carrots, pea pods, celery) with a little dip (hummus, ranch dressing, natural peanut butter)
dried fruits, whole fruits or fruit salad
tossed salad
cole slaw, raisin or potato salad
Tip: Make fruit or vegetable kabobs with your children. They'll have a choice about which items go on the skewer, and they may enjoy eating something they've made.
Treats
Dessert is optional, but your kids might not agree. You can give them a treat, just keep it small:
pretzels
yogurt
pudding
bite-sized candy bar
animal crackers
a cookie or two
100-calorie snack pack
Fun ideas:
Make your own "Lunchable" with seven crackers, string cheese, a fruit cup, bag of baby carrots and dip and a 100-calorie snack pack.
Make butterflies or other interesting shapes out of sandwiches.
Put milk and juices in fun containers.
Include gelatin in a variety of shapes and colors as a treat.