When Lorraine and Keith McArthur of Westland learned their son, Jaxson, 9, was having speech delays about age 2, they weren't sure where to turn.
They tried in-home therapy, and then a friend made a referral to programs through the public schools. It was there that McArthur learned of the Summer Speech Therapy program at Beaumont Hospital, Wayne. She liked the idea of Jaxson working one-on-one with a speech language pathologist during summer break.
"I wanted to create continuity for Jaxson, so the progress he made during the school year wouldn't be lost over the summer," said McArthur. "I believe he's benefitting from the therapy."
Today, Jaxson is working with his favorite therapist, speech language pathologist Deborah Noble, whom he calls "Miss Deb." This is his sixth year in the program. Lorraine said he has made significant progress with Miss Deb. He practices different words and exercises, expanding what he learned at school by working with his care team at camp.
"Children who have a difficult time communicating can also have a difficult time interacting with their peers, doing well in school or performing many tasks their peers take for granted," said Dipti Christian, rehabilitation manager at Beaumont, Wayne. "That's where the Summer Speech Therapy program comes in. The program pairs children with speech therapists who work with them individually to overcome their communication barriers, which can also help improve their school performance."
Accredited by the American Speech Language Hearing Association, the program is offered annually and is supported with funding from the Beaumont Health Foundation and Beaumont, Wayne administration. Sessions are for children age 2 to 14.
Participants must have individualized education plans to apply for enrollment, and a referral from a teacher. Individual enrollment for the full seven week program costs $350. Many children apply for and receive a Beaumont scholarship, but they must attend all sessions in order to receive funding.
The seven-week program is growing from when it started with only eight children in 2006.
"We have 44 children, so this is incredible growth," said Christian. "We have 14 returning students and 30 new families this year. It is very moving to see how the children are progressing and our impact on them."
Shari Sposato, of Taylor, enrolled her daughter, Giuliana in the summer speech program because she has trouble enunciating words. Giuliana turns 3 in September, and Sposato said another child in their extended family also had a speech delay, but overcame it by beginning speech therapy at an early age.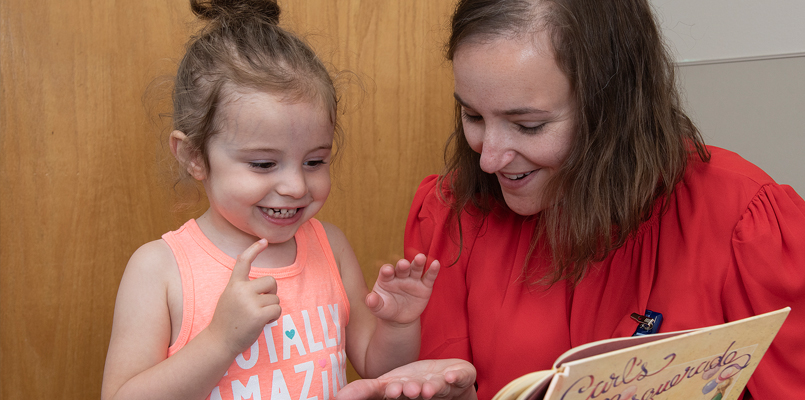 "I wanted to enroll her in this program so she can get a head start before beginning preschool," said Sposato. She initially attended speech therapy camp with her daughter, but decided to give Giuliana the opportunity to try her first session alone.
Feeling like a mom waving goodbye to her child on her first school bus ride, Sposato was waiting with anticipation for the session to end. "This feels a little like her first day of school," she said.
The program runs from June to early August. Program organizers celebrate the end of the program for all participants with an outdoor celebration Aug. 3. The Summer Olympics-themed party will feature games, pizza and other treats, and a Beaumont teddy bear and book gift for each child.
"This is a truly unique program that we're happy to be able to provide to the community," Christian said. "It helps kids be kids. It's a great feeling, knowing that we helped these children learn how to interact better with their peers—and that they had fun doing it."
For more information about Beaumont, Wayne summer speech therapy program, or to learn more about pediatric speech therapy, contact Beaumont, Wayne's speech therapy department at 734-467-4134.