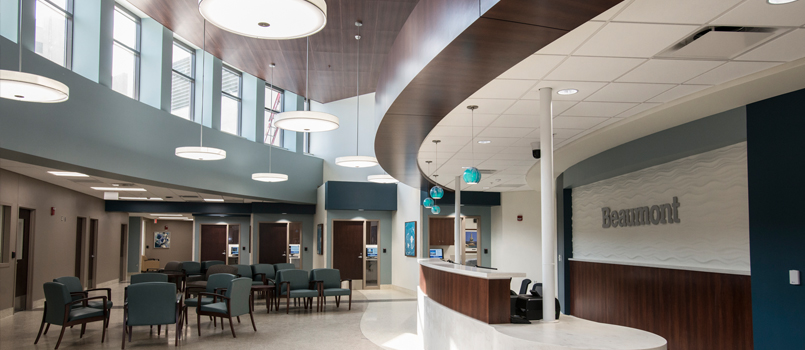 With the goal of enhancing care, reducing geriatric admissions and lowering costs, the Beaumont, Royal Oak, Emergency Department has prioritized and achieved Level 2 Geriatric Emergency Department Accreditation from the American College of Emergency Physicians. It is the only Emergency Department in the state and one of 23 in the country to have achieved this accreditation.
"Accreditation confirms we follow national guidelines for geriatric-focused patient care improvement in both quality and environment," said Dr. James Ziadeh, chief of Emergency Medicine at Beaumont, Royal Oak. "We are fully committed to continuously improving care for our oldest and most vulnerable patients and embracing our role as a regional leader."
Much of the work done to earn this accreditation was supported by the Marvin and Betty Danto Family Comprehensive Geriatric Emergency Medicine Program, created by a major philanthropic gift from the Marvin and Betty Danto Family Foundation.

"This accreditation could not have been achieved as quickly and as comprehensively as it was without the visionary support of the Danto family and their commitment to making a lasting difference for our older patients," said Dr. Lauren Cameron Comasco, director of the Marvin and Betty Danto Family Comprehensive Geriatric Emergency Medicine Program. "We utilize an interdisciplinary team to assess patients to provide improved coordination of care, promote best practices, and effectively provide resources to ensure safety and appropriate follow up"
As of 2016, the most recent data available, about 15% of the population, or 49.2 million people, are older adults. By 2060, the number is projected to reach 94.7 million or 23.5% of the total population, according to the U.S. Census.
With an eye to this future, Beaumont designed and implemented the first of seven Geriatric Emergency Medicine Fellowships in the country with the support of the Danto Family Foundation.
Other program achievements include the implementation of intense geriatric training for the department's multidisciplinary team of nurses, social workers, case managers, physical and occupational therapists, intended on focusing on the specific needs of geriatric patients, increasing capability to recognize symptoms, improve outcomes and create a dedicated Emergency Center Geriatric Assessment Team.
Under the direction of the ACEP, a Level 2 geriatric designation calls for implementing processes specific to geriatric needs, including assessments and structural enhancements -- such as appropriate beds and dimmed lighting. The hospital also needs to demonstrate readiness to make referrals for community resources to facilitate individualized care for older adults.
Additional examples include assessments for:
delirium and dementia
physical mobility
fall hazard
medication use
food and drink consumption
elder abuse
other related geriatric-specific challenges and complications.
Once needs are identified, staff provide necessary follow-up. This may include connecting patients to resources such as walkers and canes, as well as essential follow-up services such as physical and occupational therapy and inpatient and outpatient rehabilitation.
"Our Level 2 geriatric accreditation is just the first step in in our journey and commitment to better serve the community," Dr. Ziadeh said. "We are actively engaged in earning Level 1 accreditation and look forward to researching and developing best practices to influence the care of older adults nationally and right here at home."
With roughly 130,000 visits annually, Beaumont, Royal Oak's Stuart H. Blanck Emergency Center is one of the busiest in Michigan and the country. Of those visits, 27 % involve older adults and more than half of those patients are admitted to the hospital.

Additionally, Beaumont is taking numerous steps to keep geriatric and all other patients safe during the pandemic.