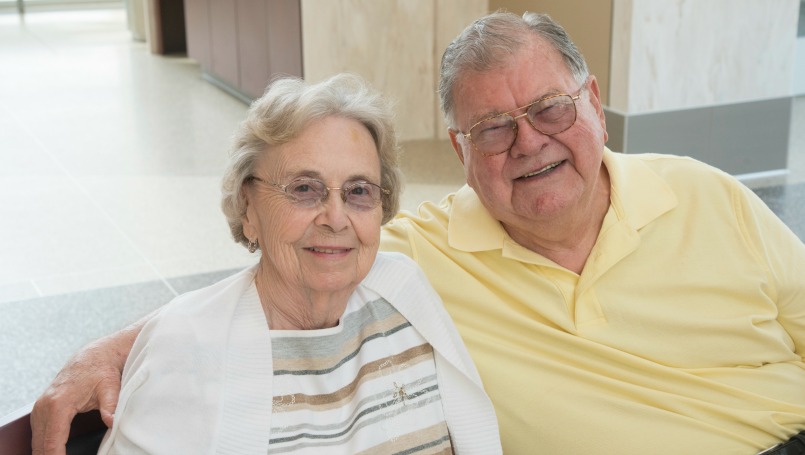 Brain tumor recurrence, technology leads him to Beaumont, Royal Oak
Bill Baker's life has had highs and lows, like spending summers with his family at their vacation home at 10,100 feet up in Leadville, Colorado. And the lows of health issues, such as finding out this past February his brain tumor was starting to grow again.
Baker, 86, a retired manufacturing engineer, from Elsie, Michigan, is no stranger to tumors and cancer. He's a colorectal cancer survivor. In 2009, doctors detected a brain tumor. Brain surgery seemed to help, but seven years later, an MRI scan revealed the tumor was growing again and getting larger.
"I'm a religious man," said Bill. "But it was a series of events that gave me optimism about what I should do about my tumor."
Some might call it serendipity.
'MEDICAL ADVICE FROM A POLITICIAN'
He explained, "I happened to be channel surfing one day, L. Brooks Patterson was on PBS talking about all the great things that were happening at Beaumont Hospital. He said they had this new machine, a proton beam therapy machine; it would treat tumors and cancers without damaging other healthy cells surrounding them. And I told my wife, that sounds just exactly what I need. I did some research online to find out more details.
"I did joke with my wife, 'Here I am taking medical advice from a politician.' I didn't know how that was going to go over, but it has been fruitful for me."
ENGINEERING PERSPECTIVE
With his professional background and pragmatic approach, Baker sought second opinions when diagnosed with his colorectal cancer back in 1985. In 2009, when his brain tumor was confirmed, he sought care 600 miles from his Mid-Michigan home at Mayo Clinic in Minnesota. He told his wife Barbara and his family physician, "I'm going to the best place I think I can go." Surgeons at Mayo were able to remove 85 percent of his tumor, but because of its location, 15 percent remained.
Said Baker, "I'm an engineer. I look at things from an engineering perspective. The more I learned about proton therapy technology, it boggled my mind - positively charged particles, accelerated by a cyclotron, destroying cancer cells. It's like something out of science fiction."
PERSISTENCE AND DETERMINATION
He called Beaumont's Proton Therapy Center in Royal Oak hoping he'd qualify for treatment at the new facility. After a doctor shared his cell number, Bill called him on several occasions.
Baker recalled, "I was concerned I would not be accepted into the program. I kept pestering them. But the doctors called me back and said, 'Yes, you are eligible.' Which made me feel good. They told me I was their first patient."
On Bill's desire to be treated with proton therapy, Prakash Chinnaiyan, M.D., Beaumont radiation oncologist and brain tumor specialist said, "He did his homework and definitely knows what he wants. His repeated phone calls to my colleague, Dr. Peyman Kabolizadeh, demonstrated his persistence and determination."
LIFE-THREATENING MENINGIOMA
Dr. Chinnaiyan, the Proton Therapy Center's Central Nervous System chief, said Bill's tumor is a meningioma. They form on membranes covering the brain and spinal cord. Left untreated, the tumor's growth can be life-threatening.
He explained meningiomas are usually slow growing. The goal of Bill's six-weeks of proton therapy radiation, "is to stop his tumor from continuing to grow, which would eventually lead to new neurologic symptoms. Because the tumor's response to treatments is also slow, after proton therapy is completed, our team will continue close follow-up to monitor its status."
PROTON TREATMENT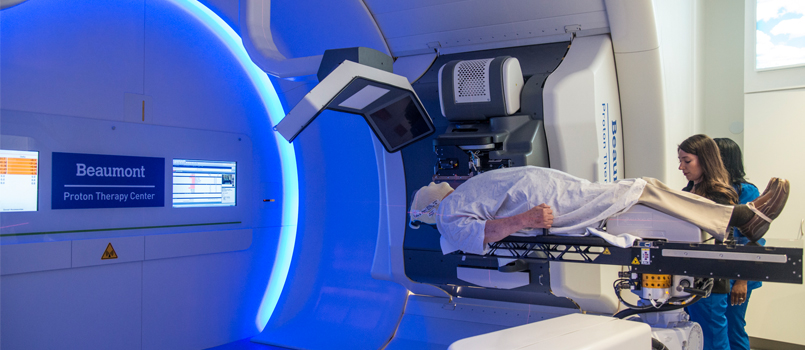 Bill's treatments began June 28. When asked about what it's like, he said, "After I am on the treatment table, there is a mask they have made for me that they put on, and a cradle for my head to keep me in the correct position. You just lay there on the table and that's it. The nurses, therapists and doctors take care of everything. There is no discomfort. It is painless. The treatments, including setup, probably last about 15 minutes. It's amazing technology."
Each Friday, after his morning treatment, Barbara and Bill drive about 100 miles home to Elsie, north of Lansing, where dairy cows outnumber people. During the week, they stay in a hotel close to Beaumont Hospital, Royal Oak.
CARE EXPERIENCE
"We've been to many different hospitals through the years, and at no time have we ever been treated as well as at Beaumont," said Baker. "I can't say enough about all the people here, they have been great. The facility and care has been outstanding."