Wednesday, October 25, 2017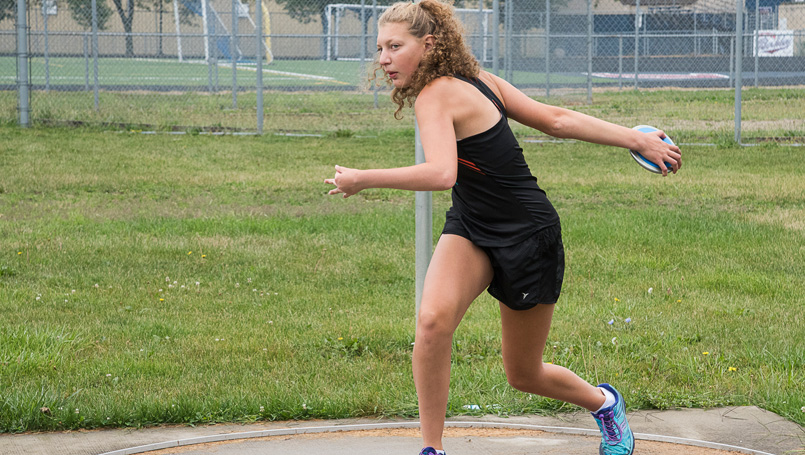 Beaumont patient is the only Michigan female to receive top honors
Margaret Beaudoin, a 17-year-old athlete from Berkley with cerebral palsy, was one of 71 athletes, and the only female in Michigan, to be named a Track and Field High School All-American by the U.S. Paralympics – a division of the United States Olympics committee.
Though she also competes in running, javelin and shot put, Beaudoin was recognized as the 8th highest ranking female in discus, with a 15.92 meter throw.
"I'm just really proud to have been there with so many other amazing Paralympic athletes," said Margaret. "They are my heroes. They have worked hard to compete and earn medals in these competitions, and I hope to do the same."
According to the U.S. Paralympics organization, more than 4,000 athletes competed at the Rio games last summer. They say Paralympics are the world's second largest multi-sport event.
This past summer, Margaret competed for the first time as an adult in the competition in Los Angeles. She met the Paralympic national standards for five track and field events. She received medals in three of them and set personal best records in all five categories.
A long time patient of the Beaumont Center for Exceptional Families, her caregivers couldn't be more proud of her accomplishments.
Susan Youngs, M.D., is the CEF medical director and one of Margaret's physicians. "Our mission goes beyond medical care. We join families like Christine and Margaret's on the journey of parenting a child with special needs so those children can live their dreams," said Dr. Youngs.
Margaret's medal earning journey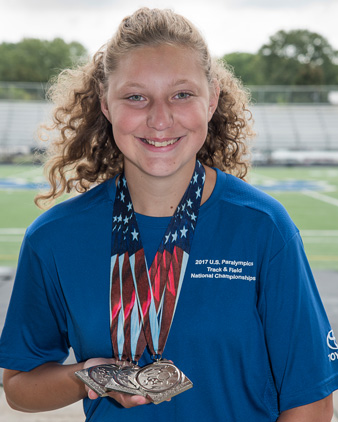 Her silver medals included achieving a shot put throw of 6.73 meters, a javelin throw of 12.53 meters and a discus throw of 15.24 meters. She also ran the 100-meter dash, placing fifth overall and achieving another personal best. Her next goal is to qualify for the World Cerebral Palsy Games to be held in Spain in August 2018.
Her mom, Christine McNish, and the rest of her family were in the crowd cheering for her.
"I'm just so pleased," said McNish, beaming with pride. "She had an amazing showing at her first adult nationals. We just couldn't be happier."
Diagnosed as an infant
Christine began noticing her daughter was unable to move or use her left arm when she was about 6 months old. Margaret was diagnosed with hemiplegic infantile cerebral palsy as a result of damage to the part of the brain that controls muscle movements.
About three in every 200 children born in America will have cerebral palsy. Not all of those children will develop hemiplegia. According to the Children's Hemiplegia and Stroke Association, this damage could occur before, during or shortly after birth. In children with hemiplegia, the paralysis affects one vertical half of the body and paralysis occurs on the side opposite the damaged part of the brain, requiring targeted treatment for spasticity.
Eileen Donovan, M.D., pediatric rehabilitation specialist at the CEF, said she looks for specific signs. "I am looking to see if the joints move fully or if there's any tightness," she said. "I also want to get a sense of the muscle tone and how easily the muscle can be moved and how much stiffness there is which could be a sign of cerebral palsy. This diagnosis means a child's muscles are not as loose and flexible as typically developing children."
Patients with spasticity and cerebral palsy often have muscle spasms, decreased balance and a limited range of motion, making athletics more difficult.
Physical therapy and occupational therapy can help
"Therapeutic work while they're young can help joints to remain loose," Dr. Donovan said. "This can help functionality and possibly aid in getting some range of motion back."
Regardless of her physical challenges, Margaret loves sports – watching and playing them. She was playing soccer at about age 3 thanks to a family friend who also coached the sport locally.
Though Margaret wasn't selected to represent Team USA at the World Para Athletics Junior Championships held in Switzerland this year, she and her family are looking forward to qualifying for the World Cerebral Palsy Games.
"I loved the entire experience in L.A.," she said. "It was amazing on so many levels!"
Gratitude for Margaret's caregivers
"We are so grateful to her doctors and therapists at both the Center for Exceptional Families and the Pediatric Rehab Center in Royal Oak," said Christine. "We know Margaret couldn't have done all of the practices and physical activity to achieve those results without the help and work of the amazing staff."
Margaret recently received her varsity letter at Berkley High School and was named Field Athlete of the Year. She will also be participating in competitive swimming in the fall.
"As a parent of a child with cerebral palsy, my advice is to let them try anything and work with the local sports teams, programs and schools to make any adaptations that may be necessary," said Christine.
"Margaret is an amazing example of what it looks like to unlock a child's potential," said Dr. Youngs.