Thursday, September 08, 2022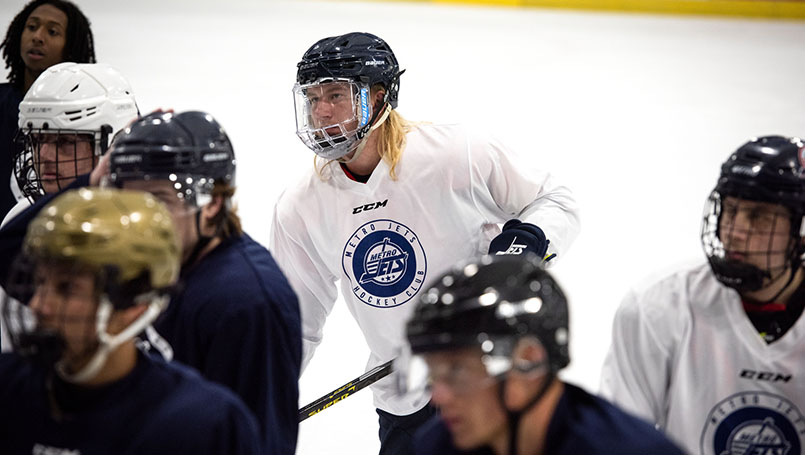 Support and visits from hockey teammates helps maintain 'normal life'
When an active, healthy teen heard the words, "You have cancer," back in May, it was like a slap shot right to the face.
"It all happened so fast," 18-year-old Braydin Lewis said. "One day, I was out on the ice playing hockey. The next day, I was undergoing emergency brain surgery."
Lewis spends his weekday mornings working out and practicing with his junior league hockey team, the Mount Clemens Metro Jets. The end goal: make it to the pros.
Lewis said he first noticed symptoms of fatigue, nausea and an odd smell during hockey nationals in March. He went from playing a great game to vomiting, being rushed to the hospital by ambulance and having a seizure.
A few months later, an MRI confirmed he had a malignant brain tumor.
"My doctor in Fort Wayne did an incredible job with the surgery," Lewis said. "He was able to get all of the tumor out."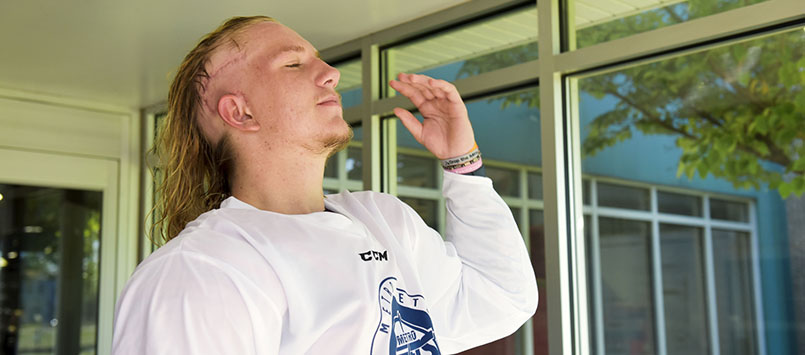 Each year, one 18-year-old in every 1,000 in the U.S. is a survivor of childhood cancer. This September is Childhood Cancer Awareness month. The goal is to increase support and awareness for pediatric cancers.
First period: Discussing treatment options
Following surgery, Lewis said his doctor discussed additional treatment options with him and his family.
"My doctor said Beaumont Hospital had a specific treatment called proton therapy that would help treat just that precise area in my brain and not the surrounding part of what he called my 'healthy brain,''' Lewis said.
Because it was the off-season, he was living with his family in Angola, Indiana, at the time. The Lewis family together agreed they would cross state lines for his proton treatment.
"At that point, my family would do anything possible to help me," he said. "They would've driven to Mexico if they needed to. They wanted the best possible treatment for me and that was Beaumont."
Second period: Proton therapy begins
In July, Lewis began six weeks of proton therapy, along with chemotherapy, at Beaumont Hospital, Royal Oak, under the care of radiation oncologist Dr. Prakash Chinnaiyan.
Proton therapy, also called proton beam therapy, is a type of radiation therapy that uses protons rather than X-rays to kill cancer cells. It's a high-tech alternative, offering greater precision to destroy cancerous cells and spare adjacent, healthy tissue with less side effects.
"The Proton Therapy Center at Beaumont Health recently celebrated its five-year anniversary," Dr. Chinnaiyan said. "During this time, our team has had the privilege of treating patients from all over the country and world like Braydin, who have benefited from this state-of-the-art technology."
Dr. Chinnaiyan said Lewis was an ideal candidate for proton beam therapy for two reasons: he's young and his tumor was located near critical structures in the brain.
During his proton treatment, Lewis continued working out, remained active and did what he does best: played hockey.
"I got my rest when I needed it," he said. "But I didn't want to just be lying around the house doing nothing. I wanted to be living my normal life."
Another remedy of sorts was his team.
Lewis' whole team surprised him at the Proton Therapy Center at Beaumont Hospital, Royal Oak, for the first day of his treatment on July 19, showing him that they truly have his back on and off the ice.
"Having all my boys there for me has helped so much," Lewis said. "They're always texting me asking me how I'm doing. They've just been there for me. They all live up there in Michigan, so they would come with me to some of my treatments. It meant more than they'll ever know."


Third period: Graduation from proton radiation
Lewis was able to ring the bell, signaling the end of his proton therapy treatment on Aug 30.
"It felt amazing," Lewis said. "That was my next goal and I achieved it."
His advice to others who may one day hear the words 'You have cancer:' don't let it stop you.
"Have a positive mindset," he said. "That's what's going to help you the most. It will help you feel physically better. Stay active, and just keep living your life the best you can."
Dr. Chinnaiyan said it was clear upon meeting Lewis for the first time that, despite undergoing brain surgery and a six-week course of proton beam therapy with chemotherapy ahead of him, one of his goals was to be able to play hockey.
"Braydin tolerated his treatments exceptionally well, so I couldn't be happier to see him back on the ice, doing what he loves," Dr. Chinnaiyan said.
"I'm back where I'm meant to be: On the ice," Lewis said.