Thursday, August 01, 2019
Beaumont, Trenton welcomes back patients and their families Aug. 10 for first Trauma Survivor Day
Lesley Daniels, 50, had a wonderful life that included her loving family and job as a school bus driver for Flat Rock Community Schools. Then, six years ago, a horrific accident occurred while she was assisting a fellow bus driver. Daniels offered to plug in the bus's block heater and needed the driver to move slightly closer. She retreated to the curb by a guardrail. Suddenly, the bus hopped the curb, crushing Daniels' legs against the guardrail and dragging her.
A co-worker pulled her from underneath the bus and called 911. She was transported to the Trauma Center at what is now Beaumont Hospital, Trenton.
Beaumont surgeon Dr. Thomas Gazdecki grabbed Daniels' hand and said, "I need you to listen to me. It's going to be your legs or your life." She told him to do what he needed to do to save her life. Daniels made a choice right then to live her life with gratitude and appreciate each day she has with her family.
Faith, family and friends: A strong support system is crucial
Daniels' husband, Todd, became the family's cook and learned how to help her get into her prosthetic legs. A ramp was added to their Brownstown home's entrance to make it easier to get her pink motorized wheelchair in and out. She uses a makeshift vanity to apply makeup and do her hair because she cannot maneuver into her home's only bathroom with her wheelchair.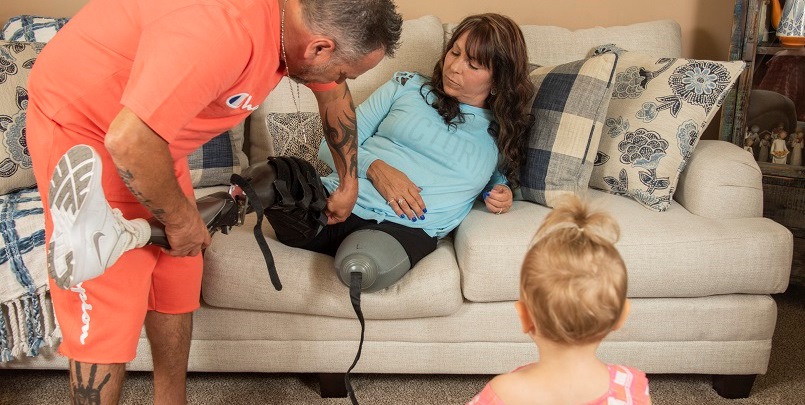 "My current life consists of attending physical and occupational therapy two or three days a week. I also do my best to maintain a home conditioning program, which has been extremely difficult because our home isn't wheelchair accessible."
Sometimes her nerve pain is severe, but she refuses to fixate on it. She's just happy to be alive.
"I begin each day with a grateful attitude. I refuse to let anything ruin my happiness and choose joy over negativity. I spend most of my free time with family and am enjoying the summer's sun and warmth. And, my family has grown to include four beautiful grandkids."
"I continue working on my recovery, because we don't know where it may lead," Daniels said. "A Bruce Lee quote I love is 'Do not pray for an easy life. Pray for the strength to endure a difficult one.'"
Trauma patients and their families: Celebrate life and reconnect with your trauma team
Part of Daniels' recovery is giving back by sharing her inspirational story. She will speak at the first Trauma Survivor Day being held at Beaumont Hospital, Trenton, located at 5450 Fort St. The free event will run from 11 a.m. to 1 p.m., Saturday, Aug. 10. It is a celebration of trauma survivors' no-quit spirit.
All current and previous trauma survivors treated at Beaumont, Trenton and their families are invited to meet up at Trenton Terrace, an outdoor area on the north side of the hospital for lunch, entertainment, discovering resources to help improve quality of life after surviving a traumatic injury, and learning about pain management and options from a Beaumont physician.
"We offer this event for trauma survivors and their families to reconnect with hospital staff that helped them through one of their most challenging times," said surgeon Dr. Allan Lamb, medical director of Trauma Services at Beaumont, Trenton. "Reconnecting in this way is another step toward recovery and creates community among fellow survivors and their families."
Registration is required. RSVP by Aug. 2 online or call 800-633-7377.
"This event is an opportunity to return to where recovery began for us as survivors of traumatic injury," said Daniels. "We wouldn't have survived without the high level of care we received at Beaumont, Trenton. We will join together to celebrate life, share our stories and know we are not alone."