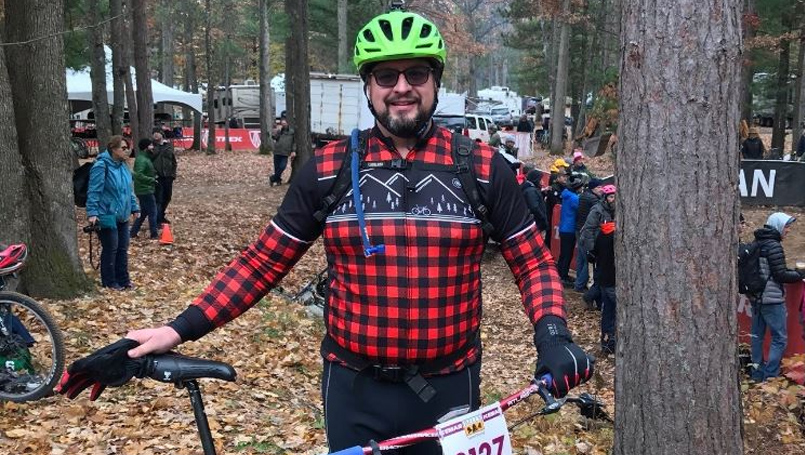 Brian Yost, was diagnosed with Type 2 diabetes, the most common type of diabetes, which typically occurs due to obesity and lack of exercise. Brian, a hospice nurse, was very overweight, and his blood sugar and hemoglobin levels were off-the-chart.
At 40 years old, Brian had attributed his physical symptoms to daily stress. "I didn't feel well and had blurred vision," Brian recalls.
But then his vision deteriorated to the point that he went to the emergency center. "That's how bad things got," he says.
"As a nurse, I knew about diabetes and its signs, but I still couldn't come to terms with the diagnosis."
Brian's return to better health included losing 70 pounds, changing his diet and having his blood sugar level checked every three months. A level below 5.7 percent is considered normal, and the diagnosis is made when the level is more than 6.5 percent. "At my first checkup, my number was at 7 percent. At six months, it was at 5.3 percent," Brian says.
As a nurse, I knew about diabetes and its signs, but I still couldn't come to terms with the diagnosis.

Brian
Despite being a nurse and knowing how to administer insulin and check his blood sugar level, the experience was still overwhelming for Brian. To manage his symptoms, Brian applied his own version of a diabetes-control diet.
"My problem was overeating," he explains. "I've stopped drinking sugary drinks and eating desserts, and I'm exercising more."
Brian's exercise ritual includes his passion, mountain bike racing. Earlier this month, he competed in the annual 29-mile race known as the "Iceman" in northern Michigan.
Six months later, in better health and with his friends' urging, Brian shared his experience on social media to help others understand and manage Type 2 diabetes.
"I kept telling people my story and what I did to lose the weight and change my lifestyle," says Brian.
The response to Brian's message was very positive, "They encouraged me to get better and continue to share my experience with diabetes."
No longer in need of medication, Brian will control his diabetes by following a healthy diet the rest of his life and plans to work hard to avoid the potential long-term effects of diabetes, including heart disease, circulatory problems and blindness.
"Diabetes woke me up and, in a way, saved my life," he said.