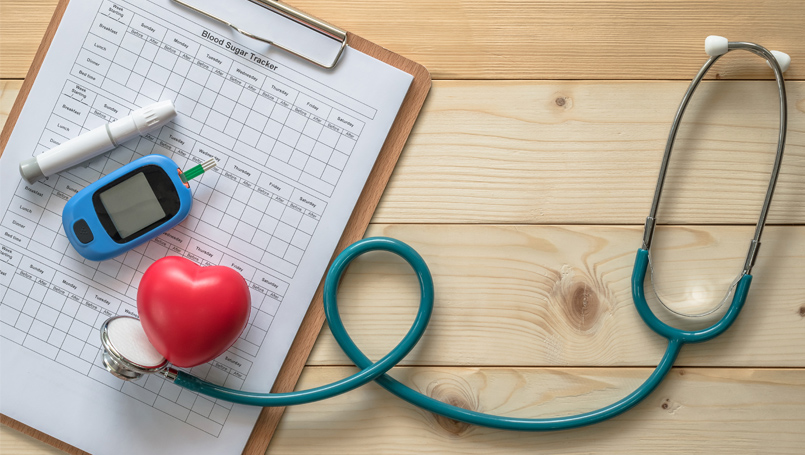 Living with diabetes brings with it many responsibilities, including the need to constantly monitor your blood-sugar levels, take medication or administer insulin injections, and make healthy lifestyle adjustments around diet and exercise.
Diabetes also involves many risks to your heart health, which makes it more important to manage your disease. According to the American Heart Association, adults with diabetes are two to four times more likely to die from heart disease than adults without diabetes.
"What I advise all patients, but especially those with diabetes, is they must have a balanced healthy diet, exercise and lose weight if they are overweight or obese" says Mohammed Abu-Mahfouz, M.D., an interventional cardiologist at Beaumont Hospital, Wayne. "We ask all our patients to do that but we strongly emphasize it when a patient has diabetes."
Diabetes 101
There are two types of diabetes: Type 1 and Type 2.
Type 1 diabetes is caused by the body's inability to make enough insulin, a hormone which helps the body convert glucose (sugar) into energy. It typically affects people below the age of 40. People who have Type 1 diabetes must constantly self-administer insulin.
With Type 2 diabetes, which is much more common, onset of the disease takes place later in life, usually after age of 40, though it can happen at a younger age in overweight or obese patients. It's characterized by the body's resistance to insulin and is treated via oral medications, lifestyle changes and sometimes insulin injections.
Potential complications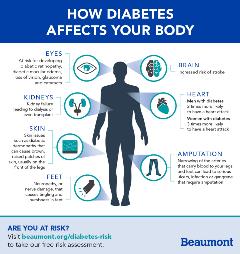 When either form of the disease is not well managed, diabetes sends blood sugar levels spiking, which can in turn lead to a buildup of plaque in your arteries, restricting the flow of blood in your heart, brain or legs. It can also lead to high blood pressure, which can cause heart problems.
Diabetes can also impair kidney function, further increasing plaque buildup in the arteries, and it can lead to high cholesterol levels. Taken together, the risk of a heart attack or a stroke becomes much higher. It can also lead to problems with blood circulation in the legs, which may lead to foot ulcers, and even amputations.
How to manage diabetes
Those with diabetes need to stay on top of taking their medications, follow a balanced healthy diet rich in fruits, vegetables and whole grains, lose excess weight and exercise regularly - at least 30 minutes a day, every day.
It's also critical to avoid smoking, Dr. Abu-Mahfouz says. Like diabetes, smoking is a major risk factor for heart attacks and strokes. "If you combine these two, the risk of having a heart attack or stroke becomes very high," he says.