Beaumont Hospital, Troy, NICU patients Maks and Mitchell Laubach were due May 25, 2020. But despite having self-isolated for a week, on March 19, Mom, Jennifer Laubach started experiencing COVID symptoms.
A few days later, dad Andre also started experiencing symptoms. Due to asthma, his symptoms were a bit more severe.
He coughed all night and had trouble breathing, but on the morning of April 2, Jen's water broke, eight weeks early. And Andre raced around trying to pack her bag.
By the time he got back downstairs, Andre was coughing violently, gasping for air and unable to speak.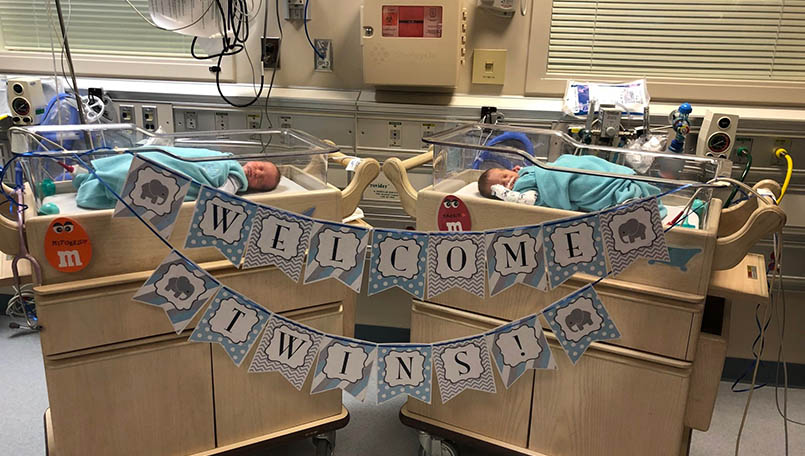 "I was worried I might not see him again," said Jen, who jumped behind the wheel to take herself to the hospital after calling 911 for Andre. "I was afraid he was going to die in his sleep, all by himself."
She said, "I love you."
Andre could only nod.
Learn more about Mitchell and Maksim's historic birth, how the Neonatal Intensive Care Unit at Beaumont Hospital, Troy, rallied around the tiny, preemie twins and what NICU nurse Diane Moskal did to reunite the family after three long weeks in quarantine.
---
2020 Walk For Miracles
Join us (virtually) on Saturday, August 8 for the newly named Walk for Miracle Workers . Choose to walk or run. In addition to supporting the pediatric programs and services of Beaumont Children's, proceeds from this year's event will also support Beaumont's healthcare heroes. There are great contests and gifts for participants. Register today!