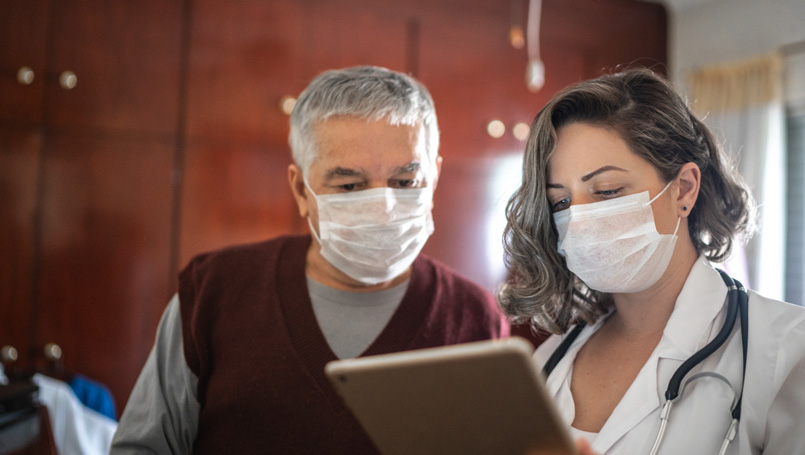 As the nation continues to practice social distancing and respond to the COVID-19 crisis, hospitals and doctor's offices across the country have made significant changes to how they provide medical care. Although many medical visits and procedures were delayed or canceled, health care providers are starting to return to a "new normal."
Beaumont is leading Michigan through the COVID-19 crisis, and we're leading the way out. Our expert doctors and caregivers have created a secure environment so you can feel safe coming to Beaumont for care.
"I can assure you that Beaumont is safe and ready to serve you," said Dr. Nick Gilpin, Beaumont's director of infectious disease and epidemiology. "No matter what your medical need is, you can feel confident coming to us for care."
Emergency Centers
Doctors have shared concerns that people are experiencing medical emergencies like a heart attack or stroke but are reluctant to seek care from their nearest emergency center for fear of coming in contact with COVID-19 patients.
"We've taken extra precautions to disinfect and clean our Emergency Centers and assist our patients with non-COVID-19 medical emergencies," said Dr. James Ziadeh, chief of Emergency Medicine at Beaumont Hospital, Royal Oak. "Those experiencing chest pains, stroke symptoms or any other medical emergency should not hesitate to call 911 or visit one of our Emergency Centers."
In addition, patients are being screened for COVID-19 symptoms.
Those experiencing chest pains, stroke symptoms or any other medical emergency should not hesitate to call 911 or visit one of our Emergency Centers.

Dr. Ziadeh
General guidelines for when to call 911 or visit an emergency center include:
wheezing, shortness of breath or difficulty breathing
chest pain
displaced or open wound fractures
fainting or dizziness
sudden numbness or weakness
bleeding that cannot be stopped
abdominal pain – especially intense localized pain
fever with convulsions or any fever in children under 3 months of age
confusion or changes in mental status
coughing or vomiting blood
severe headache or head injury, especially if the individual is on aspirin or blood thinners
blood in the urine or bloody diarrhea
sudden inability to speak, see, walk or move
Urgent Care
Many urgent cares are open and seeing patients for non-emergency situations like minor illness or injury. Just like emergency centers, urgent cares are taking precautions to limit face-to-face interactions and protect patients from exposure to COVID-19.
"Social distancing in waiting rooms, providing masks to patients with respiratory symptoms and virtual visits are just a few ways we are keeping urgent care staff and patients safe during the pandemic, said Dr. Bernice Sessa, Beaumont emergency medicine doctor. "We want people to get the care they need, but also understand that we need to adapt the way we provide that care right now."
Telemedicine and Virtual Visits
Many doctors' offices and urgent cares now offer telemedicine and virtual visits for routine care that doesn't require an in-person examination. Recent studies report a 50% increase in telehealth visits in March across the U.S.
"The government removed a lot of the barriers that kept telemedicine from being widely adopted in the past," said Dr. Deepali Jain, Beaumont internal medicine doctor. "That, combined with Michigan's stay home order and the need to postpone non-essential medical services, has led to a more widespread use of telehealth."
Medicare, Medicaid and many private insurance providers are now covering virtual visits the same way an in-person visit is covered, but it's always important to check with your insurance provider before scheduling a visit.
"We've been able to provide safe and effective care for a lot of patients, especially those most vulnerable to COVID-19 like seniors and those with compromised immune systems," Dr. Jain said. "It's been real lifeline for both the doctors and the patients."
Other services and medical needs
As the Governor eases restrictions and begins a phased approach to reopen the state, previously postponed or canceled services are now available at Beaumont hospitals and medical centers throughout Southeast Michigan.
"Your doctor might reach out to you to reschedule surgery, imaging services or other important tests and procedures that were on hold due to COVID-19," Dr. Gilpin said. "If you have a question about a procedure, we encourage you to reach out to your doctor for more information."
---
Accessing Non-COVID-19 Care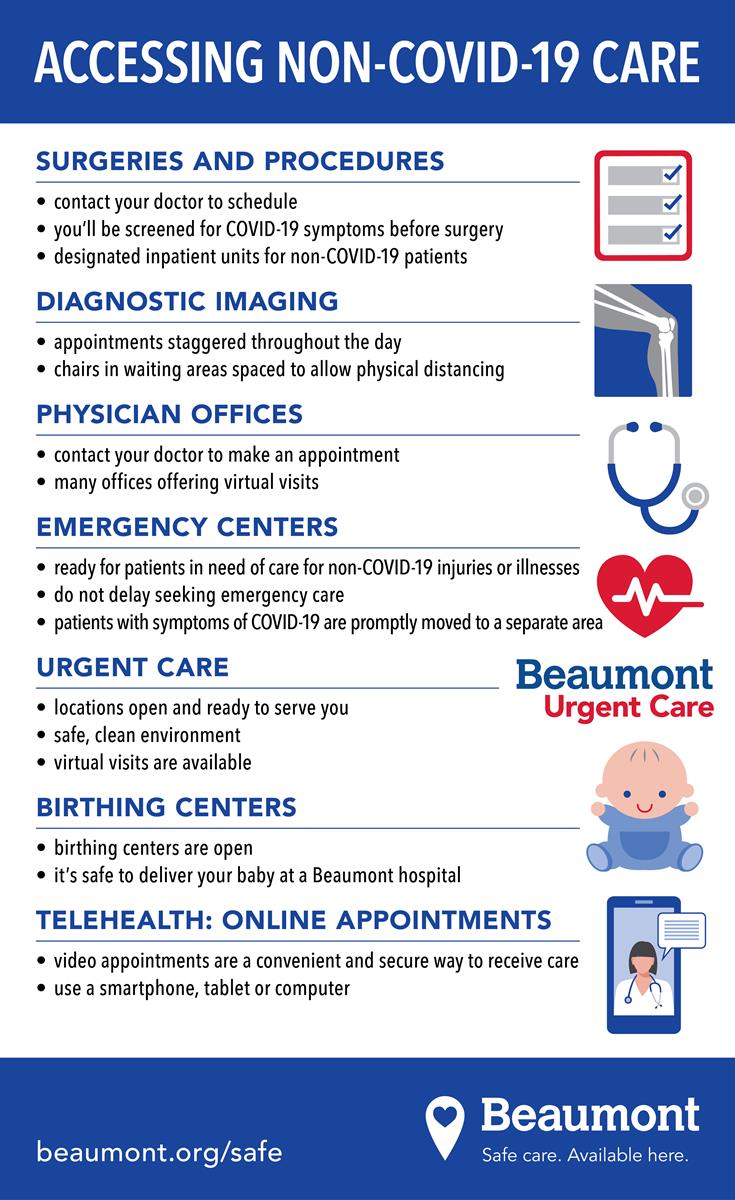 ---
If you are experiencing COVID-19 symptoms such as cough, fever or shortness of breath, call Beaumont's Coronavirus Hotline at 800-592-4784 or take the online risk assessment.