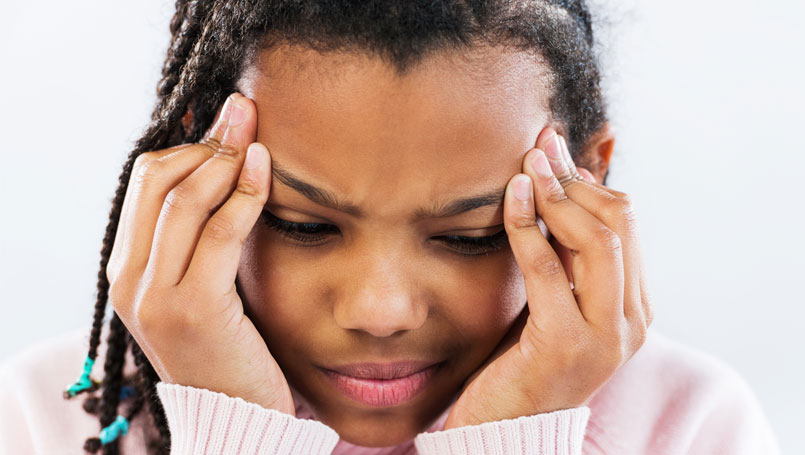 It's one of the statements a parent never wants to hear from a child: "I have a headache."
Headaches are a common source of complaints for children.
"At the Beaumont Children's Headache Center, parents and caregivers tell us that many questions race through their minds when their child complains of a headache," explains Elizabeth Leleszi, M.D., pediatric neurologist, medical director of the Beaumont Children's Headache Center. "They wonder how best to treat them and worry that something could seriously be wrong."
At what point does a child's headache warrant a trip to the doctor? Could it be a brain tumor? How much is too much pain medication? And am I using it too frequently? What can I do to treat my child's headache at home?
Dr. Leleszi suggests considering seeing your child's doctor if the headache:
starts after your child hits his or her head
awakens your child from sleep at night
is accompanied by a high fever (greater than 100.4 F) and other signs of infection, such as a stiff neck, vomiting, difficulty with walking, changes in vision or confusion
Also consider contacting a doctor if your child is:
under 3 years of age
has other complex medical problems (bleeding problems, immune problems, heart problems, etc.)
has a headache greater than one time a month
In general, home treatments for headaches are appropriate when the headache does not have the above accompanying features.
So, what should you do when a headache strikes?
Actions you can take at home may include allowing the child to rest in a quiet, dark environment and encouraging sleep. Over the counter medications such as ibuprofen or acetaminophen may be helpful at doses appropriate for your child's age and weight.
"These medications should not be used for headaches more than days per week," advises Dr. Leleszi. "If taken more frequently than that, your child may develop new headaches from taking too much pain medication. Some children may benefit from daily therapy to prevent headaches in the first place."