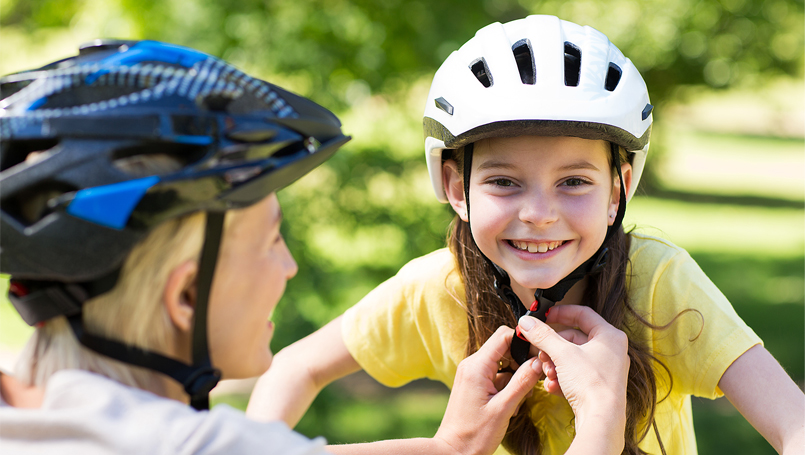 Bicycling is great way for families of all ages to stay active and enjoy the outdoors. Since you'll be sharing the road with vehicles, safety is important.
According to the National Highway Traffic Safety Administration in 2015, bicyclist fatalities increased by 13 percent. Keep yourself and your friends and family safe on your next bike ride with these tips:
Choose the right bicycle
The bicycle should not be too big or complicated.
The rider should be able to place the balls of his/her feet on the ground when sitting on the seat.
The bicycle should have a bell or horn.
Helmets matter
Helmets are for the whole family, from adults to infants. Be sure to set a good example - children will be more likely to wear a helmet when the adults wear one too.
"Your brain is highly vulnerable to permanent injury, much more so than any other part of your body from bicycle falls or accidents," explains Beaumont emergency physician Arash Armin, D.O.
Properly-fitted helmets can reduce the risk of head injuries by at least 45 percent – yet less than half of children 14 and under usually wear a bike helmet. When shopping for a child's helmet, include them in the process. A child will be more likely to wear a helmet if he or she picks it out.
Helmets should be approved by the US Consumer Product Safety Commission (CPSC), the American Society for Testing and Materials (ASTM) or the Snell Memorial Foundation. Approved helmets meet stringent safety standards.
Some helmets are multi-sport, which can be used for in-line skating, skateboarding, bicycling, or other wheel sports. Helmets that specifically are called "bicycle helmets" are designed only for that sport.
Proper helmet wear
Helmets come with sponge pads to adjust the fit on your head. A properly-fitted helmet should meet the following requirements:
the helmet should fit snug, not moving on the head
the front edge of the helmet should be two finger widths above the eyebrows
front and back straps of the helmet should form a v just below the ear
front straps should be vertical and the rear straps should be flat
the chinstrap should be snug when you open your mouth (one finger should fit between the chin and chin strap when the mouth is closed)
Road rules
Since most bicycle crashes occur when a traffic rule is broken, besides wearing a bicycle helmet, be sure to the following traffic and road rules:
stop before riding into traffic from a driveway, sidewalk, parking lot or other street
look left, right, and left again to check for cars
if the road is clear, enter
ride on the far right of the road, with traffic
ride so cars can see you, wearing brightly colored clothes, especially at night
obey all traffic signals and stop signs
look back and yield to traffic coming from behind before turning left
ride bicycles in single file
look for uneven pavement or other surface problems
By following a few simple rules, bike riding can be a safe and enjoyable activity for the whole family.
"Never text or talk on the phone when riding a bike, wear a helmet, and most of all have fun," says Dr. Armin.