Tuesday, October 19, 2021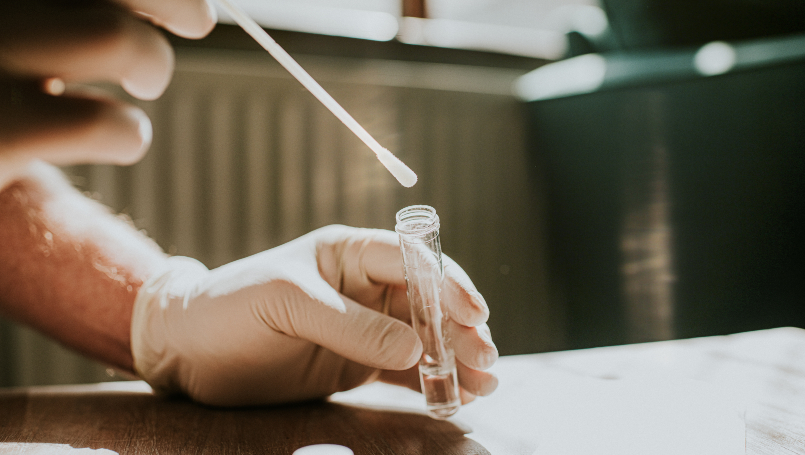 Article Takeaways
Available COVID-19 tests are effective and reliable
Testing differs between asymptomatic and symptomatic individuals
Some tests can be carried out on the spot or even at home
Laboratory-based tests provide the best accuracy
---
The coronavirus pandemic continues to affect our daily lives with hundreds of thousands of people infected every week. COVID-19 testing is one of the most effective ways to protect yourself and your loved ones. But which test is right for you? Beaumont Infectious Diseases Specialist and Chair of Internal Medicine, Dr. Christopher Carpenter, has the answers.
What are the different types of COVID-19 tests?
There are currently two main types of COVID-19 tests available.
Viral tests can identify a current COVID-19 infection. Two common types of viral tests are nucleic acid amplification tests (NAATs) and antigen tests. You may have heard NAATs referred to as PCR tests. Vaccination will not result in these tests being positive.
Antibody tests, also known as serology tests, tell you if you have been infected with the coronavirus in the past, but they cannot detect a current infection. Depending on the antibody target (i.e., those targeting the spike protein), this testing could also identify a response to prior vaccination in someone who has not been previously infected.
Some viral tests can be processed on-site or even at home, while others need to be sent to a laboratory.
"The on-site tests are convenient and produce quick results, but they have some limitations," Dr. Carpenter said. "In many cases, operators can only process a limited number of tests within a certain time. Sensitivity and accuracy can also be an issue."
Laboratory tests tend to be more accurate, but the results may take longer to return.
Which Test Should You Choose?
"Which test works best for you depends on your circumstances," Dr. Carpenter said. "Some tests are only approved for people who are already symptomatic, and these should not be used for screening if you feel healthy. The best test is the one that gives you the most accurate result in the timeframe needed."
If speed is important, an antigen, or rapid test, may be the most suitable. Several of these tests are now available as home test kits, meaning there is no need to visit a health care facility to be checked. If you can wait for the results of a laboratory-based test, you generally receive the most accurate results.
While no test is perfect, those currently available are accurate when used as directed. If you are opting for an at-home test, it's crucial to follow the instructions closely for the best result. Anyone who experiences persistent symptoms, even after a negative COVID-19 test, should consider repeat testing.
When to get tested for COVID-19
Getting tested for COVID-19 is helpful in either confirming or ruling out an infection, especially as we move into flu season. Not only can the result influence treatment options, but it can help protect those around you.
The CDC recommends that anyone who is showing symptoms of COVID-19 should get tested, including those who are fully vaccinated or have previously been infected. In addition, unvaccinated people who have traveled, attended large gatherings or been in badly ventilated indoor spaces should get tested.
Even fully vaccinated individuals who have been exposed to someone with COVID-19 should seek out testing to ensure they have not contracted the virus. While the person may not be showing any symptoms, they could still pass on the disease to other people. Testing helps prevent that through appropriate isolation if positive.
If you believe you were exposed to COVID-19 and are fully vaccinated, you should test 5-7 days after your initial exposure.
If you believe you were exposed to COVID-19 and are NOT vaccinated, you should test immediately. If your test result comes back negative, be sure to test again (5-7 days after the initial exposure or immediately after symptoms develop).
A recent negative COVID-19 test may be required for anyone planning to travel abroad or returning to the U.S. from an international trip. Exact regulations differ between destinations, so it's important to check and make the proper arrangements before traveling.
How to protect yourself when waiting for test results
"If you are asymptomatic and getting tested for routine reasons, such as before travel, there is no need for limitations other than the recommended precautions," advises Dr. Carpenter.
Unvaccinated people who have been exposed to COVID-19 should consider self-quarantine. Vaccinated individuals may not have to quarantine but need to monitor themselves for symptoms and continue to take precautions. For anyone displaying COVID-19 symptoms, the CDC recommends isolation while waiting for test results.
Despite the widespread availability of testing, Dr. Carpenter emphasizes that vaccination remains the best way to prevent COVID-19.
---
Next Steps and Helpful Resources