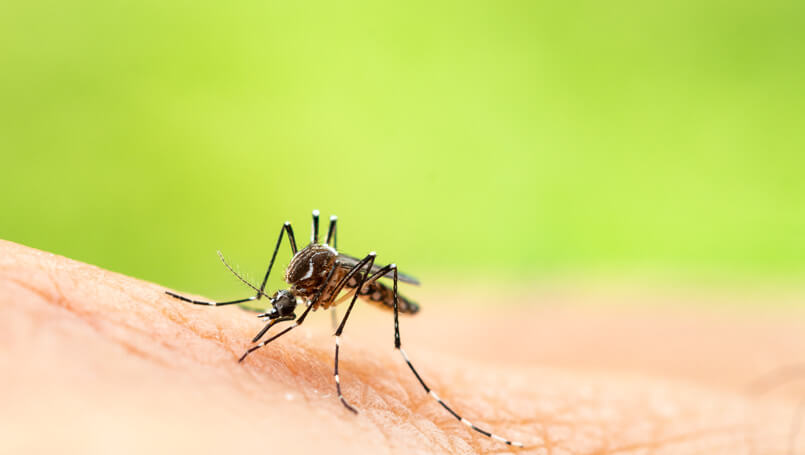 The return of spring and spring rains means the return of mosquito season. And whether you have plans to travel to another country or simply plan to spend time working or relaxing in your own backyard, it's always a good idea to educate yourself about mosquito-transmitted infectious diseases.
"The most common and devastating mosquito-borne infections are malaria, dengue fever, chikungunya, Zika virus, yellow fever and a variety of viruses that infect the brain," said Dr. Joel Fishbain, an infectious disease specialist at Beaumont, Grosse Pointe.
West Nile Virus
The best-known example in the U.S. is undoubtedly West Nile virus, which is the leading cause of mosquito-born disease in the continental U.S. since New York first reported incidences of the disease to the Centers for Disease Control and Prevention in 1999.
Though West Nile belongs to the same genus that contains the Zika, dengue and yellow fever viruses, most people who are infected develop no symptoms. Those who do show symptoms experience things like fever, body aches, vomiting and diarrhea, but can recover completely. About 1 in 150 people who are infected develop a serious illness that can sometimes be fatal, according to the CDC.
Here in Michigan, infection rates have varied but mostly moderated since the disease was first reported and peaked in 2002 at 614 cases and 51 deaths.
Zika Virus
Zika is perhaps the most frightening of mosquito-transmitted diseases because of the devastating consequences it can cause during pregnancy and childbirth. While most people who become infected develop no symptoms, and symptoms are usually mild, Zika can cause infants to be born with microcephaly - a smaller than normal head size — and other congenital deformations. It can also cause miscarriage and preterm birth, among other pregnancy complications.
When to see a doctor
"Fever, headache and any neurological symptom would be an indication to seek medical evaluation," Dr. Fishbain said. "Confusion or unexplained changes in the presence of these symptoms is another concerning factor.
"Sadly, there are no specific therapies for any of these viral infections in Michigan. Malaria is treatable, but not found in the U.S. Going over the patient's travel history will help determine how best to investigate the patient's symptoms."
When and how to take precautions
When you travel anywhere outside of the continental U.S., you may need to start taking precautions against mosquitos. Speaking on a recent episode of Beaumont's HouseCall podcast, Dr. Fishbain emphasized understanding the difference between daytime biters, which carry diseases like Zika, chikungunya and dengue fever, and nighttime biters, which transmit malaria.
"If you're going to a populated city and you're going to be in the hotel after dusk, you probably don't need to worry about malaria," Dr. Fishbain said. "But if you're hiking across and camping in the jungles of Thailand, then you're at very high risk for multiple things."
Lowering your risk of obtaining one of these diseases is all about minimizing your exposure to mosquitos. Dr. Fishbain recommends the following:
removing any standing water around the house or workplace, where mosquitos typically breed
wearing long sleeves and pants whenever possible
applying an effective bug repellent to your skin such as DEET or a natural mosquito repellent like oil of lemon eucalyptus, and re-applying them as necessary, such as after swimming or if you've been sweating a lot
If you plan to travel to a foreign country, Dr. Fishbain recommends visiting a travel clinic as much as 30 to 60 days before your trip to find out what mosquito-borne illnesses or other infectious disease risks you might need to know about and prepare for.