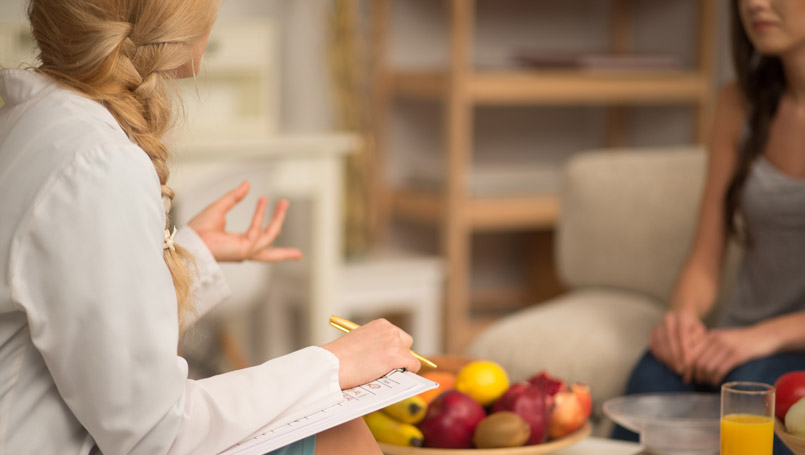 While a dietitian's work does center on food and its role in helping people lose weight, they aren't in the business of suggesting name-brand weight-loss diets such as Atkins, Paleo or South Beach Diet.
They are credentialed health professionals who have obtained a bachelor's degree, completed a supervised internship and passed a national exam honoring them with the title of registered dietitian, or RD for short. Then, every five years, they must complete 75 hours of continuing education credits to keep up with the ever-evolving nature of science's understanding of nutrition and the human body.
Also, while dietitians are by nature nutritionists, the inverse is not necessarily true, since there's no licensing required to call yourself a nutritionist. In some states, the title of nutritionist may convey no special education, training or experience.
"We're basically food and nutrition experts," says Silvia Veri, RD, a nutrition supervisor at Beaumont's Weight Control Center.
How dietitians help
Registered dietitians work with patients who are struggling to lose weight or need to improve their diet for other health-related reasons, such as following a managing diabets. They work with patients to understand their particular needs and challenges, and design meal plans accordingly. They also conduct nutrition education in classrooms and office settings, perform cooking demonstration classes and give out recipes and food ideas.
Patients, Veri says, are often overwhelmed by the sheer volume of nutrition advice, conflicting scientific studies and the latest diet crazes.
"We try to tell them, ignore all those things," she says. "Let's just try to eat and find balance, figure out what you have time for and determine what you like to eat. A big topic is time. A lot of people don't like to eat fruits and vegetables because they think it takes too much time.
"Or it's just a lack of knowledge on how to cook on a budget. Sometimes it's based on the desire to do it. And sometimes they're at a point where they're pretty overweight and obese and it's just cumbersome. They have a hard time standing the kitchen for a long time or walking around in the grocery store."
Dietitians may work in food service operations, inpatient and outpatient health care facilities and weight-management facilities.
How to find a dietitian
Fortunately, it isn't hard to find a local dietitian who can help you. Here are three simple ways:
If you live near a Beaumont facility or an existing Beaumont patient, you can find a dietitian or learn more about Beaumont's Weight Control Center services online or by calling 888-899-4600.
The Academy of Nutrition and Dietetics offers a list of registered dietitians that you can search by zip code to find registered dietitians who work in your area.
Talk with your primary care physician about getting a referral to a registered dietitian for help losing weight.