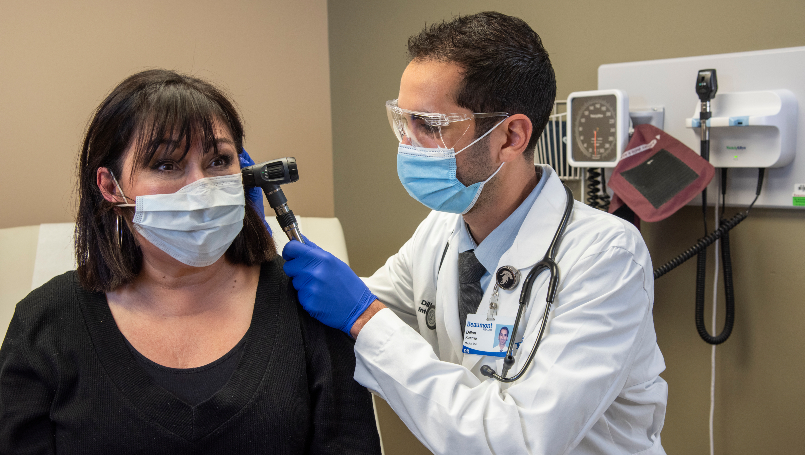 There are still a lot of unknowns regarding the short and long-term effects of COVID-19. One of the most common questions our doctors get is, "What can I expect next?"
Dr. Dillon Karmo, an internal medicine physician at Beaumont, Royal Oak, has been treating COVID-19 patients since last spring, and as Chief Medical Resident, was part of the team tasked with transforming areas of the hospital into COVID units and staffing them.
"Looking back on this time last year it is surreal to think about what took place. Beaumont was hit hard, but I couldn't be prouder of how everyone stepped up to the challenge. It was a true team effort," said Dr. Karmo. "We've come a long way and learned so much and despite the recent increase in cases there is still a light at the end of the tunnel. We'll do everything we can to lead our community out of the pandemic."
We asked Dr. Karmo to answer some frequently asked questions about what you can expect after recovering from COVID-19:
What can I expect after recovering from COVID-19?
Even after your most severe symptoms fade, you still might not feel completely like yourself. You may feel more tired, weak and short of breath. Many describe "brain fog" and trouble doing daily activities. The good news is that most people do improve gradually over time.
When can I expect to "feel better?"
This virus seems to affect each person differently. Some may improve in days, some weeks or months, and some never even develop symptoms to begin with. It is important to follow up with your primary care physician to keep them informed of how you are feeling so he or she can help determine if you are progressing well, or if you are experiencing a complication.
When should I follow up with my doctor?
If you were very sick or hospitalized, you should follow up with your primary care doctor within one to two weeks of going home. This may need to be a telemedicine visit if you have not yet completed your quarantine period. This is important because the risk of serious complications and death is highest in the first two weeks after discharge from the hospital.
What are some common symptoms someone with COVID-19 experiences? What parts of the body are most affected?
Unfortunately, this virus can affect nearly every organ in your body, so there are many possible symptoms. The most common to linger after a hospitalization include fatigue, shortness of breath, palpitations, "brain fog", hair loss, anxiety and depression.
How long should I quarantine after having COVID-19 or a hospital stay?
It is recommended to quarantine for 10 days since your first symptom appeared (or since your positive test, if you did not have symptoms). You also need to be fever-free (without using fever reducing medications) for 24 hours and have improvement in your other symptoms.
Should I get the COVID-19 vaccine after having COVID-19? When should it be administered?
Data from clinical trials indicate the vaccine is safe for those who have had COVID-19. Vaccination should wait until after infection resolves and the quarantine period has ended. Risk of re-infection is low within the first 90 days after infection, so vaccination can be delayed during this time if desired, but this is only while vaccine supply remains an issue.
Is infection after vaccination possible?
While the vaccines are remarkably effective, no vaccine is perfect. So yes, it is possible to get infected after vaccination, however this is rare, and much less common than if you were not vaccinated. What may be most important is that when you are vaccinated, you have a much lower chance of having a severe case that could lead to hospitalization or death.
What does it mean to be a long-hauler? How common is it, what options are available to address symptoms and when should long-haulers be vaccinated?
COVID "long-haulers" are individuals with new or residual symptoms more than 12 weeks after their infection. As we learn more about this, it unfortunately seems to be relatively common. They should have their symptoms evaluated by their primary care physician as soon as possible.
It is recommended that these patients get vaccinated, and while more research is needed to confirm this, there are some early reports that "long-hauler" symptoms improve or even resolve with vaccination.