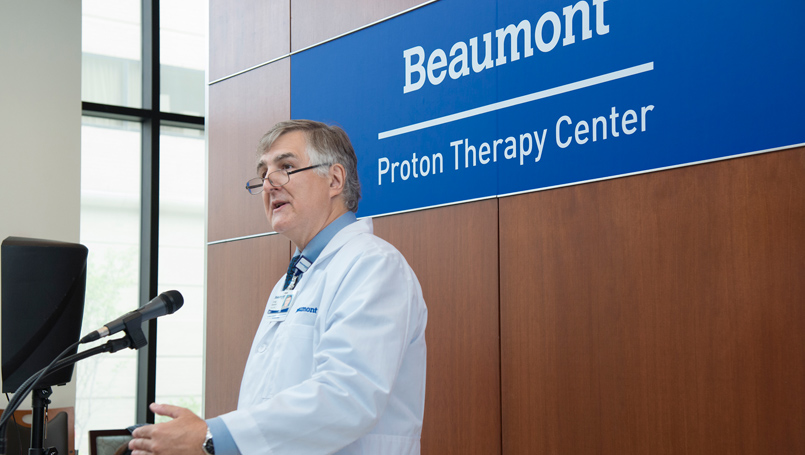 For cancer patients, proton therapy can offer a safer, more precise alternative to traditional radiation therapy. Here, Craig Stevens, M.D., Ph.D., chairman of Radiation Oncology for Beaumont Health, answers questions about why and how proton therapy works.
What is proton therapy?
Proton therapy is a high-tech alternative to X-ray radiation that offers greater precision to destroy cancerous cells and spare adjacent healthy tissue with fewer side effects. Proton therapy uses positively charged atomic particles, traveling up to two-thirds the speed of light, to fight cancer.
What are the benefits of proton therapy?
Benefits include:
fewer side effects and complications than conventional radiation therapy
proven clinical outcomes for many cancers
improved quality of life during and after treatment because of fewer side effects
ability to treat (and possibly cure) patients who have failed X-ray therapy
What types of cancer can proton therapy treat?
Proton therapy can treat the following:
brain and base of skull tumors
breast cancer
gastrointestinal, abdominal and pelvic tumors
head and neck tumors
lung and thoracic tumors
pediatric cancers
prostate cancer
recurrent tumors
soft tissue tumors/sarcomas
Is proton therapy as effective at treating cancer as conventional radiation therapy?
Yes, and in many cases, it's better. With pencil beam scanning optimized for Intensity modulated proton therapy, proton therapy is both fastest to deliver and has the best ability to spare healthy tissue.
For pediatric patients, this means less damage to growing organs; for breast cancer patients, it means a decreased risk of heart and lung damage due to radiation exposure; and for patients who have already received previous radiation therapy, proton therapy may be their only treatment option.
What will I feel like during the course of my proton therapy?
Most patients report experiencing no discomfort or sensation during the actual proton beam treatment.
What are the side effects from proton therapy?
This depends on the tumor location. Generally, proton therapy reduces the radiation dose to many organs nearby the cancer, thus potentially reducing side effects of treatment.
How long does proton therapy last?
The length of treatment depends on the type of cancer being treated. Patients receive daily treatments as an outpatient, Monday through Friday, over the course of several weeks. Each proton therapy session lasts about 30 minutes. Customized treatment plans are created for each patient.
Where can I go to receive proton therapy?
There are currently fewer than 30 proton centers around the country. Michigan's first and only operational proton therapy center is located at Beaumont Hospital, Royal Oak.
---
This story originally appeared in the Michigan.com / Detroit Free Press 2018 Cancer Guide.