Saturday, September 02, 2017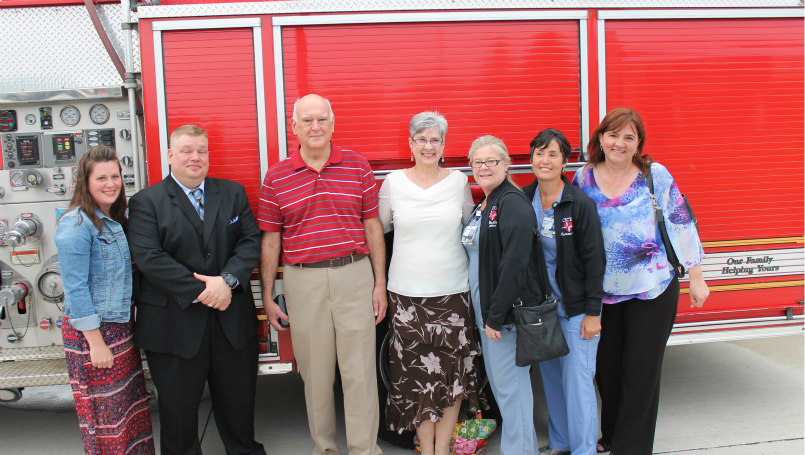 Don VanSyckel, 65, never imaged that injuring his ankle in mid-December would cause a life-threatening issue two months later.
Don was healing well and feeling good, until one February morning, when he woke up and told his wife, Barb VanSyckel that he had a bad headache. Soon after getting out of bed, Don collapsed on the floor. Barb called 911 and paramedics arrived in minutes.
"EMS was right next to me when I coded the first time," Don said.
First responders performed CPR on Don for 16 minutes before his heart was at a stable rhythm. Then he coded again in the ambulance on the way to Beaumont Hospital, Troy. Once inside the Emergency Center, Don went into cardiac arrest five more times, the last just showing a faint heartbeat on the screen.
BEATING THE ODDS
In order to quickly stabilize Don, Zakwan Mahjoub, M.D., an interventional cardiologist, and a team of health care professionals in the Cardiac Catheterization Lab were called to assess Don and break up the blood clots. Don had experienced a massive pulmonary embolism and acute failure in the right ventricle of his heart, due to blood clots in his injured ankle that traveled up to his lungs.
In addition, Don's sternum was fractured and he had a chest hematoma, which prevented the team from injecting him systemically with the clot-busting drug called tPA. Instead, the team decided to deliver the tPA locally in his pulmonic arteries at a reduced dose to minimize risk of bleed.
With a mortality rate of more than 80 percent and even greater odds for a full recovery, the team worked rapidly to increase blood flow to his lungs. Dr. Mahjoub performed the thrombectomy using an ultrasound-assisted catheter-directed thrombolysis (EKOS). The procedure involved advancing two catheters from his groin to both pulmonic arteries.
"Once the catheters were inside, we were able to directly insert the traditional tPA medication into the clots and break them up using the new ultrasound wave technology," said Dr. Mahjoub.
It was a successful life-saving procedure, which led to a wonderful outcome.
RECOVERY
During his recovery process, Don remembered his care team partnering with him to make sure he knew everything that was happening and to help him reach his goals.
"Everyone who came into my room would set my expectations and be honest with me, which helped me remain calm," he said. "I was bound and determined to do what was needed to get better."
Barb remembers how the staff made her feel included in his care.
"When I would leave here I would say he's in the best possible place that he could ever be," she said. "He had the best care, the best skilled doctors and I felt 100 percent relieved that he was at Beaumont Hospital, Troy."
Thanks to Don's determination and the collaborative effort of the entire health care team, Don has fully recovered, is feeling great and is back to his daily activities.
"I'm so thankful to everyone who saved my life and for being a success story," Don said.