Wednesday, August 02, 2023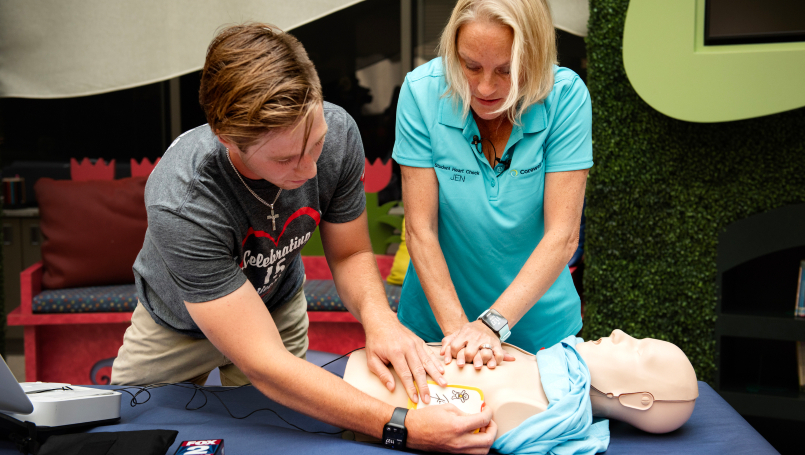 Ask Alex Bowerson when he decided to become a cardiologist and the happy, grateful 18-year-old can trace it back to the exact date: Dec. 16, 2022.
That's the day after he experienced sudden cardiac arrest during high school wrestling practice. Fortunately, Amanda Bobcean, the Memphis High cheer coach and a registered nurse, was also there and knew exactly what to do. She wasted no time giving Bowerson CPR, then used an on-site Automated External Defibrillator (AED) to shock his heart out of its fatal rhythm.
"Memphis Schools had the foresight to make this critical equipment available, and fortunately, someone who was on hand knew how to use it," said Jen Shea, program manager, Beaumont Student Heart Check, a part of Corewell Health. "Alex is here today because Amanda stepped up."
Without the correct intervention, irreversible brain damage or death can occur within four to six minutes, Shea said. CPR in combination with AED application is the essential combination.
"The survival rate from cardiac arrest drops by 7–10% for every minute that a patient has to wait for defibrillation," Shea said. "The average wait time for EMS to arrive in the United States is ten minutes."
Alex was conscious again before EMS arrived, 15 minutes after receiving the initial call.
"Going to school to study cardiology was not part of my original career plan, but I'm very happy and excited that it is now," said Bowerson, who was on track to attend Western Michigan University and become a pilot.
Bowerson has since been diagnosed with hypertrophic cardiomyopathy, or HCM, a genetic condition characterized by a thickening of the heart muscle. HCM may cause shortness of breath, chest pain or changes in the heart's electrical system, potentially resulting in life-threatening arrhythmias and sudden death.
Now that he knows about his condition and how to manage it, Bowerson generously shares his story with anyone who will listen.
"My goal is to do everything I can to help others with HCM and/or other genetic heart conditions," he said.
Bowerson will be volunteering at Beaumont Student Heart Check's Aug. 5 event at Cass Tech High School in Detroit.
He is also strongly encouraging his friends and fellow teen athletes to register for the free screening, which goes beyond the standard sports physical to identify HCM and other serious cardiac abnormalities.
Beaumont Student Heart Check was created in 2007 to help prevent sudden cardiac arrest in student athletes. The program has screened more than 20,000 teens and identified 227 potentially fatal heart conditions.
It's interesting to note that individuals with HCM rarely experience warning signs. Bowerson did get a heads-up, but never recognized it as such.
"I lost consciousness or kind of fainted briefly a couple of times playing football," said Bowerson, a three-sport athlete who also played baseball at Memphis High School in northern Macomb County. "I just shook it off. I figured I was dehydrated or didn't get enough to eat."
Since his diagnosis intense contact sports are no longer recommended for Bowerson. But he can stay active in other ways, including through weight training. An implantable device stands at the ready to shock his heart back into a healthy rhythm should that become necessary.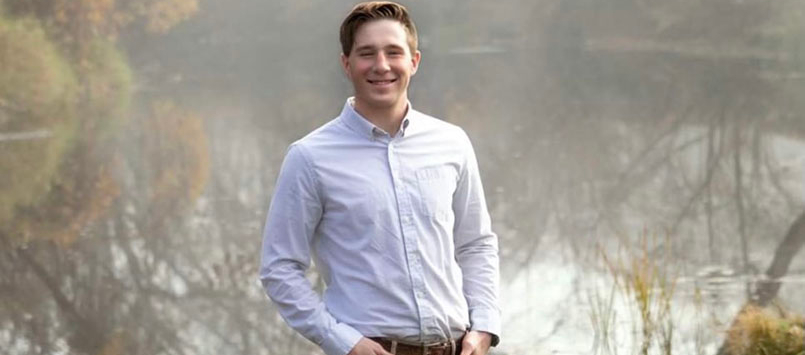 Because AED equipment and training is not mandatory in Michigan schools, Beaumont Student Heart Check also helps schools achieve MI HEARTSafe status. This ensures on-site AEDs are up to date and staff know how to use them. Beaumont Student Heart Check has provided 77 AEDs to schools throughout the state through the generous support of its sponsors.
Beaumont Student Heart Check program is supported by Priority Health; the fundraising efforts of 97.1 FM The Ticket, the LiveLikeMax Foundation; Children's Miracle Network Hospitals; the Fraternal Order of Eagles; the Max and Debra Ernst Heart Center at Beaumont Hospital, Royal Oak; and others in the community.
Registration for the Aug. 5 screening - at Cass Tech High School, 2501 2nd Ave. in Detroit - is now open for students aged 13 - 18.
---
DID YOU KNOW?
Sudden cardiac arrest is the leading cause of death in student athletes; one in 200,000 high school athletes will die suddenly, most without any prior symptoms.
Sudden cardiac arrest is one of the leading causes of death in the general U.S. population, killing 350,000 people each year, or one person every 90 seconds.
CPR coupled with AED technology saves lives nearly 40 percent of the time.