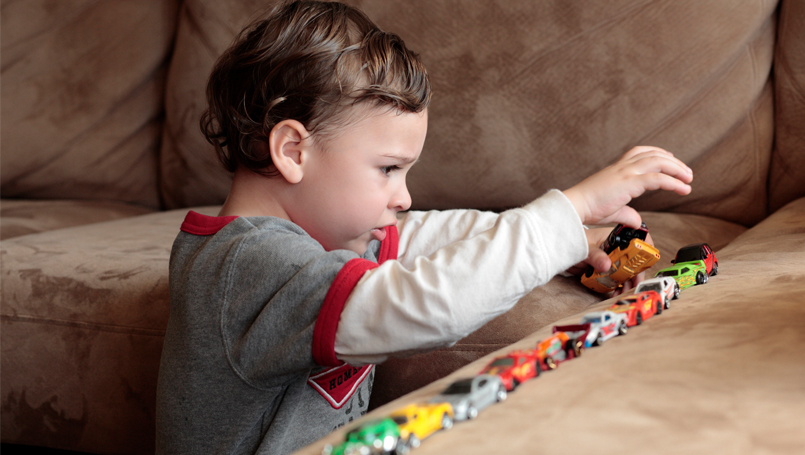 Parenthood is a journey; an ever-evolving voyage where the distance traveled is measured in growth. Every milestone your child meets, bringing you further in your travels. When your child stops meeting those milestones, it can be difficult to navigate the next stop on your journey.
Typically developing babies and young children will respond to smiles, tickles or silly songs sung by parents and familiar adults by smiling, reaching out, cooing, babbling or turning towards the speaker.
Some of the first signs that a child may be at risk for an early autism diagnosis during late infancy to early toddlerhood include:
Lack of responding to attempts at social play or engagement

Your child is not making eye contact when you are talking or playing with them
Your child does not respond to hearing his or her name or the sound of familiar voices
Language delay or regression (both verbal and gestural communication)

Your child is not reaching or pointing toward familiar people or toys in their environment
Your child is not waving or using other common gestures
Your child will not follow your point or gaze to look at an item or event in the environment
Your child is babbling, cooing, or making sounds less often, or not at all
If you as a parent are seeing any of the above signs in your child, talk to your pediatrician.
Current research supports early intervention as a key component in treating the symptoms of ASD however, there are a handful of barriers that often prevent or delay the onset of intervention. In addition to waitlists for diagnostic evaluations, parents often discover that most treatment providers also have waitlists for new patients.
As a child begins to connect with others socially, his or her world opens to a vast number of learning opportunities.
Early intervention treatment programs highlight social engagement opportunities as social engagement is a fundamental behavior required for higher level social learning to occur. A few activities that parents can do at home to target social interactions with their child include:
Spend 5 - 10 minutes a day following your child's lead in play, making sure to describe and praise any appropriate play actions you see your child complete ("great job putting the red fire truck down the ramp!") If your child doesn't begin to play right away, try modeling some play actions and praise them for showing interest in the play ("I love how you're watching the train drive under the tunnel!")
Try enticing your child to make eye contact by beginning a fun social interaction like peek a boo with a favorite blanket or tickles, and waiting for your child to make eye contact before repeating the action- if you catch your child making eye contact throughout the day, let them know how great that is by labeling the behavior ("I love how you're looking at me!")
Encourage your child to use common gestures like pointing to request an item by placing favorite snacks or toys just out of reach; when your child moves toward the item, use your hand to help them form a point aimed at the item before bringing it down for them. Pair this point with the name of the item to give your child extra exposure to language ("that's right, you want the ball!")
---
Information provided by Courtney Healy, MS, BCBA, Behavior Analyst, Ted Lindsay Foundation HOPE Center.