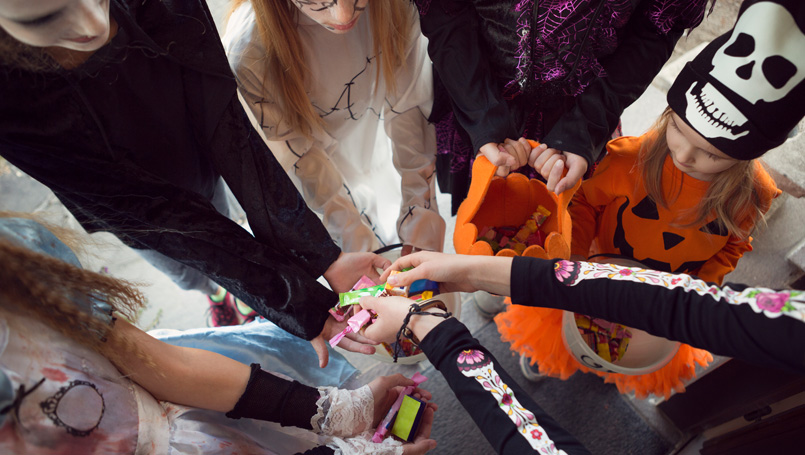 Halloween is a time for pumpkin carving, costume contests and seemingly limitless bowls of candy and parents of children with food allergies want to make sure their kids don't miss out on any of the fun.
A Peanut-Free Halloween for Parents
If you're a parent of a child with allergies, there are several ways to ensure a fun and safe evening of trick-or-treating:
At the end of the night, sort through trick-or-treat bags and replace peanut products with peanut-free options like Skittles, Twizzlers and Laffy Taffy.
Check all of the labels in case of additional peanut or nut warnings listed on the packaging.
Always be prepared. Have allergy medication on hand in case of an emergency at any point in the night.
If you're attending a Halloween party, don't rely on the party planner to make the evening peanut-free. Bring your own snacks just in case.
A Peanut-Free Halloween for Hosts
Instead of handing out Snickers and other nut-filled treats, stock up on equally delicious peanut-free candy like lollipops or Starburst.

You don't have to break the theme to enjoy peanut-free dishes. Pass around a spooky bowl full of "eyeballs," actually filled with sweet and healthy grapes. You can also prepare Apple Mouths using two apple slices, swiped with a layer of sunflower seed butter, sandwiching a middle layer of marshmallow teeth.
---
The Teal Pumpkin Project
The Teal Pumpkin Project is a campaign that encourages people paint a pumpkin teal – the color of food allergy awareness - to place in front of their house indicating they have non-food treats available for children managing food allergies.
The goal of the project is to raise awareness of food allergies and keep Halloween a fun, positive experience for all. Ideas for non-food treats include:
glow sticks
playing cards
stickers
pencils
bubbles