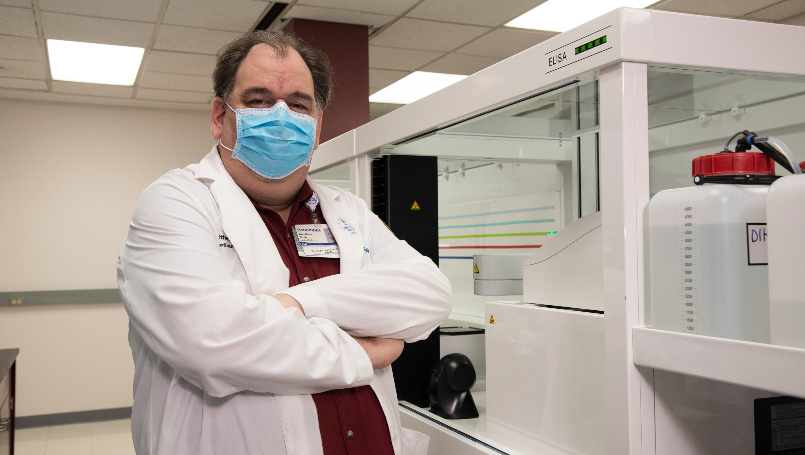 BLAST COVID-19 insight included in eight-study publication for medical professionals
Insight on masking from America's largest COVID-19 serological testing study, conducted by Beaumont Health's Research Institute in 2020, is now being used to fight COVID around the world.
The Infectious Diseases Society of America recently included results from Beaumont's BLAST COVID-19 study in "COVID Transmission in Homes, Hospitals and Community," a supplement to the Society's online journal, Clinical Infectious Diseases. CID, a leading publication with a broad international readership, is among the most highly cited journals in the field of infectious diseases.
The results of the BLAST COVID-19 study, first published in November, found that employees with direct contact to COVID-19 patients - nurses, phlebotomist, respiratory therapists, etc., showed higher rates of COVID antibodies, indicating presence of the virus. However, study participants who wore a mask during COVID-19 exposures were less likely to be positive.
The study's lead author, Dr. Matthew Sims, director of Infectious Disease Research at Beaumont Health, said the study ultimately helps keep front-line workers safe from COVID.
"What our research showed, among other things, was that different employees within the hospital are at different risks to get COVID from patients, and that masking even with surgical masks reduced transmission," Dr. Sims said. "The study also showed those who wore N-95 masks were better protected. Those who did get COVID after a known exposure while wearing an N-95 mask were more likely to be asymptomatic. This was felt to be due to lower levels of viral exposure."
With the number of COVID cases at high levels across the United States and an uptick in cases in Michigan, the research provides sound advice - and supports the Centers for Disease Control and Prevention's recommendation to wear masks in areas of high transmission, he added.
"The long and short of it is, with definite exposures to COVID such as seeing COVID patients, N-95 masks should be used, which is the policy at our hospitals," Dr. Sims said. "It also showed surgical masks work to decrease the spread of COVID, which supports what the CDC is saying about masking to prevent the spread of COVID. That's the intervention our paper was chosen to represent."
Eight studies included in the publication were chosen "that informed the scientific underpinning of non-biological interventions that have become key components of the public health response to the coronavirus disease 2019, COVID-19 pandemic," said CID's editor-in-chief, Dr. Robert Schooley.