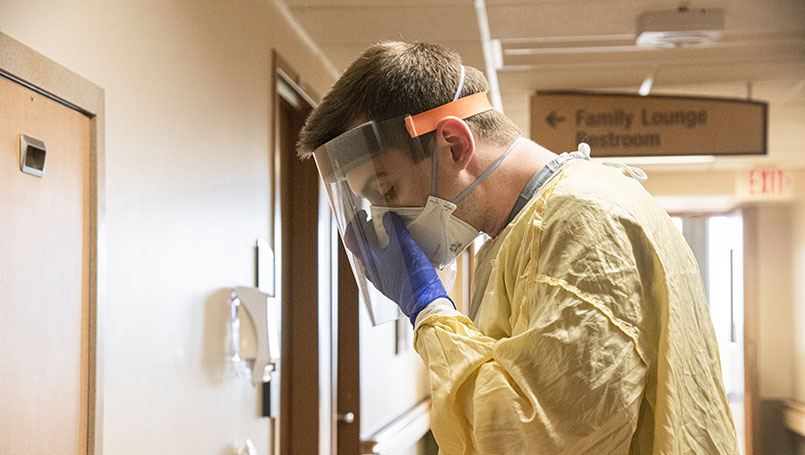 The newest COVID-19 variant, XBB.1.5, is circulating across the United States right now and is rising in Michigan, although it hasn't reached the levels seen in the Northeast. And while most people won't know which variant they have, they should follow the same precautions as they did with previous variants of the virus.
Matthew Sims, M.D., Ph.D., FIDSA, FACP, director of infectious diseases research at Corewell Health William Beaumont University Hospital, answered the following questions about the new variant and what it means for the public.
What do people need to know about the new variant?
It seems to be a more contagious, mostly because it avoids antibodies. We are seeing more breakthrough infections right now, and we also saw increases in flu and RSV. It is a good idea to wear a high-quality mask like a KN95 when you're in a group of people you don't live with. And if you're sick, stay home and get tested. The treatments still work on XBB.1.5.
What does XBB.1.5 mean?
It's the code for the virus. This is a subvariant of Omicron.
How common is this variant right now in the population?
In Michigan, this variant is not super common. It accounts for about 14% of tests coming back positive right now, but last week it was only 7%. However, it started out like this in New York and the New England states, and now they are seeing quite a lot of the virus. We are concerned that many people went to Florida for the holiday break and might have brought the virus back to Michigan.
Are hospitals testing for it?
All hospitals test for COVID-19, but not for specific variants. We send a certain amount of our strains to the state to test for variants. If a patient comes in and tests positive for COVID, neither they nor their doctors will know what variant they have.
Is this variant more contagious?
It isn't spreading faster through the air. While we don't know everything about why this strain is more contagious, we do know it has one mutation, which makes it bind tighter to the receptor in the nasal mucosa ­­– this could make it more contagious.
We do know it evades the immunity somewhat. The antibodies you have from prior infections or from the vaccine will not protect you as well. But while the vaccine might not stop you from getting infected, it will still give significant protection against severe disease, hospitalization and death.
Does it present the same symptoms to other variants?
Yes.
Do vaccines protect against it?
No vaccine offers full protection, but they do lower the risk of hospitalization. One study in the New England Journal of Medicine shows that the bivalent vaccine gives the highest amount of neutralizing antibodies to XBB.1.5, which means it should offer the best protection.
Anything else people should know about XBB.1.5?
The most important thing is if you aren't vaccinated, get vaccinated. If you are vaccinated, stay up to date on your boosters. If you haven't gotten the bivalent vaccine, you aren't up to date.
If you are sick, get tested and see your doctor if you are having serious symptoms.
For high-risk populations who have COVID, talk to your doctor or pharmacist to get Paxlovid to treat symptoms and reduce the chance of ending up in the hospital.
Wear a mask if you are going out in public or in crowds. And if other people are not wearing masks, consider a higher-quality mask such as a KN95 as surgical masks only provide protection to people around you and limited protection to yourself.