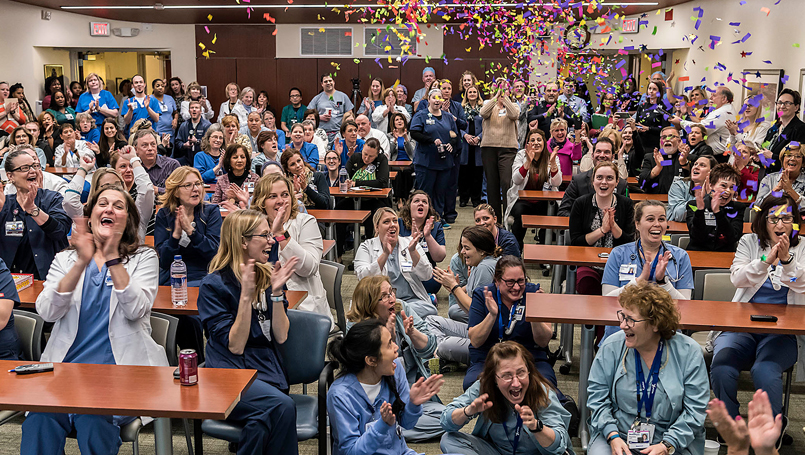 Beaumont Hospital, Grosse Pointe has achieved the highest honor for nursing excellence through the Magnet recognition program of the American Nurses Credentialing Center, a subsidiary of the American Nurses Association. Magnet was created in 1994 to recognize health care organizations for quality patient care, nursing excellence and innovations in professional nursing practice.
The new designation was awarded by the ANCC to Beaumont, Grosse Pointe today, March 14.
"It's an honor and a privilege to be awarded the distinguished Magnet designation. Beaumont Grosse, Pointe has provided high-quality, compassionate health care for the communities we serve for many years," said Anne Stewart, RN, Beaumont, Grosse Pointe's chief nursing officer. "Our nurses are empowered to ask questions and explore new and better ways of serving our patients through evidence-based research."
Hospital President Rick Swaine credited the entire staff for building the kind of environment patients from and Magnet surveyors seek.
"We are proud to receive this prestigious recognition of the efforts put forth each and every day by our nurses, physicians and all who support the care of patients," Swaine said. "Their commitment is what makes our hospital such a special place for patients to receive their care."
We are proud to receive this prestigious recognition of the efforts put forth each and every day by our nurses, physicians and all who support the care of patients.

Rick Swaine
During the three-day on-site survey, several key factors impressed the surveyors:
All staff were "calm, welcoming, accepting and comfortable in expressing their opinion, indicating there is a true 'just culture' in the Grosse Pointe hospital," one surveyor noted.
The cooperation witnessed between physicians and staff was "the best any of us have ever seen." The surveyors further noted exceptional physician involvement throughout the three-day visit.
The Spiritual Care program was singled out as capable, comforting and accessible: "When a significant event occurs, Spiritual Care reaches out to staff to offer help and support."
The Palliative Care program, including end-of-life care via hospice and the "No One Dies Alone" program, was described as "exceptional."
In addition, randomly selected patients and families provided favorable feedback regarding their care teams. One family member noted the physician and hospital was selected based on online reviews and "we couldn't be happier" with the results.
The Magnet journey started in the spring of 2015 with a gap analysis, which indicated the hospital was ready to start the preparation process.
The next step was to hire a Magnet program director, Randy Whitney, RN, to begin compiling the 350-page document detailing the ways in which the Beaumont, Grosse Pointe nursing team supports the professional standards set forth by Magnet. Nurses responded to the news of Magnet designation with pride and excitement.
"We may be small in size, but we have a huge heart," said Care Management nurse, Tori Robinson. "We continue to seek knowledge and innovation in order to provide the best care possible."
Nurse Emily Gross, 2 South, said the Magnet designation indicates commitment to leadership opportunities for nurses.
Leslie Caplat, 3 South Ortho, said she's proud to work for an organization that recognizes the importance of advanced and continuing education for nurses.Sunny Squindo, a trauma program RN, said Magnet designation indicates nurses are given the power to enact meaningful change for patients and families.
There are 13 Magnet-designated hospitals in Michigan, including Beaumont Hospital, Royal Oak, which was the first hospital in Michigan to earn the designation in 2004 and Beaumont Hospital, Troy which earned the recognition in 2009. There are 472 Magnet hospitals around the word. Beaumont, Grosse Pointe employs 527 nurses and 861 nursing assistants and technicians totaling 1,388.
In addition to Magnet recognition, Beaumont, Grosse Pointe has also recently earned the following recognitions:
Michigan Alliance for Innovation on Maternal Health (AIM) Champion in Improving Maternal Health Outcomes
CMS 5 Star Rating
2018 Top 100 Hospitals and Everest Award from Truven Health Analytics, IBM Watson Health
Vizient Quality Leadership Award