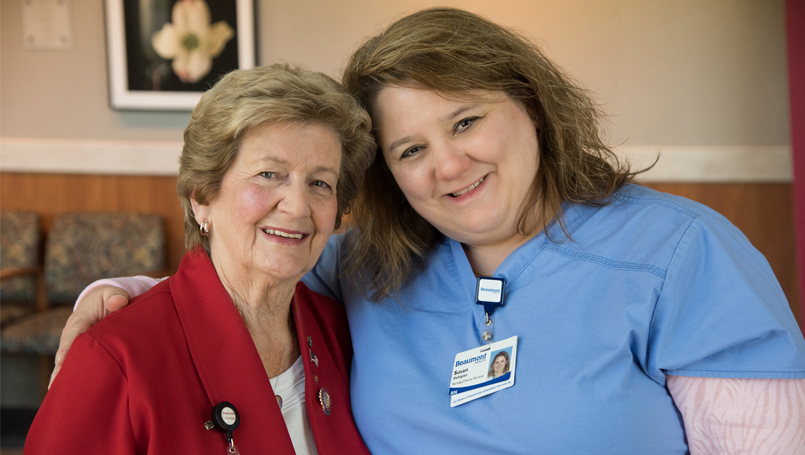 The vast majority of patients with fistulas, or open wounds between their intestines and skin, never get to leave the hospital.
Bob Mulligan, a Beaumont Hospital, Royal Oak, neuroendocrine cancer patient was fortunate to not be one of them. Despite developing two nonsurgical wounds following surgery in February 2016, Mulligan spent June to November in the comfort of his own home.
This was made possible through the efforts of his wife Marty, the couple's five adult children and the unfaltering support of Susan Veltigian, RN, a wound ostomy continence clinician for Beaumont, Royal Oak.
As a result, Veltigian was recognized with the Oakland University School of Nursing and Board of Visitors' 2017 Nightingale Award in the People's Choice category.
"I wanted Bob to go home so he could continue to enjoy the things he loved," said Veltigian, of Lake Orion. "It took a lot of dedication, but with the help of my two co-workers and his amazing family, we made it happen."
Preparing for that homecoming and learning to care for and change a fistula bag, required intense preparation.
"We're Irish. Irish people don't give up," said Marty, who has worked as a volunteer at Beaumont, Royal Oak since 1985.
Marty and her three daughters, one living in Massachusetts, and two sons, learned to change the pouch that covered the fistulas, which leak human waste, that burns and irritates the skin and other organs. Fistulas can result from radiation treatment, cancer or abdominal surgery.
"A small percentage of nonostomy trained nurses feel comfortable changing a fistula bag." said Veltigian, who trained the family in the multistep process, which involves a suction machine. "Initially it took three of us, myself and two workers, 90 minutes to dress the wound and change Bob's bag."
Major leaks could take up to three hours to clean. Fistulas often leak up to three times a day.
"I've taught a lot of families how to change fistula bags," Veltigian said. "Most tell me it's too much."
Bob passed away last December.
Not only was he able to spend the last months of his life at home, he went for short walks outdoors, out to lunch and dinner a handful of times to his favorite restaurants and even flew to Massachusetts for ten days to celebrate Thanksgiving and the baptism of his sixth great grandchild.
The friendship the family built with Veltigian and the humor and positive energy she brought to their home, Marty said, gave her the confidence to keep going.
After Bob's death, Marty opted to honor that special friendship by writing and submitting a Nightingale nomination for Veltigian.
"I had no idea until afterwards," Veltigian said. "I was so touched and overwhelmed."
"Bob really liked Susan," Marty said. "He was a very positive person and they joked around a lot. Susan told him he reminded her of her dad. Maybe that's why they clicked. We're just so grateful for all she did for us and pleased she's being recognized."
Veltigian's manager feels much the same way.
"Susan is consistently going above and beyond for patients," said Marie Doherty, director of Care Management, Beaumont, Royal Oak. "She connects with every patient on a personal level, providing compassion and empathy. This award could not have gone to a more deserving nurse."