Thursday, September 05, 2019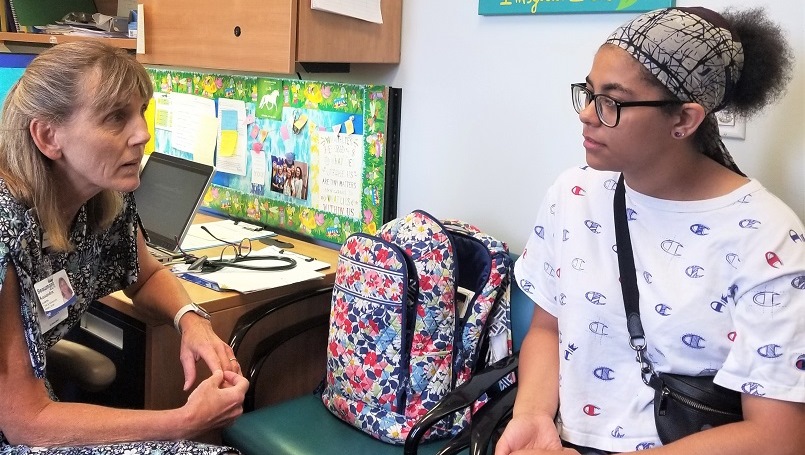 This week, Adrianna Farmer, 18, started classes at University of Michigan on a full academic and need-based scholarship. She says the care from Kassandra Luoma, RN, a family nurse practitioner at the Beaumont Child & Adolescent Health Center within Adams Upper Elementary in Westland was her inspiration when choosing her college major – biomolecular science on a physician assistant track.
Farmer first connected with the Beaumont clinic at age 9 when attending wellness and healthy lifestyle events. At 12, she met Luoma, who became a shining light in the girl's journey to be the first in her family to attend college.
Being a teenager isn't easy, especially with college looming
Earning good grades, handling stress and experiencing loneliness can make life tough. However, for Farmer, the school-based Beaumont clinic was there for her every step of the way. It is in a neighborhood where many residents face challenges, such as transportation and lack of insurance, that often prevent them from receiving needed services.
"I felt welcomed from day one," Farmer said. "The clinic provided me with a safe environment, where I had someone to talk to, who would mentor me throughout my teens. You can feel that they really care about us."
A social worker provides mental health and counseling services, while on-site nurse practitioners provide:
physical examinations for school, sports or camp
immunizations
basic lab services
·vision and hearing screenings
"Growing up in a single-parent family is tough. My mom has two kids and often works double shifts, so we didn't have a lot of time to sit down and talk," Farmer said. "Kassandra listened to what was going on in my life and helped guide me through any troubles I was having. She helped me believe in myself and pushed me to be the best and to follow my dream."
All clinic services are confidential; fees are income-based. No one is turned away for inability to pay. Parental consent is required except in cases of emergency care and crisis intervention. The clinic serves patients from 3 to 19 years of age and exists through philanthropic support from the Beaumont Health Foundation and the Wayne-Westland School District.
The clinic makes a difference in community members' lives
Farmer began focusing on her health and general well-being with Luoma's guidance.
"If something is ever wrong, the clinic is there for me," said Farmer.
While clinical staff perform physicals and give vaccines, they also learn what the kids need through conversation and trust building.
"They may need clothing, food resources, backpacks or guidance. Whatever they need, we're here to help them any way we can," Luoma said. "I want to give the idea that they can do anything. If I project that and help them throughout their journey, the idea is that they'll move forward because someone believes in them."
Farmer said, "I want others to feel how Kassandra made me feel: loved and cared for from day one. She's done so much for me, and I can't wait to give back."