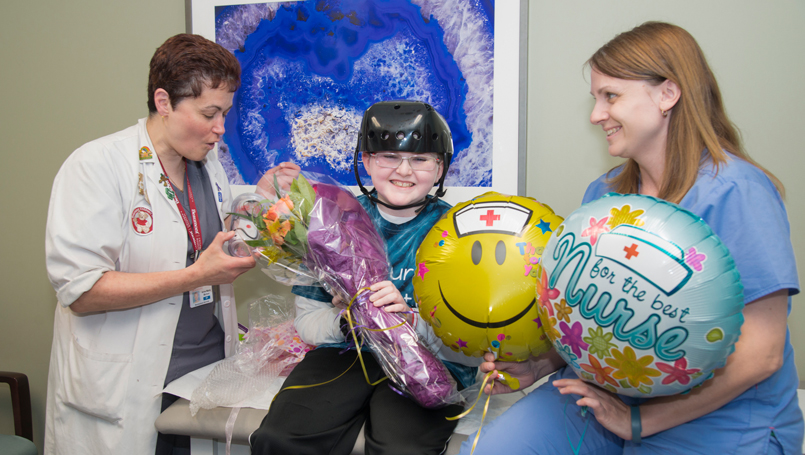 Three Beaumont Health, Nightingale winners, reflect on their inspiration and motivation
In celebration of Nurse's Week, Kathleen Stempniewski, and her 11-year-old son Collin of Macomb Township wanted to show Collin's nurses at Beaumont Children's Pediatric Comprehensive Epilepsy Center in Royal Oak just how much they are appreciated.
In addition to bringing flowers and balloons for supportive care nurse Sarah Minarik and nurse practitioner Anne Marie Michon, Kathleen ordered a custom T-shirt for Collin.
The front reads "My nurses are better than yours", and on the back, "Anne Marie and Sarah you rock!"
"Sarah and Anne Marie are my lifeline," said Kathleen as she described calling Anne Marie during one of Collin's seizures.
"It was Saturday, Anne Marie's day off. She was at the hair salon," Kathleen said. "I didn't know what to do because Collin's seizure was going on especially long. I was scared. Anne Marie stepped away from her appointment and calmly guided us through."
All this week, the nation is recognizing nurses by devoting time to thank them for all they do.
Locally, the 28th annual Nightingale Awards, hosted by the Oakland University School of Nursing and Board of Visitors, recognizes the exemplary contributions of registered nurses.
As part of the celebration, Beaumont Health's three, 2016 Nightingale Award winners, reflected on why they became nurses and why they have remained in the profession.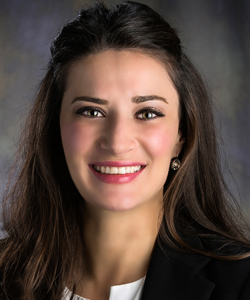 Michelle Boiani, RN, of Macomb Township, administrative nurse manager, Neuroscience, Beaumont Hospital, Royal Oak, in the new category, emerging leader
"I have always wanted to be a nurse from as young as age 5. I take great pleasure in being able to help others. It truly fulfills a need in me. I always thought, 'What a great way to make a living…helping others and making a difference'."
"The hard work and compassion I see daily from everyone around me inspires me in a profound way. All these great people working to care for someone in need, all having a common goal. Even though it can be very difficult at times, it never alters our goal to help in any way we can. Knowing I can motivate others and keep them engaged is a great feeling. The gratitude of the patients and their families pushes me to do my best."
---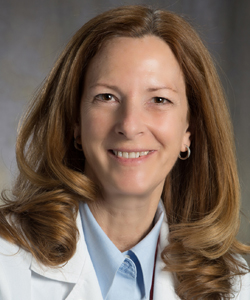 Lisa Muma, RN, of Troy, pediatric oncology nurse in the Pediatric Oncology, Long Term Follow-Up Clinic, Beaumont Hospital, Royal Oak, in the category of staff nurse practice
"From the time I was a young child, I have always wanted to be a nurse. Caring for others is my passion. Patients and their families come to us at a time when they are most vulnerable. It is a privilege to care for them – to connect with compassion and make a small difference during a difficult time."
"I am motivated by our brave patients and their families, the caring, committed nurses, physicians and support staff and the hospital administrators who are constantly working to improve patient care. Continuing to provide care for childhood cancer survivors in our Long Term Follow-Up Clinic is an honor. They inspire me every day. I'm honored and proud to work for Beaumont Health."
---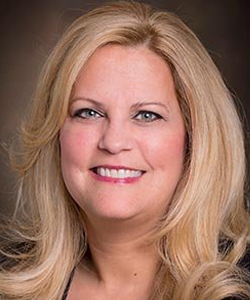 Dawn Nieman, RN, of Hartland, director of Nursing, Staffing Solutions and Central Staffing, Beaumont Hospital, Dearborn, in the category of executive administration
"I realized my passion for nursing while I was in high school. Unfortunately, during my senior year, I lost my mother to cancer. The nurse that cared for my mother was the true definition of a nurse. She had a profound effect on my life. I hope I am also able to inspire others to pursue a career in nursing."
"As a leader, I have an opportunity to influence nurses by mentoring, coaching, educating and encouraging professional development. Also, I enjoy initiating programs that support nurses and the care delivery team."