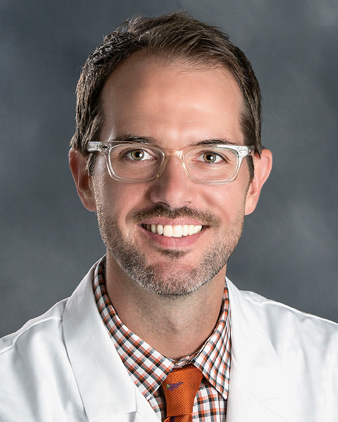 Infectious disease specialist, Nicholas Gilpin, D.O., has been appointed chief medical officer for Beaumont Hospital, Grosse Pointe.
Dr. Gilpin has been the medical director of Infection Control and section head of Infectious Disease at Beaumont, Grosse Pointe since 2011. Before that, he was chief fellow of Infectious Disease at Beaumont, Royal Oak.
In collaboration with hospital president, Rick Swaine, Dr. Gilpin will oversee hospital performance and develop the vision and strategic plan for clinical activities.
"During his time with Beaumont, Dr. Gilpin has earned the respect of his peers as an excellent clinician and leader," said David Wood, M.D., chief medical officer, Beaumont Health. "His high energy and commitment to keeping the hospital and medical staff functioning at an exemplary level will serve him well in this position."
Dr. Gilpin completed his residency and internship in internal medicine at Providence Hospital, Southfield where he served as chief resident.Dr. Gilpin earned his medical degree from Michigan State University College of Osteopathic Medicine. Currently, he is an assistant professor at both Oakland University William Beaumont School of Medicine and at his alma mater.
In 2013, the Beaumont, Grosse Pointe, Family Residency program honored him with its Teacher of the Year Award.
A prolific writer, researcher and lecturer, Dr. Gilpin is passionate about education and sharing his expertise on infection control and quality with others.
He is a member of the American Medical Association, the Infectious Disease Society of America and the Michigan Infectious Disease Society.
Dr. Gilpin lives in Royal Oak with his wife, Lauren, and their two cats.
Dr. Gilpin replaces Donna Hoban, M.D., who served as chief medical officer for the past 10 years.
"Dr. Hoban has been instrumental in the growth and success of the Grosse Pointe hospital and is a well-respected physician in our community," Swaine said. "Donna has done a remarkable job of moving our hospital forward over the last 10 years to the extent that U.S. News and World Report recently recognized it as among the best in the State of Michigan. In addition, the Centers for Medicare and Medicaid awarded the hospital a five-star designation, which is the highest level possible and one that only 337 other hospitals in the country received."
Dr. Hoban will continue practicing medicine at her private office and remain involved with hospital operations as a patient safety officer.