Tuesday, September 17, 2019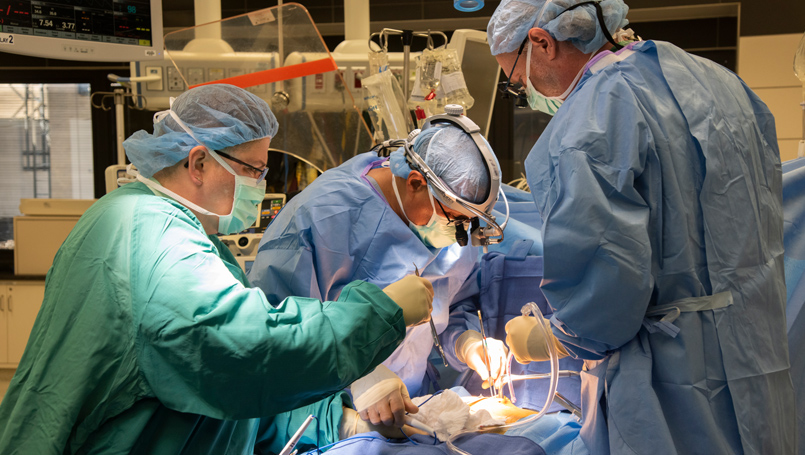 New valve could change the way patients around the world are treated for aortic valve disease
Doctors at Beaumont Hospital, Royal Oak have implanted the world's first Tria flexible polymer heart valve and the patient, Bob Murley, 68, feels so good, he wants to run a marathon. The valve has the potential to address durability and blood clotting issues associated with traditional heart valves.
The surgery to implant the valve is part of a FDA early feasibility study for the treatment of aortic valve disease.
Murley was an ideal candidate because he was physically fit and an avid runner. The semi-retired IT developer spent nearly his entire life in Michigan, most recently living in Chesterfield Township. Regular annual physicals with his primary care physician, Dr. Charles Heth, alerted Murley of an issue with his heart about a decade ago.
"My doctor got to know me and became like a friend. He told me we needed to keep an eye on my heart because, with my condition, my heart was just going to get worse over time. He was right," Murley said.
Janice, his wife of 45 years, ensured he kept all his doctor appointments over the years and encouraged him to live a healthy lifestyle.
"I knew that if he didn't keep exercising, he wouldn't feel good. I cooked all his meals and made sure they were healthy. If you don't eat right and you don't exercise, you will feel lousy. If you sit around, you end up dying. I'm not ready to go. And, neither is he," Janice said.
When Murley experienced symptoms like shortness of breath and fatigue, Janice urged him to make another doctor's appointment. He did. That's when Dr. Heth referred him to Beaumont interventional cardiologist Dr. Amr Abbas.
"I used to be able to run for an hour without any problems. I was even running half-marathons. When just going up a few stairs made me start huffing and puffing, I knew something was wrong," Murley said, "I suspected the symptoms were related to my heart issue because of all the conversations I had with Dr. Heth over the years."
At the same time Murley's heart issue was starting to affect his life, he and his wife moved thousands of miles away to Oregon to be closer to their adult daughters. They planned the move years ago. But, Murley still wanted his Beaumont doctors to keep caring for his heart.
"They are the best doctors in the country. I have a lot of confidence in Dr. Abbas and my doctors here in Michigan. Beaumont has such a good reputation. I even did research online and confirmed Beaumont has one of the best heart programs in the country," Murley said.
Dr. Abbas shared Murley's case with other members of the Beaumont multi-modality team of interventional cardiologists and cardiac surgeons to determine the best treatment plan. The team decided he was a strong candidate for the new polymer valve.
Murley hesitated when he learned he could be the first person to receive the valve.
"I don't like to blindly follow people. I made it my business to read everything I could find about the new valve," Murley said. "After I researched it myself, I decided it was right for me. Yes, I was a bit scared to be the first person. But, I was already scared about my heart issue. Not doing anything was scary, too. So, I told the doctor, 'Sounds good. Let's do it.'"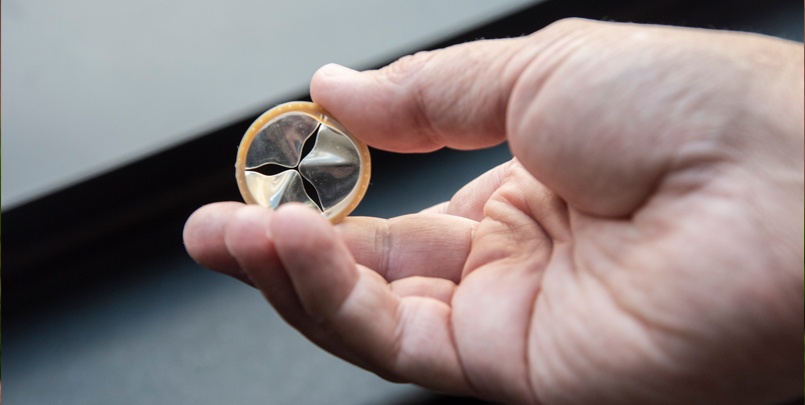 Ken Charhut, Foldax Executive Chairman, added, "Our Tria valves are a combination of innovative material, state of the art biomechanical design and a game-changing manufacturing process. The work we are doing has the potential to revolutionize the heart valve industry and save many lives."
Two days after being discharged from Beaumont, Royal Oak, Murley and his wife walked 2.5 miles. He even brought his Apple watch with him to track the speed of his walk.
"I am so excited for him to get healthy again. We are looking forward to hiking and running near our new home in Oregon," Janice Murley said.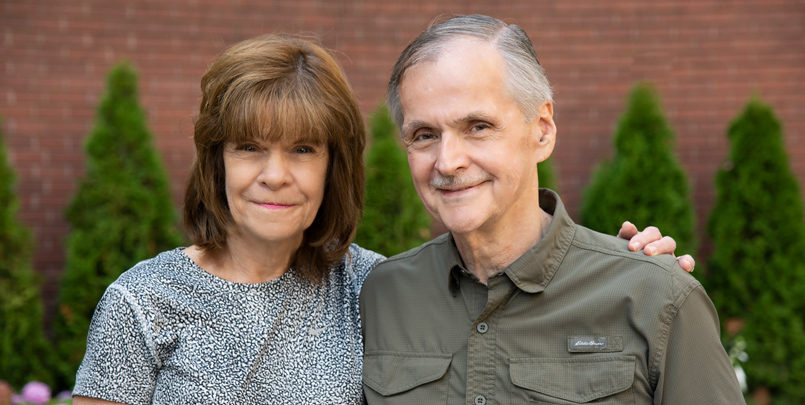 Murley added, "Janice's support has been amazing. I'm hoping we can run a marathon together. That's our goal. With the new valve, I think it's a real possibility."
The valve is part of a clinical trial and still needs additional federal approvals and testing before patients beyond the trial can access it.
Two Beaumont doctors, Dr. Steve Almany and Dr. Francis Shannon are investors in Foldax, the company that manufactured it. In addition, Beaumont Health has a financial investment (a small percentage of its total investment portfolio) in a fund that invests in Foldax.
Foldax's Tria valves were also developed by drawing on expertise from the Commonwealth Scientific and Industrial Research Organization for proprietary polymer development and the California Institute of Technology's Division of Engineering and Applied Science and Chemistry Department.
Patients interested in potentially qualifying for future phase of the clinical trial are welcome to contact Diedre Brunk, Beaumont's manager of cardiology clinical research at 248-898-5580.
---
Beaumont Health
Beaumont Health is Michigan's largest health care system and is most preferred for health care in Southeast Michigan, according to NRC Health survey data. The not-for-profit organization was created to provide patients with greater access to compassionate, extraordinary care, every day. Beaumont Health has a total net revenue of $4.7 billion and consists of eight hospitals with 3,429 beds, 145 outpatient sites, nearly 5,000 physicians, 38,000 employees and 3,500 volunteers. In 2018, Beaumont Health had about 178,000 inpatient discharges, 18,000 births and 573,000 emergency visits.
Foldax®, Inc.
Headquartered in Salt Lake City, Utah, Foldax, Inc. is developing long-lasting replacement heart valves with the goal of improving hemodynamic performance and providing a quality of life similar to natural human valves. Tria heart valves are revolutionizing the industry as the first and only biopolymer heart valve platform, utilizing LifePolymer™ material eliminating the use of animal tissue. These long-lasting transcatheter and surgical heart valves are designed to provide sustainable quality-of-life improvement for people with aortic or mitral valve disease.