Monday, November 13, 2017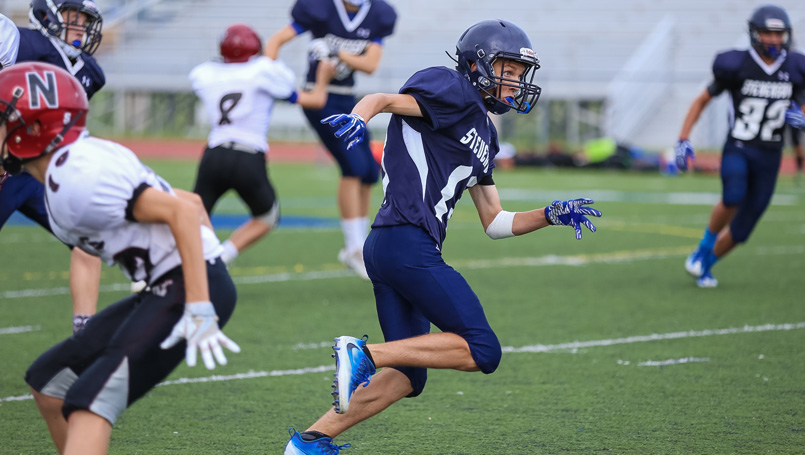 Sam Figures tore his left ACL while he was playing his first soccer game of the season. He was just 10 years old. The anterior cruciate ligament of the knee connects the thigh bone to the shin bone.
"He handled the pain very well. It was surprising for a kid that young. He heard a pop and went down and had a hard time walking after that," Shana Figures, Sam's mom, said.
At the time, doctors said he was too young for surgery. They asked him to take a break from sports to let the injury heal.
The following year, he injured his right ACL during a football scrimmage. A surgeon in Ann Arbor operated on his knee and Sam decided to take a break from sports.
"He was very positive and optimistic. Never complained. He did what he needed to do," Shana said.
Two years later, he wanted to play ball again. He went back to the doctors he knew. But, his family wanted a second opinion. They met with Beaumont orthopedic surgeon Joe Guettler, M.D.
"After we met Dr. Guettler, Sam loved him. He had such a great rapport with him, we decided to go with Dr. Guettler instead," Shana said. "Dr. Guettler has an open and friendly personality. He was no nonsense and to the point. And, he spoke directly to Sam."
Dr. Guettler suggested repairing and reconstructing both knees at the same time.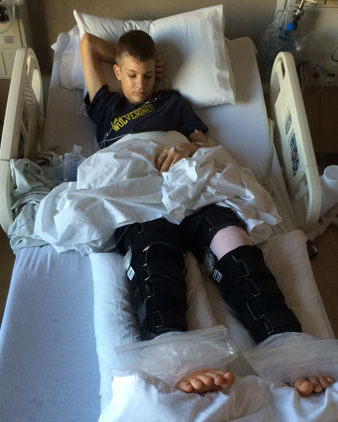 "Sam was an ideal candidate to do both knees at once. He was young and his parents could help take care of him. And, by doing both together, he could get back to playing sports sooner, too," Dr. Guettler said.
Dr. Guettler worked with his colleague, James Bicos, M.D., and a team of medical professionals to simultaneously perform the two surgeries. It was an approach other doctors were not willing to do, but Dr. Guettler wanted to do what was best for Sam, even if it pushed the limits.
"Doing bilateral ACL reconstructions at the same time is uncommon and almost unheard of, especially in an adolescent athlete. The team approach allowed us to do the surgery in an efficient and effective way, while using advanced and minimally invasive concepts in ligament reconstruction," Dr. Guettler said.
The surgery went well.
"Surprisingly, my pain level was low after surgery. It was challenging not being able to walk for a couple weeks and missing school. But, once I started physical therapy, it felt good to be active again," Sam said.
Several months later, Sam entered high school and joined the freshman football team.
"To see him back in the game was very exciting. But, it made me extremely nervous – as a mom. You just always worry that something is going to happen and you'd be back to square one. It was a blessing to see him out there. I'm glad he was able to have a healthy, successful season," Shana said.
Sam made it through the season without getting injured. He knees felt great.
"Sam is a neat kid I will always remember," Dr. Guettler said. "It makes everyone on our team proud to see him doing so well."
Now, his interests have shifted to wakeboarding and snowboarding – two sports that would be impossible with weak ACLs. But, Sam twists, turns and rides the waves and the snow with ease.
"I feel great now. My knees feel stronger than they ever have. I am so happy to be playing sports again. I am so grateful to Dr. Guettler, Dr. Bicos and their team to have a second chance with healthy strong knees," Sam said.