Thursday, January 18, 2018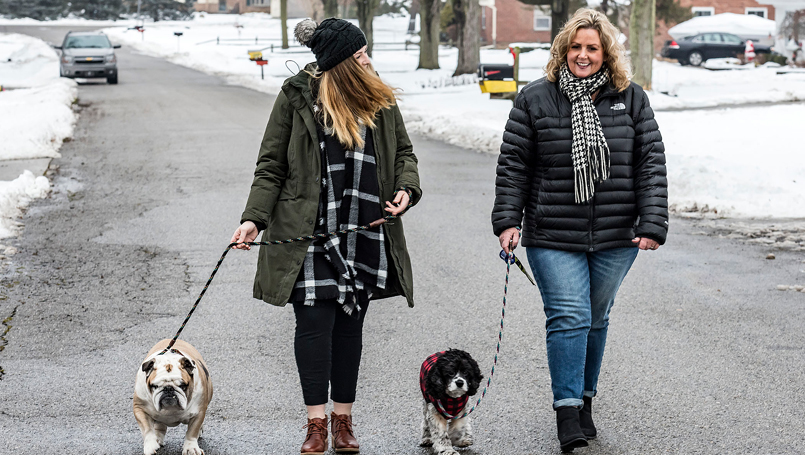 Mom and daughter empowered to lose nearly 300 pounds and embrace healthy, plant-based lifestyle
Diana Biondo, 50, struggled with weight her entire life.
"I was thin. I was heavy. I was up. I was down," Biondo recalled.
The major turning point came in 2010 when she lost her job, entered a major depression and turned to food to numb the pain. During the next three years, she gained 100 pounds and developed type II diabetes and sleep apnea.
Meanwhile, daughter Ninna had been dealing with weight issues of her own since the age of 5. By 18, she was more than 100 pounds overweight.
"We tried different programs and spent a lot of money, but nothing helped," Biondo recalled.
Finally, when walking from the car to the office at her new job became too much, Biondo decided enough was enough.
"I wasn't portraying a good image for Ninna," Diana said. "I knew I had to make a change."
Since having bariatric surgery at Beaumont Hospital, Troy in January 2014, Diana has lost 170 pounds.
Observing her mother's struggle and post-surgical success gave daughter Ninna the tools and courage to embrace a surgical solution for herself.
Since her procedure in March 2015, her senior year of high school, Ninna has lost more than 110 pounds.
"Some people thought I was too young to have bariatric surgery," Ninna said. "But, for me, it was absolutely the right decision."
Mother and daughter say they are much happier now and also feel great physically.
Diana's weight loss has enabled her to shed her diabetes and the medications used to treat it, along with medications for depression and anxiety.
Both agree Ninna's confidence has soared. She is currently on a seven-week study program in Australia.
"We've always been close, but sharing these experiences has helped us understand one another," Diana Biondo said. "We even tell the same jokes."
With the help and follow-up support of Beaumont Weight Control Center staff including dietitian Silvia Veri and Wendy Miller, M.D., medical director of the Beaumont Weight Control Centers, Diana and Ninna are tackling a shared challenge of a different flavor; that of adopting a plant-based lifestyle.
"Sharing this with my mom has definitely kept me sane," said Ninna, who has opted for a full-on vegan lifestyle while Diana is vegetarian.

Lentil dishes, tofu scramble and vegan tacos are a few of Ninna's staples; mom and daughter both enjoy vegan hot dogs and sweet potato-bean chili and Diana enjoys cauliflower tater tots and tomato basil soup, which she eats for lunch several days a week.
Pasta and desserts are rarely on the menu.
Ninna is so committed to the lifestyle she requested a dorm with a kitchen at Michigan State University where she is studying journalism so she can make her own meals.
"Since middle school, I would get chronic bronchitis twice a year," said Ninna who follows vegan blogs and YouTube channels for inspiration. "That hasn't happened since I cut out meat and dairy. My immune system is pretty rockin."
Veri said Ninna's maturity has fueled her success as a weight loss patient and vegan.
"A lot of times with young people, it works best if the parent comes to the appointment, too," Veri said. "But Ninna was more than capable of handling things on her own."
Both Ninna and Diana, Veri said, worked hard to keep the weight off and do so on a balanced vegetarian diet, which includes legumes, nuts, seeds, fruits, whole grains, soy and of course vegetables.
"Vegetarian diets are associated with better glucose control, lower body mass index and a lower risk of heart disease, obesity, diabetes and certain cancers," Veri said.
Diana believes that staying connected to Beaumont Weight Control Center staff has enabled her to maintain her success. "Going back to the Weight Control Center to check in and get weighed helps me stay accountable," Diana said.
Dr. Miller said there is a growing trend toward weight loss patients embracing vegan and vegetarian diets "not only to lose weight but improve the nutritional quality of their diet and overall health."
"I think it's great Diana and Ninna have done this as a mother-daughter team, and have continually
supported each other," Dr. Miller said.
"Making a plant-based diet work isn't easy; but they've done it. I would encourage other families to take a team approach to making healthy lifestyle changes and incorporating more plant-based foods in their diets."
Although the Biondos agree it's still difficult to keep the weight off - "You have to do the work every day" – they are up for the challenge. Together.