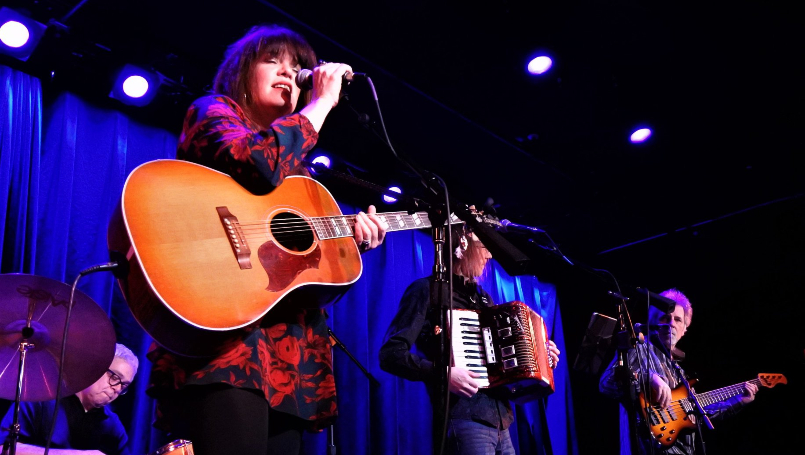 Jill Jack's first concert is Saturday after bout with myocarditis
Metro Detroit musical darling Jill Jack couldn't imagine she was having a heart issue.
The Ferndale-based singer/songwriter, who plays acoustic and electric guitar, had spent most of January 2022 recovering from COVID-19. Her annual birthday bash Jan. 15, 2022, at The Ark in Ann Arbor, an annual blend of folk, rock, country, pop and blues known as the musical genre 'Americana,' was cancelled. And the woman who once opened for Bob Seger was easing back into life.
She had worked out the day before for the first time since COVID. And she chalked up the pain in her back and arm the morning of Feb. 8, 2022, to overdoing it.
"I actually sat in the parking lot of the gym and looked up 'Signs of a heart attack,'" Jack said. "But then I thought, 'Oh don't be dramatic and I decided to go into the gym.'"
Four laps into her swim, she knew she was in trouble. The pain intensified and she called her husband from the locker room, still downplaying the situation. He told her to have the gym call 9-1-1.
Doctors at Beaumont Hospital, Royal Oak, ruled out a heart attack, although her symptoms mimicked the life-threatening condition. Finally, imaging determined the issue: myocarditis, or inflammation of her heart muscle, due to COVID-19.
"The cardiologist said I went from zero, laying in bed, to 100 my first two days at the gym. He told me I was cardiac-healthy, but I had inflammation of the heart due to COVID," says Jack, who confirmed she had been vaccinated and boosted against COVID-19. "My biggest takeaway was that when I went back to exercise, I pushed myself too hard. I didn't realize my heart was inflamed. I just didn't feel good. I knew something was off but tried to play off my symptoms thinking I just over did it. The doctors told me those symptoms were my body trying to tell me something was wrong."
A study published by the U.S. Centers for Disease Control and Prevention found that COVID-19 patients had nearly 16 times the risk of myocarditis compared to those who did not have COVID-19. Typically caused by viral infection, myocarditis is a rare condition that can cause heart failure and sudden death. Symptoms can mimic a heart attack, like with Jack, including chest pain, shortness of breath or heart palpitations.
I knew something was off but tried to play off my symptoms thinking I just over did it. The doctors told me those symptoms were my body trying to tell me something was wrong.

Jill Jack
"The key is to listen to your body and consult a doctor, go to the emergency center or call 911 if you feel you might be having a heart issue," said Beaumont cardiologist Dr. Monica Jiddou-Patros. "We've seen patients with myocarditis, blood clots or other issues post-COVID. We don't want to make people overly nervous but want to educate them so if something doesn't seem right, they go get it checked out."
Dr. Jiddou-Patros also points out that the potential seriousness of side-effects from COVID-19 are far greater than potential side-effects from the COVID-19 vaccine. Her message: get vaccinated or boosted, if you are due. Recovery from myocarditis often requires rest and abstaining from exercise for a couple of months while the heart inflammation subsides.
Jack spent much of her recovery painting and dabbling with her music. Now she is preparing for her first post-COVID live concert, May 28, at 6 p.m. at the Hotel Royal Oak. She's excited and nervous - and wants to share a message to listen to your body and take care of yourself, especially after a bout with COVID-19.
"Take it slow. Your heart is the engine of your body" Jack says. "The last thing you want to do is damage it. Recovery has felt slow, but I have learned so much about patience. And thanks to the doctors, nurses and physical therapists I can look forward to getting back on stage again with confidence and a strong heart - ready to rock!"