Wednesday, April 20, 2016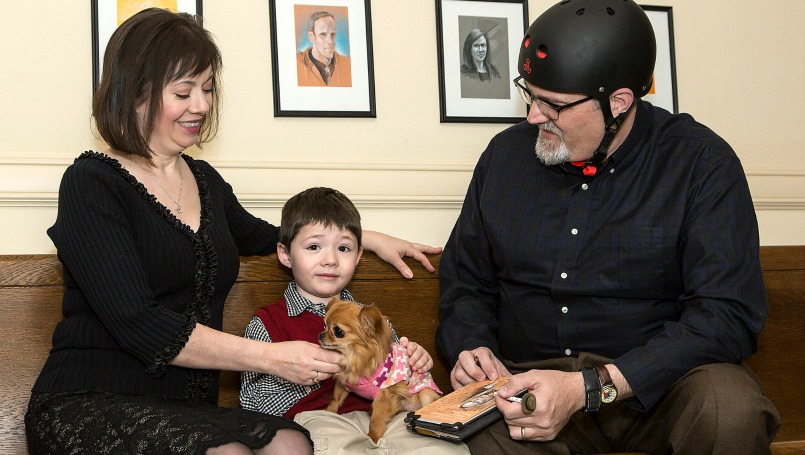 Rustling up the right words to express himself isn't something John Wood takes for granted.

That's why the 47-year-old artist and Beaumont Hospital, Grosse Pointe dementia patient, came up with the idea of creating specially illustrated "memory cards" to carry with him and share with family, friends and the general public.

The card titled "Lost in Space," for example, says: "I'm not sure where we are. I'm afraid. Can you please remind me where we are and what time of day it is?"

As intended, using the cards to express himself eases Wood's anxiety and improves his relationships.

But here's another happy and unexpected result: Making the cards also allows Wood to build precious memories with his 5-year-old son, Julian.

The process begins with Wood donning a space costume to portray himself as a "time traveler."


"Because of my diagnosis, I don't often know what time or day it is. So the symbolism is perfect," said Wood, who began experiencing symptoms of neurocardiogenic syncope in his teens. The condition causes him to suddenly lose consciousness.

After donning said costume, Wood strikes various poses to convey the messages on the cards. Julian captures the poses on camera and Wood use the images to inform the comic book-style sketches he creates to illustrate the cards.

"My son works the lights and usually tries on the costume, too," explains Wood, who has great memories of making art with his own dad. "It's just so fun for us."

Battling related health challenges, including diabetes, concussive and amnestic disorder and frontotemporal degeneration, a form of dementia, has become a part of daily life for Wood. In 2014, health issues forced him to retire from Detroit Public Schools where he taught art. Wood now wears a helmet to prevent additional head injuries.

"Maybe Julian will look back and remember us working on this project together," Wood said happily, adding that he'd like to find a way to share his cards with other dementia patients.

He credits his physician, Ashley Alexander, D.O., and speech and language therapist Katherine Marks for helping him brainstorm the idea for the cards and fueling the progress he's achieved in using them.

"Besides providing a creative purpose and therapeutic outlet, John's art is also very, very useful," Dr. Alexander, a Beaumont Hospital, Grosse Pointe physician stressed. "Without his cards, John would not be as high-functioning or good-spirited. He's very optimistic about his prognosis. Much more so than other people would be. For him, his art is a game-changer."

In addition to his art cards, Wood's ceramic "aphasia bowls," also include a word component, and will be on display at Beaumont Hospital, Dearborn, April 18-July 8 as part of Beaumont Health's Arts for the Spirit program. These 90-day exhibits feature "calming and healing art" by local artists in six public spaces throughout the health system, including the Taylor, Trenton, Dearborn and Wayne hospitals and the Oakwood Physical Therapy and Wellness Center.

Also beginning April 18, the Arts for the Spirit gallery program expands to Beaumont Hospital, Grosse Pointe with a 9-piece collection focused on Michigan-themed scenery such as the Grosse Pointe Yacht Club and Mackinac Island's Grand Hotel porch.

"Our goal is to create a nurturing environment where our patients and their families can experience the healing nature of art in all its forms," said Judith McNeely, vice president of corporate and community partnerships for Beaumont Health.

Arts for the Spirit gallery coordinator Susan Majewski will discuss Wood's work at the upcoming Arts and Health Symposium April 21 at the Detroit Institute of Arts.

"Our galleries provide patients, their families and our employees with a healing distraction from the everyday worries of hospital life," Majewski said. "As both patient and artist, John is an ideal example of healing through art."

Similar in theme to the Arts for the Spirit gallery program, the DIA event aims to showcase the power of art and creativity in human wellness, according to founder and chair, Asha Shajahan, M.D., Beaumont Hospital, Grosse Pointe physician.

"Research shows that the arts have a positive impact in coping with illness, promoting wellness and reducing anxiety and depression," Dr. Shajahan said. "Art empower patients. Art in medicine is making a difference in people's lives and we want to share these benefits with Metro Detroit."

Tickets for the DIA Arts and Health Symposium, which include lunch, are $25 and $10 for students. CME and CEU credits are available for medical professionals. For more information, call 313-833-4005.