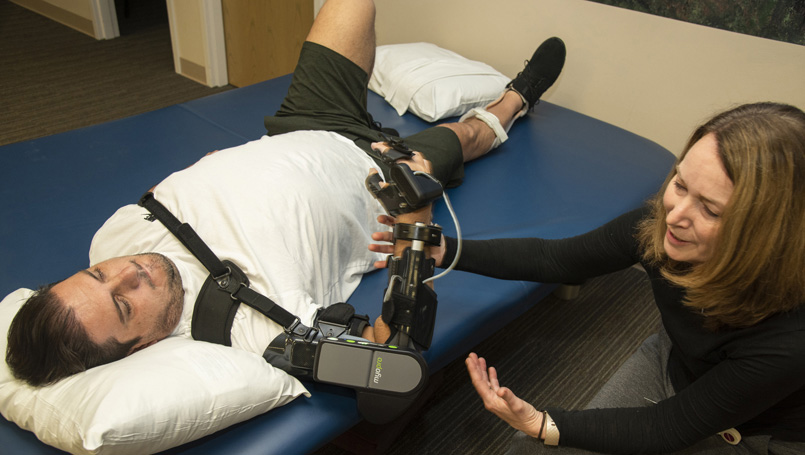 Robotic technology accelerates stroke rehabilitation
It was 3 a.m. He was home alone … experiencing a life-threatening emergency. Greg Alexander, 52, of Royal Oak, suspected he was having stroke symptoms – his speech was slurred and he couldn't feel his right arm. With his wife and kids out of town and miles away, he was in need of help on that August morning one year ago.
"I don't even remember how I managed to go down the stairs," said Alexander. "I spent half-an-hour trying to reach my sister." His brother-in-law arrived shortly after and drove him to Beaumont Hospital, Royal Oak.
Stroke diagnosis
Doctors determined Alexander had experienced an ischemic stroke. A stroke occurs when there is a sudden interruption in the blood supply to the brain. The effects of a stroke depend on which part of the brain is affected and how severely it is injured.
Alexander was not a candidate for the 'clot- buster' medication, tPA or a blood clot retrieval procedure. Because his blood pressure was so high (250 over 150), three doctors stayed by his side until he was transferred to the intensive care unit. Normal blood pressure is about 120 over 80. Alexander remained in the Intensive Care Unit for three days.
After being transferred out of the ICU, Alexander remained at Beaumont for about two months receiving attentive care, medication, and therapy.
"My right side was paralyzed," he said. "And, because I'm right-handed, this made it even tougher."
He recalls feeling discouraged as his lack of mobility, slurred speech and memory loss made everyday tasks increasingly difficult.
"I would get frustrated and force myself to do better in therapy, but I never got depressed," he said. "I have a great wife and kids and they've been instrumental in my recovery."
Through intensive physical, occupational and speech therapy, Alexander built his strength and confidence. His speech came back first, but he was still having problems with muscle mobility.
Robotic brace
He learned about MyoPro, from Kelly Keim-Johnson, supervisor, Neuro Rehabilitation. It is an advanced form of technology, a robotic brace, designed to restore function to hands/arms paralyzed or weakened by stroke, injury or neuromuscular disease.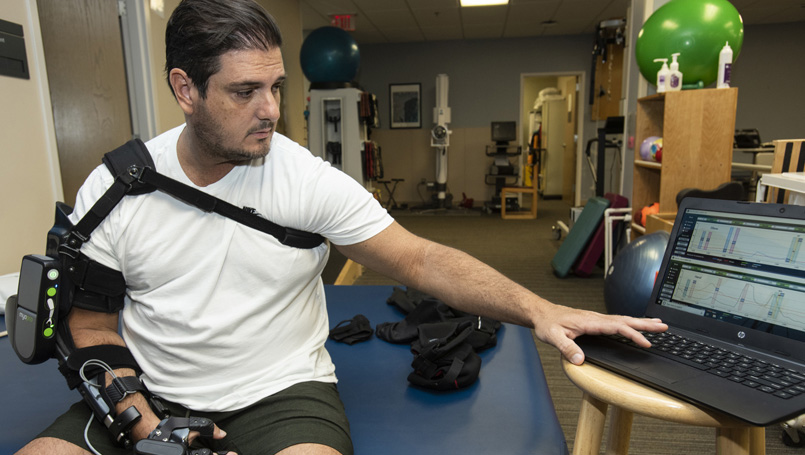 "I was in the early stages of therapy when Kelly contacted me. I'm convinced; this high-tech brace has accelerated my recovery. My upper arm is moving, and I've had improvement in my tricep and bicep."
Keim-Johnson explained, "If we are aware of a robotic device that may assist one of our patients, we will reach out to a vendor and have them come out and assess if it is appropriate and beneficial for the patient."
After six months, Alexander, a principal with an electrical contracting company, was able to return to work part-time. On the days he was not working, he continued outpatient therapy. He even participated in Beaumont's driving rehabilitation program to learn how to drive again. Today, he's back behind the wheel and managing his company full-time.
Keim-Johnson and her team know the benefits of the many new robotic technologies that assist patients like Alexander. She said, "The robotic devices facilitate active movement, providing feedback to the patient on how their arm or leg should move and elicits normal movement patterns."
Hard work and motivation
"Greg is very motivated," said Virginia Vensel, senior occupational therapist, Neuro Rehabilitation. "He puts forth full effort during therapy sessions and follows through at home despite a busy schedule as a father, husband and businessman. He has made good progress and understands that getting better from a stroke is a process that requires time and effort."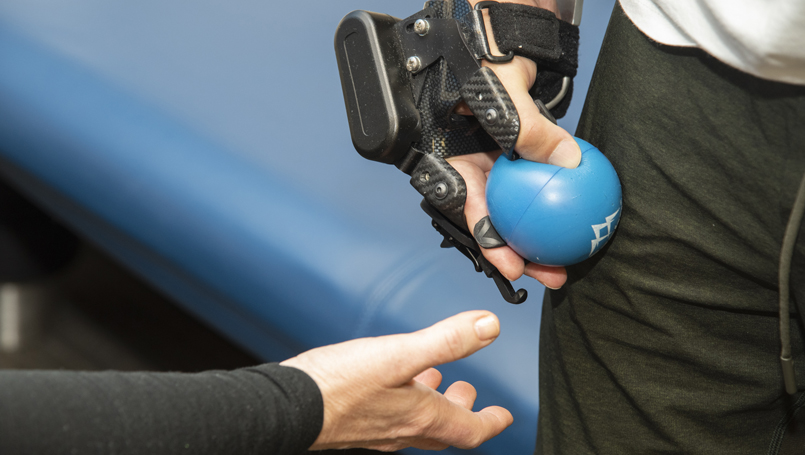 After one year of therapy, Alexander has made significant progress. In the beginning, he was dependent on a wheelchair. Through hard work and dedication, he moved to a walker, then to a cane, and now occasionally walks on his own.
"Along with my family's support, I am grateful to the Beaumont medical team, which includes my therapists for speech, OT and PT," said Alexander.
Before his stroke, Alexander enjoyed golfing with his sons and friends, as well as traveling with his wife. While he's not ready to return to the links just yet, one of his many goals includes swinging his clubs again.
"I've had to overcome a lot," said Alexander. "But for me, it's all about perspective. It's not a matter of if I will get better; it's a matter of when I will get better."