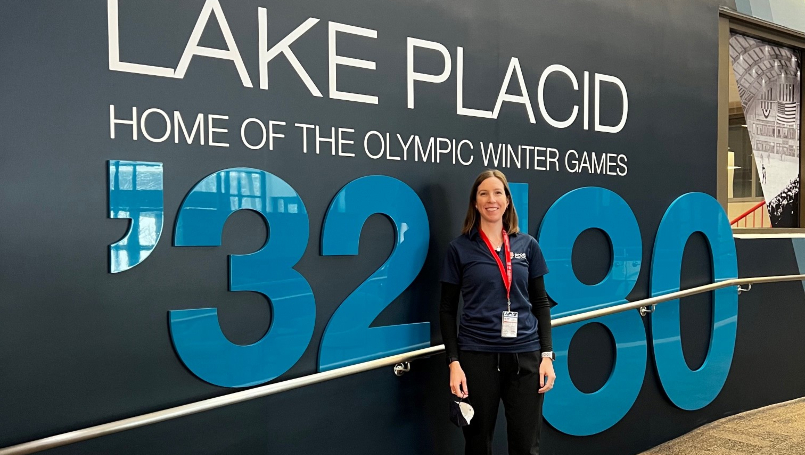 The former U.S. champion figure skater is volunteering in Lake Placid, NY, this week
Beaumont's Alex Patterson Tichy has touched both sides of physical therapy. The former U.S. Women's Figure Skating champion relied on physical therapists who helped her push through years of grueling training.
Now, the board-certified Clinical Specialist in Sports Physical Therapy at Beaumont shares her expertise with others - this week at the U.S. Olympic & Paralympic Training Center (USOPC) at Lake Placid, New York, as dozens of Team USA athletes prepare to compete in the 2022 Winter Olympics in Beijing Feb. 4 - 20.
Patterson Tichy arrived in Lake Placid on Sunday, Jan. 23, and is scheduled to head home to Pleasant Ridge on Sunday, Jan. 30. On PTO from her job at Beaumont Physical Therapy - Berkley, she's volunteering from 9 a.m. to 6 p.m. daily. The sports currently training in Lake Placid are bobsled, skeleton, luge and biathlon.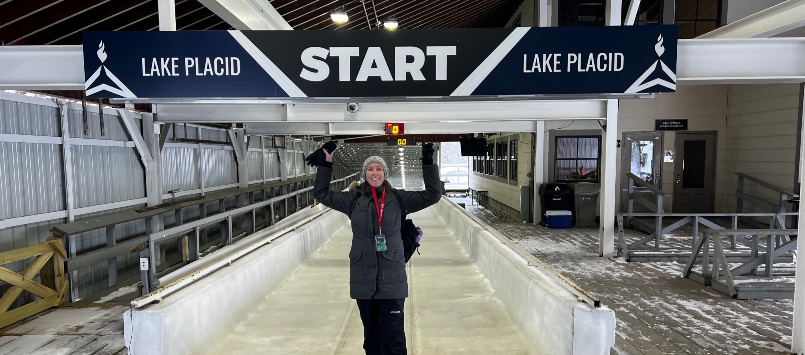 She spends some of her day in the Sports Medicine Clinic and other parts of her day at the combined bobsled, luge and skeleton track, providing care as needed while the athletes train.
She said she's seeing both traumatic injuries as well as overuse injuries, which are the result of a lot of training starting at a young age.
"I'm doing this for them, their dedication and hard work," she said. "They spend hours training. And to have a physical therapist you can trust and can get you back to your goals and training and passion means everything. That's definitely why I got into physical therapy - the physical therapists who helped me, inspired me."
Patterson Tichy spent years training, travelling and competing on the U.S. Figure Skating team in the early 2000s, skating out of St. Clair Shores for most of her skating career. Wanting to help other high-level athletes, she then attended Wayne State University's physical therapy program.
She began her career as a physical therapist at Beaumont in 2013, at the health system's former site at the Detroit Skating Club in Bloomfield Hills, and has been volunteering with U.S. Figure Skating for the past five years. Her first volunteer rotation at the USOPC was supposed to be in Colorado in 2020, until COVID-19 cancelled those plans.
Her family also skates: her husband, Petr Tichy, owns and operates 4D Hockey Training; her 5-year-old son enjoys both hockey and figure skating, and her 3-year-old daughter is having fun skating with mom.