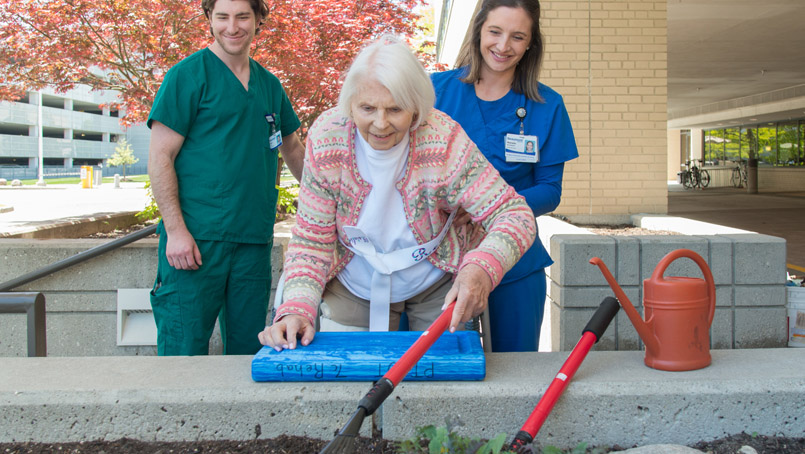 For some patients, getting their hands dirty is just what the doctor ordered.
While most of us have heard about the importance of hand-washing in the hospital, a program at Beaumont Hospital, Royal Oak encourages patients to get outside and work the soil.
The garden therapy program is a partnership with Physical Medicine and Rehabilitation, along with Nutrition Services. It takes place May through August.
Said recreational therapist Natalie Grzywacz, "We work hand in hand with Eileen Miskiewicz, food service and farmers market manager. She provides the plants, watering cans and gardening tools. Our team, including Lauren Rutt, provides adaptive tools, if needed, and supervision."
The program takes place once a week at the raised brick gardening beds near the South Entrance area, across from the South Parking Deck.
"Based on the smiles and comments from participating patients, the outdoor garden therapy program is a success," added Grzywacz. "The benefits are many, including increased patient motivation, enhanced socialization and improved fine motor skills."
Just being outside in the sunlight is also beneficial for patients.
"The natural light resets their circadian rhythm. Many of our patients who've been hospitalized for a while experience a disruption to their sleep cycle," said recreational therapist Lauren Rutt. "Garden therapy also offers other important benefits, including a decrease in stress, lower blood pressure and a greater sense of control."