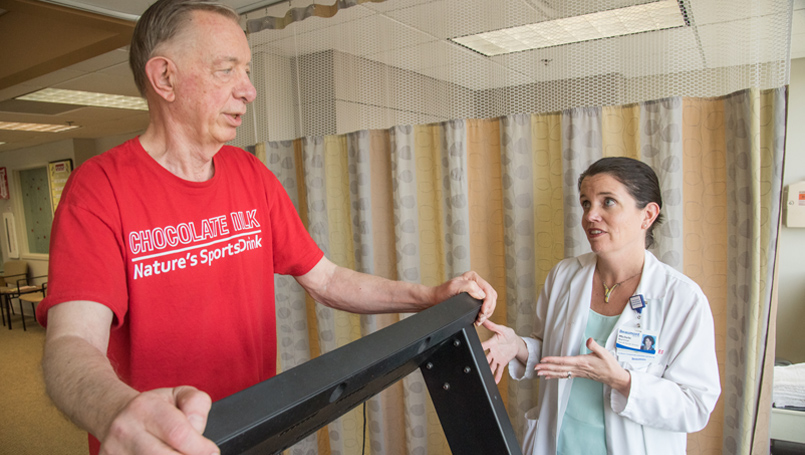 Clarence Tabar has attended too many funerals for family members who died too soon from heart disease. He was just 7 years old when he watched his aunt die from a heart attack.

As he grew older, Tabar found himself at more and more funerals - each one a close family member. Each one a heart attack.

Tabar went on to teach math and computer science for 45 years in the Troy School District. He explained statistics and risk to his students every day. And, he knew his odds of having a heart attack were high.

So, when he started feeling tightness in his chest, Tabar knew he needed to get help.
"I felt like I was sitting on a time bomb. Something wasn't right. My family history told me I could not ignore it," he said.

Doctors at Beaumont Hospital, Royal Oak discovered one of his arteries was nearly 90 percent blocked.

"He caught the problem because he was listening to his body. He took action and sought help which saved his heart," Michele Boertman, senior cardiology manager, Beaumont, Troy, said.

Cardiologists opened his blockage and inserted a stent, an expandable tiny wire mesh tube that keeps an artery open after angioplasty. Tabar signed up for cardiac rehabilitation. But, the stent failed a few months later. This time, doctors replaced the standard stent with a different type of medicated stent to prevent the artery from narrowing again. Afterwards, Tabar returned to the cardiac rehabilitation program.

That was 10 years ago. Tabar still attends the classes three days a week.

"It's not the doctor telling me to do it. It's me telling me to do it. I don't want to go back to where I was before cardiac rehab," he said. "My wife, Deanna, has also been a big part of my recovery. She constantly watches my diet and prepares heart-healthy meals for me."

Boertman said cardiac rehab helps patients like Tabar manage their health conditions in a controlled way, monitored by medical professionals. "It's a way for our patients to be independent, but still feel safe," she said.

Through the years, Tabar has become an unofficial ambassador of the cardiac rehab program at Beaumont Hospital, Troy. The program not only offers structured exercise sessions, but also offers specialty classes to further motivate patients in their heart health. Classes include: chair yoga, resistance training, cooking classes, stretching, fitness mix and core balance. Tabar participates in all of them and encourages others to participate as well.

"It's amazing how many people don't pay attention to what's available," Tabar added. He recommends starting with less intensive classes first and then working up to the more challenging ones.

"I love exercising with people who have become like family to me. And, I love that I still have the chance to teach, even though I'm not a high school teacher anymore," he said. "This program saved my life."

If you'd like to learn more about heart health and hear more about Tabar's story, Beaumont, Troy is hosting a "Keeping the Beat" event Tuesday, May 23, from 5 - 8 p.m. in the Moceri Learning Center and Qazi Auditorium at the hospital.