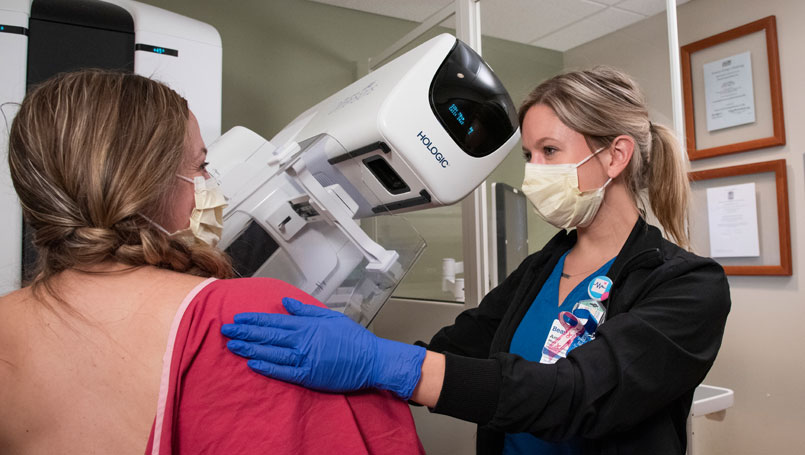 Breast cancer is the No. 1 most commonly diagnosed cancer in women, according to the National Breast Cancer Foundation, with more than 250,000 women diagnosed each year in the United States. A staggering one in eight women will have it in their lifetime.
Fortunately, the prognosis is good for women who detect the presence of breast cancer early via a mammogram screening, with strong evidence linking mammography to a reduction in deaths related to breast cancer.
Yet there's some confusion about who should be screened - and how often.
Beaumont recommends that all women age 40 and over get an annual screening mammogram. That's in line with the recommendations from the National Comprehensive Cancer Network and American College of Surgeons
Others, including the American College of Physicians, recommend doing it every two years starting at age 50.
Which is right?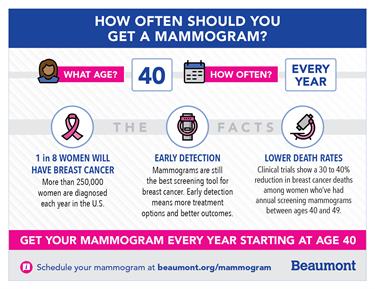 Randomized clinical trials have shown a 30 to 40% reduction in breast-cancer deaths among women who've undergone screening mammograms between ages 40 and 49 - a demographic that also corresponds to 40% of all breast cancer deaths because they tend to see the most aggressive cancers.
Meanwhile, there are no clinical trials to support the recommendation for every-other-year screenings.
"Beaumont physicians recommend annual screenings starting at age 40,"said Dr. Murray Rebner, a Beaumont radiologist. "The risks of getting a mammogram pale in comparison to dying from breast cancer."
While annual mammograms are recommended for women at low or average risk of breast cancer, women with one or more risk factors, including a family history of the disease, smoking or a lack of physical fitness, should talk with their doctor about when to start mammography screenings.
"Women should determine their personal risk for breast cancer at age 30 to see if they might benefit from additional screening tests," Dr. Rebner said.
Early detection is key
Detecting breast cancer early means smaller tumors and less involvement of the lymph nodes, giving the woman more options for treatment and increasing the likelihood of a full remission.
Dr. Rebner said he recommends women 40 and over who aren't getting an annual mammogram talk to their doctor about why they feel it's so important. Pointing to the recommendations of major organizations such as the National Comprehensive Cancer Network can be a good way to approach the conversation.
"For women not getting their annual screening, I would tell them that their lives matter greatly to their family and friends," Dr. Rebner said. "Why not give themselves the best chance to beat breast cancer by following the guidelines?"
---
Next Steps and Helpful Resources