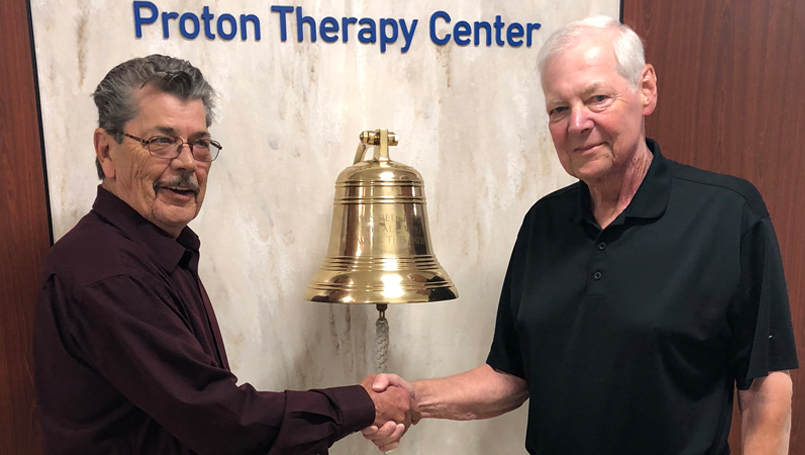 Paul Horvath and Gene Muenchausen were strangers. But, as they waited in the lobby of the Beaumont Proton Therapy Center, it didn't take long for them to strike up a conversation. Despite some differences, they learned about their many similarities. Both are about the same age, Horvath, 74, and Muenchausen, 73. They learned they were at the center to begin their proton therapy for cancer. They also discovered they would conclude their treatments at about the same time.
Monday through Friday for six weeks the two met in the lobby. Horvath was being treated for prostate cancer and Muenchausen for squamous cell cancer. Both were impressed with the staff and technology.
"I believe in the technology," said Horvath of Cedarville in Michigan's eastern Upper Peninsula.


Muenchausen, of Beverly Hills, had received traditional X-ray treatments for his cancer, along with brachytherapy, and was pleased with his proton treatment plan and his physicians Daniel Krauss, M.D., and Matthew Rontal, M.D.
Horvath, a former steel worker, liked that there were few side effects from his proton treatments. "While undergoing therapy, you can maintain normal activities. I went fishing with my son-in-law on the Detroit River. And Gene rode his bike to the Proton Therapy Center most days. He was golfing, too."

Muenchausen, a former business owner, often bicycled the six miles round trip to Beaumont Hospital, Royal Oak from his home. He would not leave home without his backpack. Inside was his knitting supplies and water.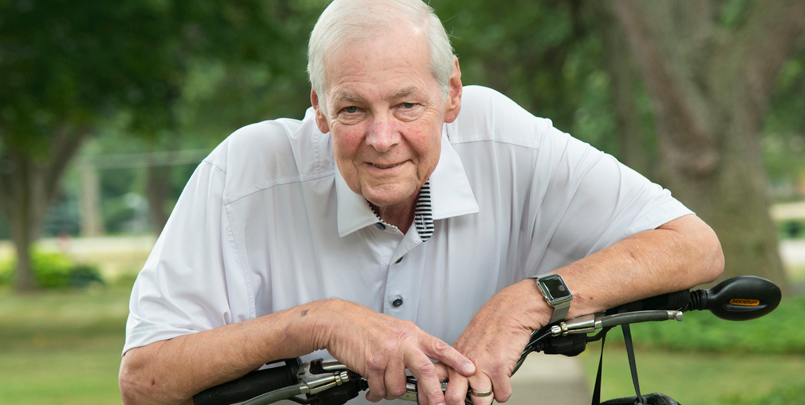 Horvath stayed with his daughter in Taylor during his treatments. From his home in northern Michigan, it was 630 miles roundtrip.
Despite being treated for different types of cancer, they often compared their experiences, or as Muenchausen said, "comparing notes."
Along with good conversation, Muenchausen knitted a lap blanket to donate to the hospital, while Horvath, an avid outdoorsman, worked on a large puzzle.
"I picked up knitting in high school and knitted through college, but gave it up after I joined the Marine Corps," explained Muenchausen. "Fifty years later, I'm back at it. My wife, Nancy, knits, too."
Horvath said he did a lot of research before deciding to make the long trip downstate for proton treatments.
"It's an individual decision. But, for me proton therapy is the way to go. It's state-of-the-art and high-tech," said Horvath. "I'm very satisfied. Dr. Krauss and his team are on top of their game."
Near the end of their proton treatments, both men teamed up to express their thanks and gratitude to the entire staff. On June 26, Horvath brought in flowers and Muenchausen, a cake. The two ceremoniously rang the end-of-treatment bell together. After six weeks the pair, celebrated their cancer survivorship and proton therapy experience.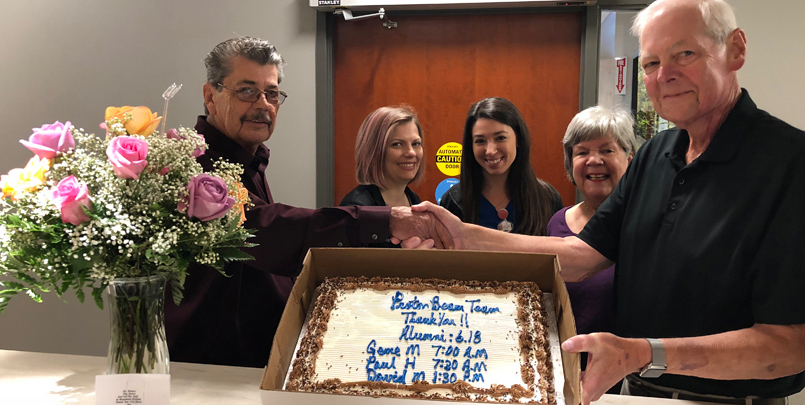 'Beaumont Proton Alumni' group on Facebook
A new Facebook group, "Beaumont Proton Alumni" was created to connect proton patients, caregivers and prospective patients. The goal of the Beaumont Proton Alumni group is to share information and offer support. Those interested are encouraged to join and ask questions, share a story or observe.