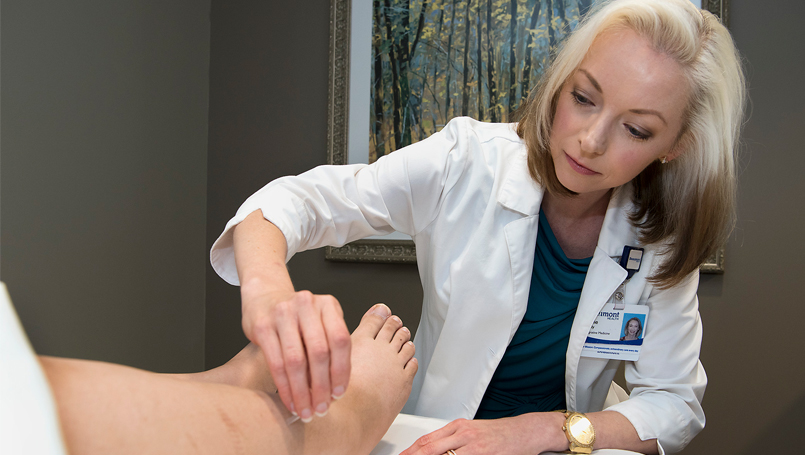 Chinese medicine practitioners define acupuncture as a technique that restores the body's natural energy or "life force" known as "qi" or "chi", by strategically placing thin needles into the skin at key sites throughout the body.
In the west, acupuncture is defined as the stimulation of nerves, muscles and connective tissues in a way that triggers the body's natural opioids or pain killers. Studies have shown that acupuncture has an anti-inflammatory effect on the digestive track and increases blood flow to major organs and throughout the body, according to Beaumont Health's Kylie Study, an acupuncturist and Traditional Chinese Medicine practitioner.
By eliminating "blockages," acupuncture can relieve pain, boost energy and help restore the body's natural order of operations said Study, who after experiencing the benefits firsthand, abandoned a research career in bacterial immunology to earn her Master's Degree in Traditional Chinese Medicine.
"I had gastritis and my digestive tract was constantly inflamed. It was hard to eat. I had chronic heartburn," Study said. "Eventually I tried acupuncture, which relieved 80 percent of my symptoms."
Research has shown acupuncture to be effective in managing the symptoms of chemotherapy and radiation, such as neuropathy and nausea. Acupuncture supports the healing of muscles and bones and helps manage diabetes, arthritis and headache.
Because the state of Michigan does not currently require licensing for acupuncturists, consumers should adopt a "buyer beware" attitude.
According to Beaumont Health's director of Integrative Medicine, Gail Elliott Patricolo, the most highly trained practitioners, including those at Beaumont Health, are credentialed by the National Certification Commission for Acupuncture and Oriental Medicine, have earned a degree in Traditional Chinese Medicine/Acupuncture and are registered with the state of Michigan.
"Each one of our acupuncturists has a Master's degrees in the field and some also have their Ph. D's," Elliott Patricolo said. "Our team is also supervised by a medical doctor."
Patients interested in receiving acupuncture, should ask prospective practitioners where they went to school, if they've earned NCCAOM certification, if they are registered with the state and experienced in treating the specific condition for which the patient seeks treatment.
"Because of our multi-disciplinary approach, our health care team fully communicates with one another, and the risk of contraindications is drastically reduced, if not eliminated altogether," Elliott Patricolo stressed. "A breast cancer patient for example would not have to worry about being needled in such a way to incite lymphedema. Their practitioner is fully aware of their complete medical history and record."
WHAT TO EXPECT
Acupuncture points are located throughout the body. Sometimes the appropriate points are far removed from the area of pain. The acupuncturist informs patients about the general site of the planned treatment and if any clothing needs to be removed. If appropriate, a gown, towel or sheet will be provided. The patient then lies down on a padded table.
NEEDLE INSERTION
Acupuncture needles are very thin, so insertion creates very little if any discomfort. A mild aching sensation may occur. Needles are sterile; single use and clean technique is applied. Between five and 20 needles are typically used per treatment. The treatment is usually very relaxing and many patients fall asleep.
NEEDLE MANIPULATION

The practitioner may gently move or twirl the needles after placement or apply heat or mild electrical pulses. This is done to stimulate the acupuncture point and achieve the desired effect from treatment.
NEEDLE REMOVAL
In most cases, the needles remain in place for 10 to 20 minutes while the patient lies still.
AFTER ACUPUNCTURE
Afterwards, some people feel relaxed and others feel energized. Several sessions are often required before relief sets in. Not everyone responds to acupuncture, however. If your symptoms don't begin to improve within a few weeks, acupuncture might not be right for you.