Thursday, November 19, 2020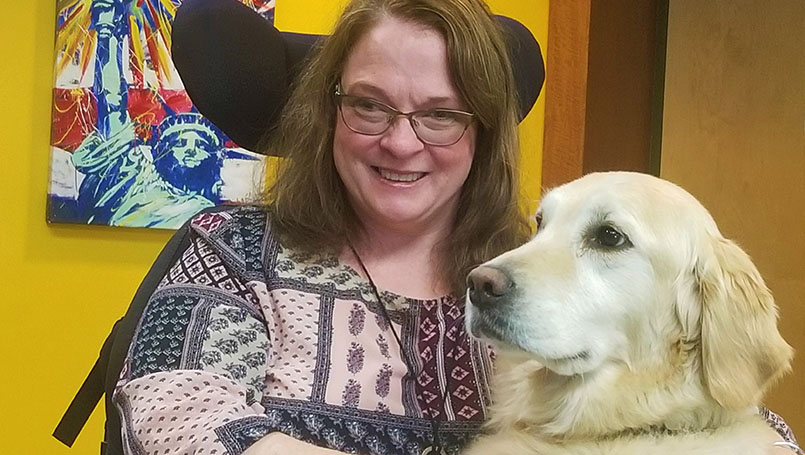 Gov. Gretchen Whitmer has appointed Sheryl Stumbaugh, 43, of Farmington Hills, to serve on the Michigan Developmental Disabilities Council, a 21-member group whose challenge is ensuring that true choices exist for people with intellectual and developmental difficulties. They also work to eliminate barriers to full inclusion. There are 1.7 million people in Michigan with a developmental disability.
Stumbaugh works in Dearborn as a clinical social worker at the Beaumont Children's Center for Exceptional Families, supporting patients with cerebral palsy, like her, or with muscular dystrophy, autism and other intellectual disabilities or genetic syndromes. There, she also serves on Beaumont's Teens with Disabilities Leadership Program to help adolescents and young adults with disabilities pursue their dreams, just as she pursued her dreams of attending college and living independently. Stumbaugh also works as a peer mentor with Oakland County Community Living Services, giving support to people in Oakland County of all ages who have intellectual and developmental disabilities.
Disability, a part of the human experience
"A lot of times, when people hear 'developmental,' they think cognitive or what was once referred to as mental retardation, but it's much broader than that," she said. "It includes people with spinal cord injuries, cerebral palsy, muscular dystrophy and any disability before the age of 22."
At a young age, Stumbaugh developed cerebral palsy, a group of disorders that affects a person's ability to move and maintain balance and posture. The diagnosis never held her back. She credits her grandmother with positively influencing how she viewed the future with a disability.
"Grandma told me that I'd be able to give something back to this world but that I'd have to go to college to support myself," Stumbaugh said. "I grew up in a very blue-collar family and my going to college would be a first."
Even now, the unemployment rate for people with physical disabilities is 50% higher than for the able-bodied, according to the Bureau of Labor Statistics.
I have the right to be a full and active participant in my community
"When I first started telling my special education teachers I wanted to go to college, they said people with disabilities like mine don't go to college," Stumbaugh said. "They also said those who do go to college have a very supportive family. You don't have that, so it's not going to happen."
They were wrong. Stumbaugh was blessed with a supportive family, and she possessed a fierce determination to go to college. She rejected the notion that she should pursue a stereotypical job for someone with a disability.
Initially, she wanted to be an occupational therapist, but after she learned of the physical demands the job would bring, she set out to find a similar job that would be equally fulfilling. She still wanted to change lives and empower people, but without the physical demands of being an occupational therapist. That's when she landed on social work.
"I've always been a big believer in paying it forward," she said.
Stumbaugh went to work, maintaining a 4.0 grade point average and earning a bachelor of social work degree at Madonna University while working full time. She also put herself through graduate school, earning a master's degree in social work from the University of Michigan.
"Education wasn't easy for me as I have some learning disabilities," she said. "I've always been an advocate for people with disabilities, but I knew I had to get some letters behind my name to be taken seriously and give my recommendations and ideas some power behind them."
Maximizing independence and community engagement
Stumbaugh says, regardless of a person's limitations, the key is setting expectations for people with disabilities and showing them how to manage the physical realities of their life autonomously.
"For most of my life, people's only expectation of me was that I'd get a job — any job — after high school," she said. "They'd tell me I could be a store greeter, which is so stereotypical for those with disabilities. Knowing this, I used to tell my occupational therapist, 'I will do anything but that.'"
Stumbaugh has been with Beaumont since 2009. Prior to that, she worked with Dr. Susan Youngs, the medical director at the Center for Exceptional Families, on a grant project, "Teens Take Over," an empowerment program for those with disabilities.
"I met Dr. Youngs because my fiancée was a patient of hers," Stumbaugh said. "He told me he met this really cool doctor, and when I met her, I said to myself, 'I hope one day when I finish school, I get to work for a doctor like her.' She had a lot of the same visions I had."
Then tragedy struck in 2001 when Stumbaugh's fiancée died. At his funeral, the two met again. They spoke and, although she didn't have her business card with her, Dr. Youngs handed Stumbaugh a blank personal check, so she would have her contact information.
"She said to contact her if I ever needed anything," she said.
Some time passed, and Stumbaugh was working at United Cerebral Palsy of Metropolitan Detroit when her supervisor said Dr. Youngs was starting an empowerment program for teens with disabilities and that she'd be a great fit.
Stumbaugh was going to be leaving UCP to pursue her master's degree, so she attended a few meetings with Dr. Youngs. As one was wrapping up, she handed a business card to Dr. Youngs.
"I wrote my cellphone number on the card and told her I'm interested if the program ever comes to fruition," said Stumbaugh.
Several weeks passed. One day, Stumbaugh played her answering machine messages and received unexpected news: "Dr. Youngs' voice came on, saying they were starting the program up and asking if I'd like to apply."
That was the start of a relationship that's still strong to this day, working in a supportive environment, helping patients with disabilities from birth to 26 years old.
"I have a unique perspective because I know what it's like growing up with a disability," said Stumbaugh. "Reflecting on my mother's struggles raising me, I let my clients' parents know my mom did the best she could with what she knew at the time, and that the things she did well helped get me to where I am today. But, I also tell them what I would've changed and what I would've wanted her to consider."
Be fearless, take chances
Ever passionate about her job and being an advocate for those with disabilities, Stumbaugh decided to apply to serve on the Michigan Developmental Disabilities Council.
"I didn't tell anyone I applied," Stumbaugh said. "Actually, I applied twice. When I didn't hear anything the second time, I figured I wasn't selected again."
A self-avowed "big policy nut," Stumbaugh is eagerly looks forward to making Michigan's policies better for people impacted with a disability.
"We are the largest minority group," Stumbaugh said. "But people don't see that. When they see someone like me appointed to the council, they assume it's for people who look like me. That's not true. I like to point out the disability community doesn't discriminate. Anyone can join us at any time."
Expressing her infectious passion to help other Michiganders with disabilities, Stumbaugh explained, "It's about the next generation. If I can pass my hard-won skills and abilities onto even just one person, I've made a difference."