Thursday, February 02, 2023
One day, David and Kayla Carter, of Wyandotte, were mostly healthy newlyweds in their mid-30s, taking lighted tree walks through the snow, scheduling Up North getaways and happily celebrating their first years of marriage.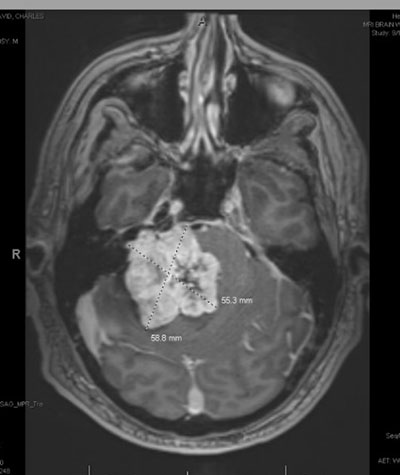 The next, David was undergoing 13-hour brain surgery to remove a baseball-sized tumor in the back of his head. Immediately following surgery, he couldn't walk, talk or swallow and needed a feeding tube to eat.
As an assistant nurse manager for inpatient rehab, his wife, Kayla, knew exactly where to take him for the best chance for a full and speedy recovery – the Traumatic Brain Injury (TBI) unit at Corewell Health Taylor Hospital, the new name for Beaumont Hospital, Taylor. For the past year, Kayla has worked on the unit's sister floor as an RN for inpatient rehab.
Taylor's specialized inpatient TBI unit is the only one of its kind at Corewell Health East, the new name for Beaumont Health, and just one of a small handful of such programs in Michigan.
The program's features, which include a fully equipped gym, private rooms and the specialized expertise of physical, speech and occupational therapists, enables clear and direct focus on the needs of brain and spinal cord injury patients.
"When we brought David in on Oct. 7, he couldn't walk, eat or talk," Kayla recalls. "Part of me was really scared – his condition was precarious. But I was also confident and full of hope. I knew what my team is capable of doing. I've seen the miracles they perform every day."
Working with specialized therapists five days a week, David learned how to swallow, write, climb up and down stairs and get in and out of a car again. His speech also slowly started to improve.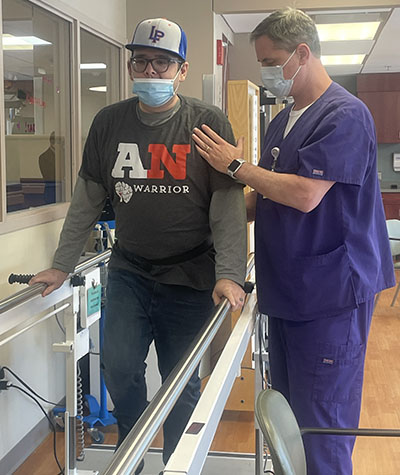 After 21 days, he was able to leave the hospital with just the assistance of a walker and continued physical, occupational and speech therapy at home. That night, David enjoyed solid food for the first time in more than a month: White Castle sliders the first night, and a Coney dog slathered with chili, mustard and onions the next day.
"We do a lot of great things on this unit," said Andrew Lane, RN, nurse manager, Inpatient Rehab/ Traumatic Brain Injury, Corewell Health Taylor Hospital. "Rehab can take many forms depending on a patient's needs, and might include physical, occupational and speech therapy, as well as social support."
Past unit success stories include a local firefighter restored to health after being injured on the job and a high school swimmer injured while diving. Most recently, a mother-daughter team injured in a car accident was discharged with big smiles and mostly healed bodies Christmas day.
During the peak of COVID, the TBI unit at Taylor was one of the first active rehab units in Michigan to accept recovering COVID patients.
"When other facilities wouldn't take them, we said: 'Let us be the ones to teach them how to talk, walk and breathe again'," Lane said. "Our patients are always significantly above the national average in terms of illness severity. We aren't afraid to take on their cases and nurse them back to health."
And when David arrived, of course the team opened their arms to Kayla as well.
"Everyone was so happy we were able to get him in here and give him the care he needed to succeed," Lane said. "But it was also very emotional. It was comforting to know that Kayla could go home and get the rest she needed because she knew he was in good hands."
Kayla and David first noticed something was off about a year ago, when they were celebrating their first wedding anniversary Jan. 8 with a lighted tree hike on the "Enchanted Trail" at Boyne Mountain. David had trouble walking and the ski patrol had to help him back to his hotel room. His medical team at another hospital thought diabetes and a bad reaction to his medication were responsible.
On Sept. 19 he was finally diagnosed with a giant acoustic neuroma and underwent surgery to remove it Sept. 22. Personal determination, the support of his wife and mother along with the specialized care he received at Taylor all contributed to David's swift recovery.
"They did a lot for me on that unit," David said. "We cracked jokes, too. I made them laugh, and they did the same for me."
His doctors, David said, are surprised and thrilled by his progress.
"I feel good. The best thing has been going back to work in January," said David, a middle college liaison for Lincoln Park schools.
"I love my wife and mom dearly but going back to work has been a great thing socially and mentally for me," he added. "At home, I had too much time to think."
David continues to receive outpatient therapy twice a week at Beaumont Rehab in Taylor; his team is focused on helping him walk with a cane and improve his speech and fine motor skills.
This summer he plans to help coach a travel baseball team with a friend, and he and Kayla also have a handful of camping trips scheduled.
The past two years have been a whirlwind, Kayla added.
"We got married during COVID and now we're facing this. You wouldn't think a young couple would have to deal with so much in their first two years of marriage. But it's definitely made us stronger. If we can get through a COVID wedding and a brain tumor we can get through anything."
David couldn't agree more.
"I know I'll continue to get stronger with time," he said. "I owe it all to Kayla, my mom and the Taylor TBI team."